Caleb Smiley came to the University of Cincinnati for its nationally-renowned engineering program, among other unique opportunities offered by the university. Smiley — a double major in electrical engineering and digital media collaborative in the honors program — is the type of student every university hopes to attract.
Over the past 11 years, however, UC has begun spending less on students — Smiley included.
Between 2005 and 2015, UC officials slashed instructional spending for full-time undergraduate students by 30 percent adjusted for inflation, according to the Knight Commission on Intercollegiate Athletics — a national organization of current and former college presidents. However, the university's enrollment of students has steadily climbed over the past 11 years.
The decline in instructional spending means larger class sizes, fewer full-time faculty members and fewer resources for students. Though students have become accustomed to larger classes and more adjunct professors, few realize how the reduction of instructional spending impacts the availability of higher-education resources.
"The fact that academic spending has declined is really unfair," Smiley said of the cuts. "Where did my money go? I want my money to go to my future and my academics since I am supporting myself through college."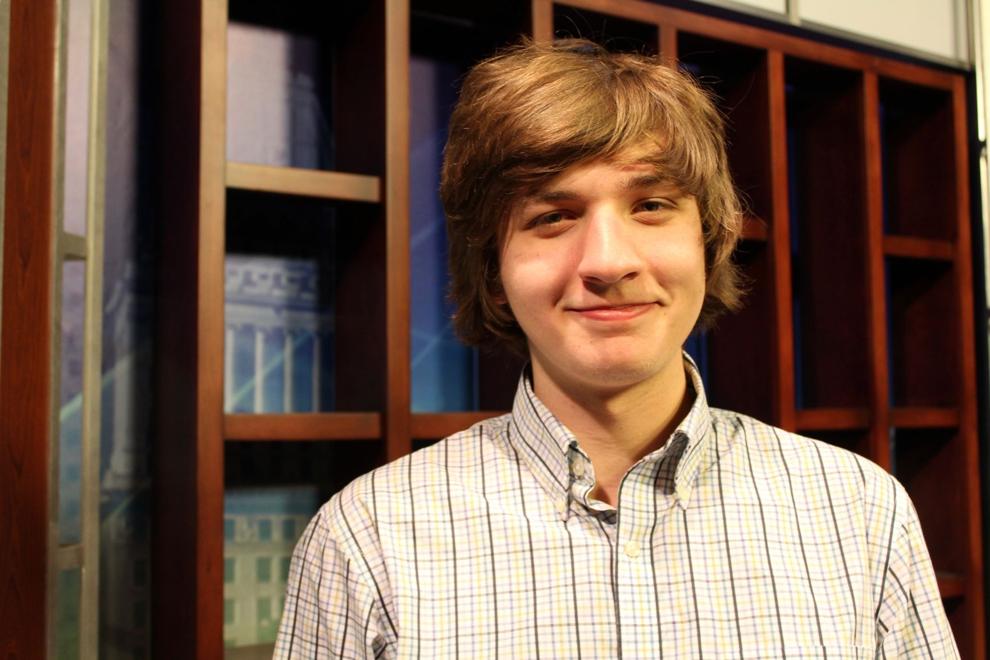 Eileen Strempel, senior vice provost for academic affairs, called the Knight Commission's report "grossly inaccurate," saying the university declines participation in the report "because it uses such flawed, faulty, inaccurate data. It's not a good source of data."
According to the commission, however, the report was based on data provided by the university directly. In a written statement to The News Record, the commission said its findings are based on a federal database of statistics reported by colleges and universities.
"[Our] database uses financial data reported by institutions," the statement reads. "The database was created to show trends in academic spending and athletic spending."
Historically, the Knight Commission analyzes athletic spending. In 2009, the commission conducted a survey of athletic spending at universities competing in the Football Bowl Subdivision.
"More than 80 percent of [universities] participated," the statement reads. "80 percent of these [university] presidents agreed that there needed to be greater transparency for spending, and the database was produced to respond to that consensus."
Two UC faculty members confirmed that the commission's findings are consistent with the university's recorded spending. Stephanie Spanja, director of research at the UC chapter of the American Association of University Professors (AAUP UC) and Ken Petren, dean of the McMicken College of Arts and Sciences, said the report accurately reflects UC's spending practices.
John McNay, a history professor at UC Blue Ash since 2000 and an outspoken critic of UC's spending practices, said he is mystified by the drop in instructional spending.
"Our instructional funding should have been increased with our increased enrollment," McNay said. "Instead, it has gone the other direction."
Instructional spending has not kept pace with student population growth at UC while other sectors, like the president's office, the finance office, admissions and athletics have exploded, says Spanja.
Most other Ohio universities — such as the University of Toledo, the University of Akron and Miami University — have increased their instructional spending per student by as much as 39 percent, according to the Knight Commission. Just three other public Ohio universities have decreased instructional spending — at most by 3 percent per student.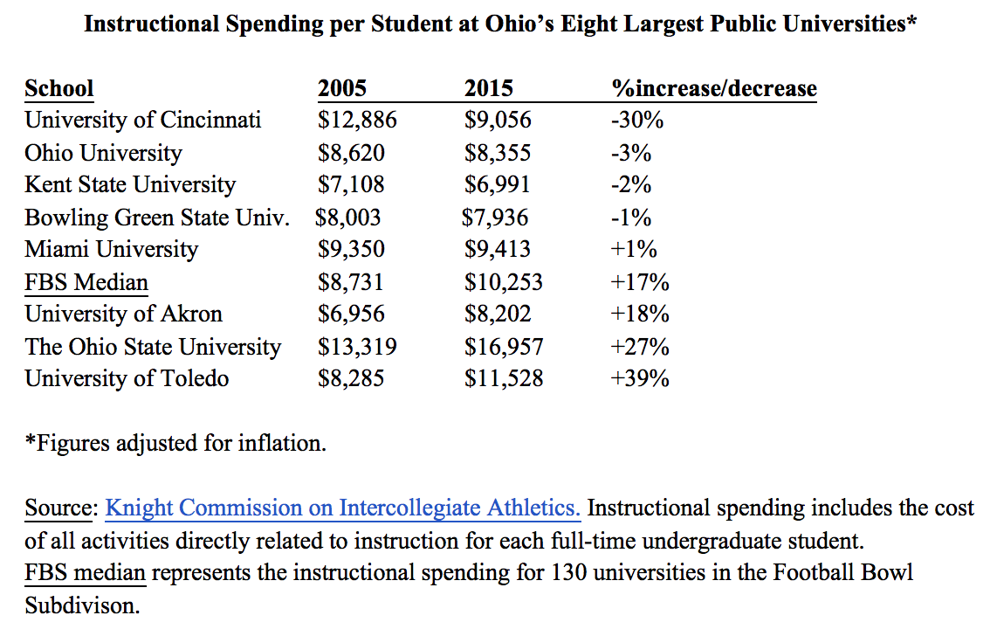 The median instructional spending for 130 universities across the U.S. in the Football Bowl Subdivision increased by 17 percent between 2005 and 2015, the commission reported.
The McMicken College of Arts and Sciences is the largest college on UC's campus in terms of student enrollment. It houses some of the most popular majors at the university, including biology, communications, chemistry and psychology. Yet, in the past seven years, funding for college declined by 22 percent adjusted for inflation, according to a UC general funds permanent budget report.  
Christina Drobney, a fourth-year political science and journalism student, says one of her research classes did not have the software the course needed.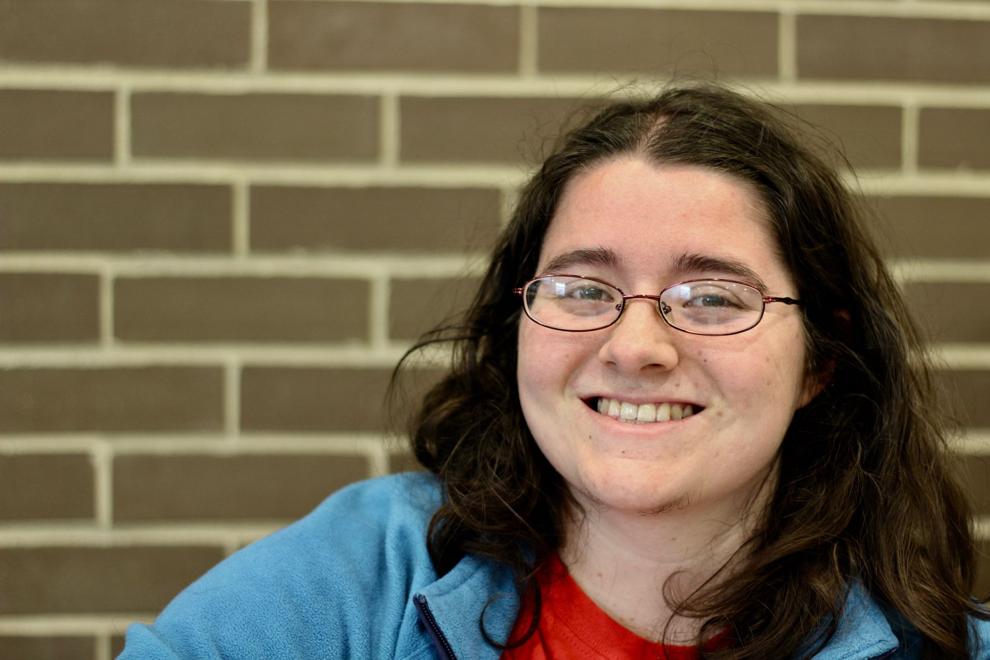 "Some days, the entire computer lab was not working," Drobney said.
The College of Law, the College of Pharmacy and the College of Design, Architecture, Art and Planning (DAAP) also had their funding slashed over the past seven years adjusted for inflation, according to the budget report.
Coby Stump is a first-year cell and molecular biology student with big plans for his future — he wants to become a doctor. Through UC, Stump expects access to the resources he needs for acceptance into medical school.
However, he may hit some roadblocks before reaching graduation. In recent years, senior biology students have occasionally been forced out of lab classes needed for graduation requirements, one UC biology professor said.
"We have to say, 'Sorry, we can't offer enough sections — we don't have enough resources or rooms,'" biology professor Brian Kinkle said. "So, students can't get into lab classes, and this has happened over the last two years."
Stump said he is perplexed by the university's spending priorities.
"It just seems counterintuitive to me," he said. "Why haven't they been spending money on students? They need to upgrade classrooms and labs, and spend less money on sports."
Despite acknowledging the financial importance of sports, Stump says the university should more heavily prioritize academics.
"I get that sports is a moneymaker," he said. "But they seem to put more focus on running a ball from one end of a field to the other, and less on making future doctors and engineers."  
However, reports have shown that the UC Athletic Department is a money sink. Over the past four years, the UC athletic department's deficit totaled almost $102 million, according to the university's NCAA Revenue and Expense reports.
Layla Pickett, a second-year communications student, says the university should focus more energy investing into students.
"Making money is not supposed to be our main focus as a university," Pickett said. "We're the biggest college on campus, and it's really unfair that we have had our funding cut so drastically … if we have 40 to 50 people in a tiny room in McMicken, it's too much for one class."
The University of Cincinnati is currently following a performance-based-budget model (PBB) to allocate funds to each college. If a college makes more money than its budget the previous year, funds increase. If it makes less, funds decrease.
One way colleges at UC make money is to increase and retain their full-time student enrollment.
"According to the model, if you grow, you keep half the revenue," Petren said. "But when you go down, according to the model, you owe all the revenue."
Valerie Hardcastle, a former UC Arts and Sciences dean, said PBB does not serve students well, claiming that the current budget model prevents students from taking classes in other colleges.
"In my personal opinion, students are best served when they are able to take a wide range of courses while they are students here," Hardcastle said. "What PBB does is that it incentivizes all the colleges to keep all their students in their college, so if you are a business student, you only take business classes – and I think that does our students a disservice."
Other UC officials, however, stand behind the PBB model.
"In my opinion, the PBB model is working great," said Susana Luzuriaga, director of institutional research at the provost office. "There is never a perfect model for these types of things. Every university is continually striving to improve that model so that it … creates an incentive for better performance."
Strempel said engineering students tend to more easily meet PBB goals than students in the College of Arts and Sciences because the admissions process for engineering is more demanding.
Dean Petren says the PBB model has serious flaws that constrain Arts and Sciences students.
"Almost all university budgeting models that I'm aware of require revision and intervention after a while — especially when circumstances change," Petren said. "We have required revision for several years and there have not been adequate revisions."
Due to imbalances between student enrollment and the university budget, Petren says the PBB model is not a long-term solution.
"With enrollment going up and budget going down, [PBB] is simply not sustainable," Petren said. "That's the easiest way to put it. It's just not sustainable."
Currently-enrolled UC students do not enjoy the same resources students did a decade ago — especially those in Arts and Sciences. Larger class sizes and less full-time faculty directly correlated with budget cuts.
However, the administration has yet to change its budgeting model to accommodate egregious funding imbalances. Instead, they have provided colleges with unattainable financial goals, leaving students and staff to bear the consequences.
"What are we sacrificing to maintain this investment?" Spanja said. "The pot of gold is at the end of the rainbow here, but there is never the end of the rainbow."
This is the second part of our series titled Misplaced Priorities. To read our first part, click here.