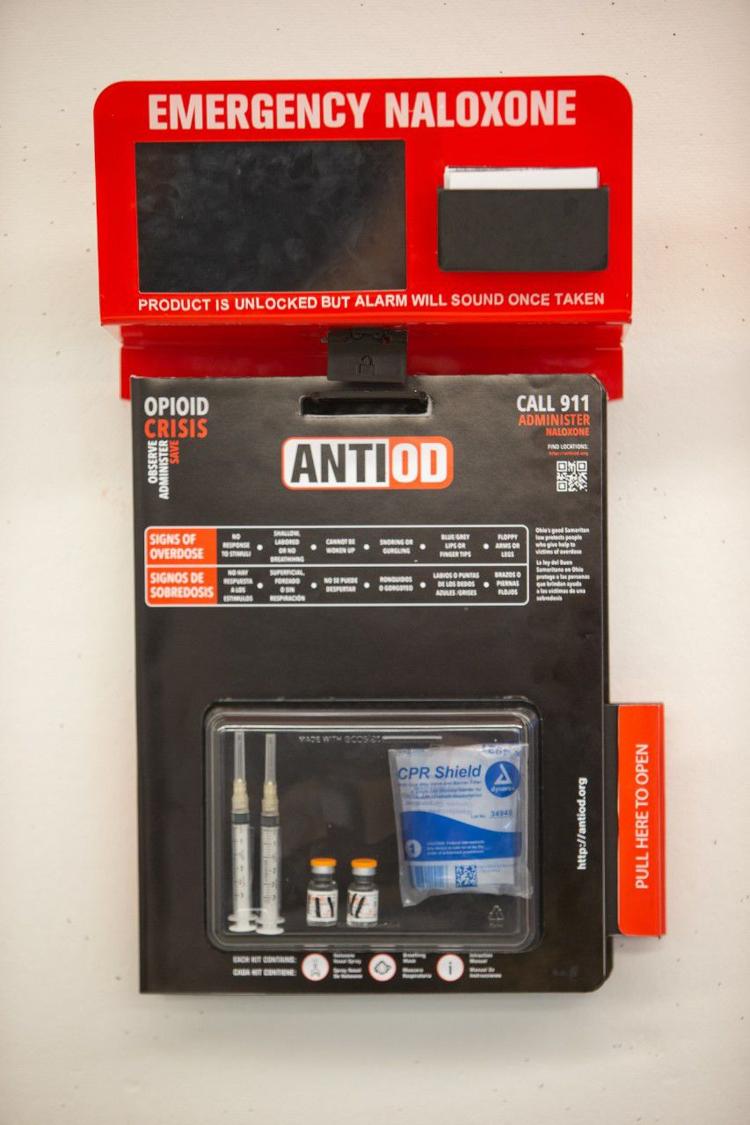 The severity of opioid epidemic has been felt across the entire country, and Cincinnati is no stranger to its effects.
The tristate area sees approximately 50 to 80 opioid overdoses every week, according to the University of Cincinnati. One UC professor is using her background in design to create a life-saving device to make Narcan and naloxone more accessible to overdose victims.
Claudia Rebola, associate dean for research and professor of industrial design in the College of Design, Art, Architecture and Planning (DAAP), said some of her graduate students have been working on the AntiOD project for almost two years.
The idea was benchmarked from a previous project she worked on during her time as an associate professor at the Rhode Island School of Design in 2017. In collaboration with Brown University, Rebola worked to create NaloxBox, a public bystander resource that provides overdose treatments.
After coming to Cincinnati, Rebola continued to see the need for smart cabinets like this to help combat the opioid crisis in the city. She enlisted students from her graduate design class to assist in the development and implementation of a similar device in the area.
After receiving some internal funding from UC in 2018, Rebola began developing the AntiOD project. The boxes include two doses of Narcan nasal spray, first aid gloves and instructions for how to recognize an overdose and how to administer the drug to resuscitate a victim.
"The package itself is an education took," said Sebastian Ramirez, one of Rebola's graduate design students, who has been working on AntiOD since its conception in 2018. The devices are intended to be placed in public areas around the city, almost like a fire extinguisher.
"I think the best way to describe the project is as a community-based initiative to empower and to share the responsibility of the opiate crisis," Ramirez said. "It is just one component to raise awareness so we can all save lives."
The AntiOD team hopes to have the first smart box installed in Cincinnati by 2020. The project has been working to pass pharmacy restrictions and regulations on access to Narcan. They are also working to launch the project in Cleveland and to expand partnerships with local businesses across the state.
Rebola has also collaborated with Greg McNeil, founder of Community of First Responders, whose own son overdosed. McNeil partnered with Rebola on NaloxBox and launched an app to help citizens find their closest Narcan providers.
"This is just one part of the puzzle that will be the solution," said Ryan Norton, a design graduate student at DAAP. "We are just trying to make sure that we are playing our part, that we are giving people the tools they need to respond to this."
Rebola, Ramirez and Norton all hope installation of AntiOD boxes will not only help save lives but help to educate society on the opioid crisis and destigmatize it.
"This isn't something that we can ourselves fix, the problem is much bigger than any individual," Norton said. "If we can empower the public to take action, we can empower one person and they can empower another and so on."