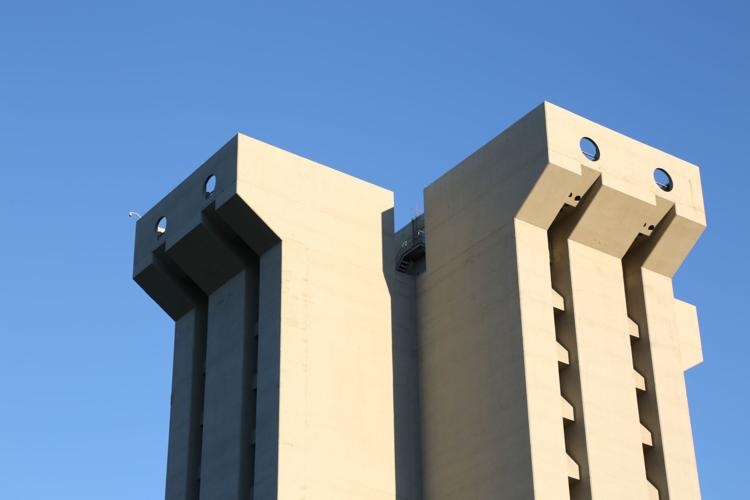 A tentative demolition date has been set for one of the University of Cincinnati's (UC) most recognizable campus landmarks. 
Crosley Tower could be coming down as soon as 2025. However, that timeline could change depending on several other projects the university has in the works, according to the associate vice president for UC's office of Planning+Design+Construction (P+D+C), John Seibert. 
Before the structure can be demolished, the university must first complete construction on Clifton Court Hall and renovation of the Old Chemistry building, Seibert said in an email. 
The Clifton Court Hall project will provide approximately 180,000 additional square feet of academic space for departments in the College of Arts and Sciences, he said. Once that project is complete, P+D+C will seek approval for the Old Chemistry renovation. 
"If the renovation of Old Chemistry is approved, its renovation along with the Clifton Court Hall project, would provide enough space to allow us to consider deconstructing Crosley Tower," Seibert said. 
University officials have long advocated for the structure's removal from campus, as its inflexible design would limit any attempted renovation. The tower's design has also earned it a reputation as one of the country's ugliest university buildings. 
In addition, Crosley Tower has experienced a number of structural issues since its construction in 1969, including a crumbling exterior, sinking foundation and leaky ceilings.  
About a decade ago, pieces of concrete, some as a large as three pounds, began breaking off the building's exterior. The structure was coated in a corrosion-inhibiting chemical to prevent further loss of concrete. However, that fix was temporary and officials have said it may only last until 2020 or 2021. 
Demolition could happen in a couple of ways. A study commissioned by university architects in 2018 suggested using jackhammers and other equipment to start picking away at the tower from top to bottom, or by imploding it. 
In 1991, the university used hundreds of pounds of dynamite to implode Sander Hall. But imploding Crosley Tower could be difficult given its proximity to other buildings. 
Regardless of what method the university decides, demolition is still a long way off. 
"It is in no way a finalized project that has been brought forward for a greater review and approval to proceed," Seibert said. "…any planning timeline involving Crosley is just that – a current planning timeline and framework that may ultimately require adjustment or flexibility."