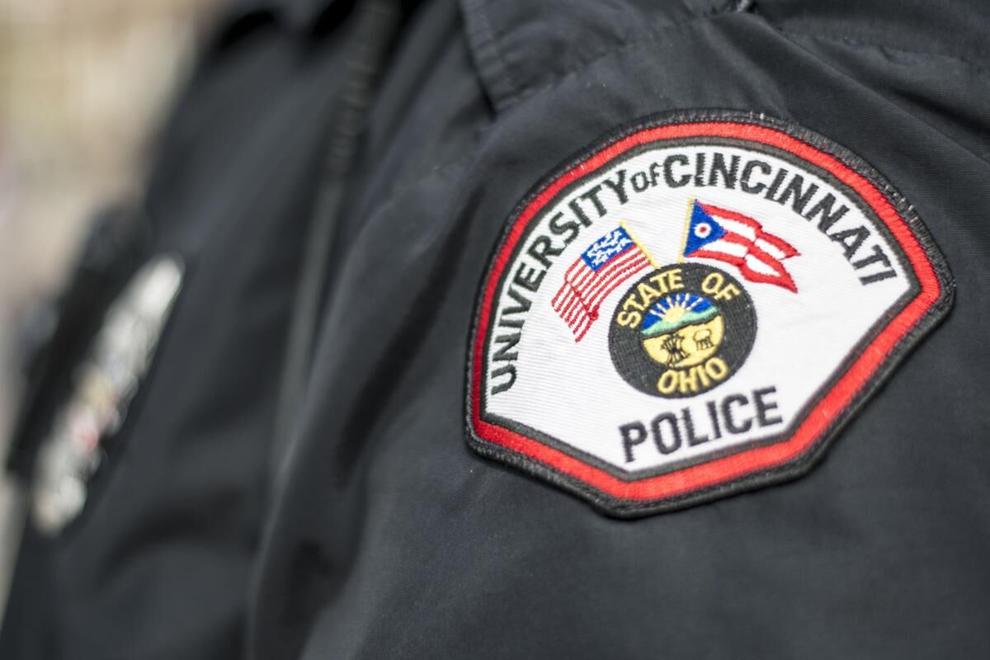 Crime was down overall at the University of Cincinnati (UC) in 2019, but data shows there are some potentially troubling trends. 
Late last year, UC's Office of Public Safety recently released its annual report on crimes that occurred on or near campus. Under federal law, the university is required to compile an annual report on crimes that occurred on or near its campuses. 
These reports are usually released at or before the beginning of October, but the deadline for this year's report was pushed back until December in response to the novel coronavirus pandemic. 
The report presents the total number of criminal offenses reported to the University of Cincinnati Police Division (UC) in 2019 and compares those numbers to crime data from the two previous years. 
Overall, offenses were down 10% across all of the university's campuses in 2019 compared to the previous year, data shows. However, the number of offenses was up 36% from 2017.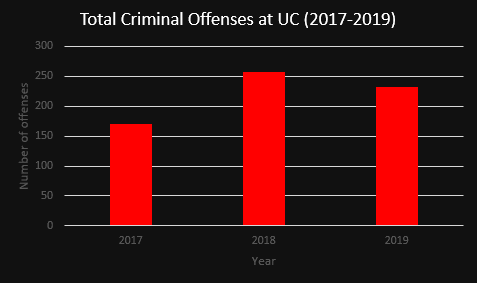 There were 66 sexual assaults recorded by the university in 2019. That's down from the 84 that were recorded in 2018, but more than double the 30 sexual assaults that were recorded in 2017. 
Though that number is likely low, given that as many as 59% of sexual assaults go unreported to authorities, according to a News Record analysis of campus crime data. 
Burglaries experienced a slight uptick, with 54 recorded in 2019 as opposed to 50 the year prior. Those numbers pale in comparison to the 80 burglaries recorded in 2017. 
Unsurprisingly, the majority of these offenses are concentrated on or near UC's Uptown campus, with few, if any, crimes occurring at the university's regional campuses. 
One unsettling trend in crime Uptown, however, is the rise in on-campus sexual assaults. 
The 24 on-campus sexual assaults recorded in 2019 was nearly double the number of sexual assaults recorded the year prior and 50% higher than those recorded in 2017. 
All on-campus rapes recorded in 2019 came from data reported to the university by Women Helping Women, a nonprofit that provides confidential advocacy services to student survivors of sexual assault. 
Because of that, it's unclear whether those survivors ever came forward to law enforcement. 
However, the data alone doesn't paint the full picture of what's occurring on campus. 
While this rise in recorded sexual assaults may indicate a higher frequency of offenses on campus, experts say that it may be indicative of something else.
Though it may seem counter-intuitive, a higher rate of reported sexual assaults demonstrates that survivors are comfortable enough to come forward, Megan Thomas, a spokesperson for the National Sexual Violence Resource Center, told The News Record in October. 
The university's next annual crime report won't be released until later this year, so it remains to be seen whether the rise in reported sexual assaults on campus carried over into 2020. 
James Whalen, director of Public Safety, previously said COVID-19 was at least partially responsible for a decrease in burglaries on and near campus. 
The pandemic may have had the same effect on other crimes as well. 
Resources for victims of crime at UC: 
The University of Cincinnati Police Division. Phone: (513) 556-1111
Title IX coordinator. Phone: (513) 556-3349. Email: titleix@ucmail.uc.edu
Women Helping Women. Phone: (513)381-5610. Email: uc@womenhelpingwomen.org
Counseling & Psychological Services. Phone: (513)556-0648. 
University Health Services. Phone: (513)556-2564. 
Crime Victim Services Coordinator. Phone: (513)556-4905. Email: jennifer.rowe@uc.edu