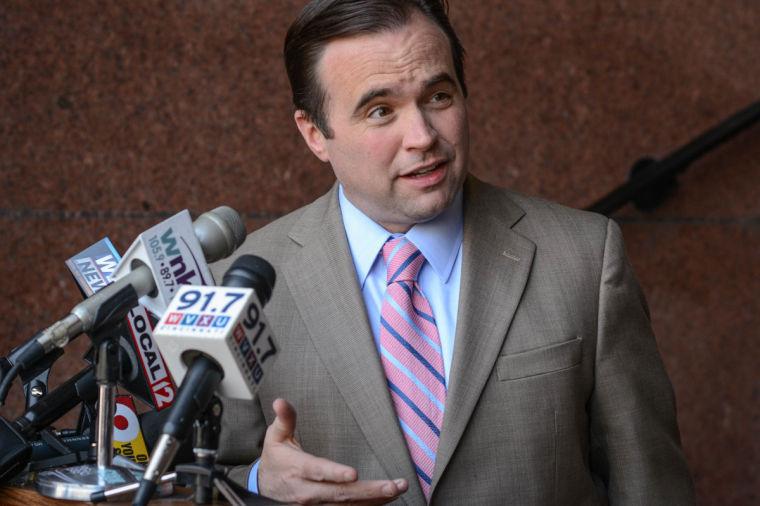 Ohio is at a crossroads. Climate change, once a non-starter issue for figures on the political fringe, has become an unavoidable threat. 
The Intergovernmental Panel on Climate Change's (IPCC) recent report called the climate crisis a "code red" for humanity and warned that the worst results of a hotter planet are becoming more likely by the day.  
Susanna Tong, director of geography and environmental studies at the University of Cincinnati (UC), was unsurprised by the report's findings. 
"It is what scientists, including environmental scientists and the climatic community, have been expecting," she said. 
Tong – and much of the scientific community – say fossil fuels are the main culprit for climate change.
The only reason a debate is still being had, Tong said, is "because some people want to maintain the use of fossil fuels as the only energy source. They are afraid that if society is adopting renewable energy, the economy will suffer." 
"Global warming is not a scientific fiction; it is real and it is happening," she added. 
Into this fray stepped John Cranley. Despite serving as mayor of Cincinnati since 2013, his aspirations for statewide office had long been suspected and certified when he announced his decision to run for governor in the 2022 midterms. 
Cranley is running on a platform of bringing about Ohio's "comeback." He hopes to create an economic resurgence in Ohio by, in part, transitioning from fossil fuels to renewable energy. 
On Aug. 22 he tweeted simply, "Clean energy = jobs," saying "we can tackle the climate crisis and create good-paying jobs at the same time." 
On his campaign website, Cranley promises to increase "the severance tax on energy companies," using the newly collected cash to "start an annual energy dividend of $500 to Ohio families earning less than $75,000 per year."  
Throughout the process, Cranley has relentlessly castigated Ohio's Republican party, saying in a post on his Instagram page, "over the last 30 years, Republicans have rigged our state government for their donors."
While Cranley has expressed concern on many occasions about climate change and defended renewable energy as a source of income for the state, some of his donors do not share the values he claims to hold. 
Most notable is Jeff Lykins, CEO of Lykins Energy Solutions. Lykins, whose energy company supplies 160 independent dealers with petroleum, natural gas, pipeline sales, oil and propane, contributed $13,704.41 to the John Cranley Committee in May of this year.
Lykins is a political donor of some renown statewide, but not in Democratic circles. He has given large sums to multiple groups and candidates associated with the Republican party, including the Shelby and Delaware County Republican parties in February 2021, the National Republican Congressional Committee in July 2021, and Trump for President Inc. and the Trump Victory fund throughout the 2020 presidential election.
But perhaps most importantly, Lykins has given thousands of dollars in campaign contributions to Senator Rob Portman and Representative Brad Wenstrup over a period of sixteen years. 
Over the course of two decades, Mr. Lykins has only ever given to a Democratic candidate twice before. Those donations include Minnesota House Representative Jim Oberstar in 2008, and Frank McNeill, candidate for North Carolina's eight congressional district, in 2018. 
Another fossil fuel executive, Stephen Hightower, CEO of Hightower Petroleum, contributed $1,000 to Cranley's Committee in June 2021. 
Cranley has also accepted contributions from donors who gave to organizations and candidates that promote climate change denial or dismiss the importance of renewable energy.   
Larry Sheakley, CEO of the Sheakley Group, a consulting firm based in Cincinnati, contributed $13,292.35 to Cranley's committee in January 2021. Sheakley has also made himself known in Republican leadership circles, giving $10,000 to the Alabama Republican party in 2020 and $1,700 to the Alaska Republican party in the same year, according to data from the Federal Election Commission (FEC). 
He also donated $35,500 to the Republican National Committee (RNC) in September 2020. The RNC's current chairwoman, Ronna McDaniel, has been consistently skeptical of climate change related legislation, and has spread misinformation about policies already enacted.  
Sheakley's largess has also been felt by Josh Mandel, former state treasurer and current candidate for Senate. 
Sheakley donated $1,000 to Mandel's dual committees in 2017 – $2,000 in a single day – and gave three times on March 6, 2012, according to FEC data. Mandel has made numerous claims about climate change, including calling the science behind it "inconclusive and riddled with fraud," as well as comparing climate change to a "religion" for Democrats, in a tweet posted in June.  
Mark Dambly, CEO of Pennrose Properties, gave $2,000 to Cranley's committee in June. Only three months prior, he twice gave $2,900 to the re-election committees of Todd Young, a Republican Senator in Indiana who in 2019 pinned an op-ed about the Green New Deal, wherein he wrote that renewable energy could not "reliably and affordably produce the electricity Indiana needs."
Eric Hyers, a Democratic strategist, served as Michigan State Director for Joe Biden's presidential campaign in 2020, but specializes in gubernatorial races, working as campaign manager for Montana governor Steve Bullock and current Secretary of Commerce Gina Raimondo. 
Hyers sees Cranley as the Democrat's "best chance" of taking the governor's office in 2022. For him, Cranley's record on climate is infallible. "As mayor he has made clean energy and solar energy a top priority, and as governor he will do the same." 
Donors with ties to fossil fuels, or Republican politics, are of no concern, according to Hyers. 
"I think it's not surprising that folks who supported Republicans in the past have seen how that impacts the state," he said, adding, "John Cranley has made his platform clear and it's not going to be impacted by those who do or don't contribute to the campaign." 
Mary Aguliera is a 20-year Cincinnati resident, who has long been active in her community regarding "the issues of the petrochemical hub that is planned for the Ohio River Valley." Through her activism, Aguliera became acquainted with the Sierra Club. 
Aguilera said she has committed herself to amplifying the issue of climate change. "I have helped hold water justice hearings and founded a regional A-Z Tackling Impacts of Plastic Group to challenge false narratives, build power and impact policy around the issues impacting Ohioans and Ohio River Valley," she said.
"Climate change has and will change life as we know it," she said. "We are suffering the consequences of extracting resources without regard to the harm it would cause to the planet." She said she considers it an "existential crisis."
Unlike some who consider serious climate policy enacted through legislation to be a lost cause, Aguilera believes environmental justice cannot be accomplished without elected officials. 
"Ohio's legislators are the ones that allowed the fossil fuel industry to operate without hardly any oversight and accountability to the communities they operate in. So, they need to be the ones to change that," she said. 
Still, she believes this will largely depend upon elected officials having the political will to take on the fight. 
"If we want real substantive change, we have to elect officials that hold the line on change we want to see," she said. "The officials we elect must have the interest of the people they elect front and center, not the corporations that fund their campaign"."