The University of Cincinnati (UC) has recorded its highest daily spike in new cases of COVID-19 since the campus reopened in August. 
Total positive cases of COVID-19 among the student body have reached a total of 1,178. That's 172 new cases since the university's public health data was last updated. 
The university experienced its highest daily spike on Nov. 10, with 46 new cases recorded, according to UC's COVID-19 dashboard. 
Those numbers are still concentrated among students living off-campus, with 829 non-university housing students having tested positive. There have been 349 cases recorded on campus. 
The university is tracking a seven-day moving average of 25 cases per day. 
There are currently 37 on-campus students in isolation and another 17 in quarantine. The university has 246 beds available for quarantine and isolation.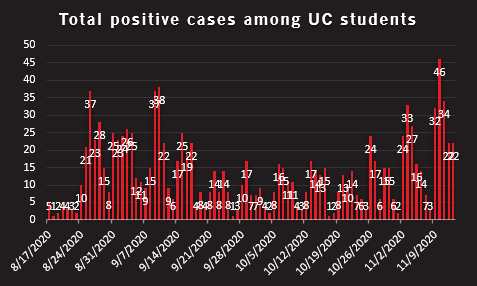 So far, 74 university employees have tested positive for COVID-19. 
UC officials announced on Nov. 18 that campus buildings and services operate under new hours in response to a statewide curfew instituted by Governor Mike DeWine. 
In-person classes will end, and students will return home following Thanksgiving break. More than 3,200 students have registered for Know Before You Go testing, Student Body President Logan Lindsay said.
In an email sent to students Nov. 12, UC President Neville Pinto said that the spring semester will be largely unchanged from the fall, with remote learning and pandemic protocols still in place.
Though he noted that "Ohio's colleges and universities may need to adapt depending on what happens with the virus in the coming weeks."
Mandatory random testing is being conducted on UC students living or taking classes on campus. 
Students who fail to participate in mandatory testing may lose access to certain university buildings and services, officials said.
Testing is available by appointment for students experiencing symptoms of the virus and those who have come into close contact with an infected individual. There are two testing sites maintained by the university, both within a short walk from campus.
Students are required to wear face coverings and social distance while on campus. All members of the campus community are required to complete a daily symptom check before coming to campus. 
Updates are made weekly to the university's COVID-19 dashboard.