An additional 200 positive cases of COVID-19 have been recorded among students at the University of Cincinnati (UC) since public health data was last updated. 
Since campus reopened in August, 2,389 positive cases of COVID-19 have been recorded among members of the student body, according to the university's COVID-19 dashboard. 
There are currently 67 students in quarantine or isolation on campus. The university has 239 beds available for quarantine and isolation. 
Nearly 5,000 tests were conducted from Jan. 9 – 15. Of those, 129 came back positive.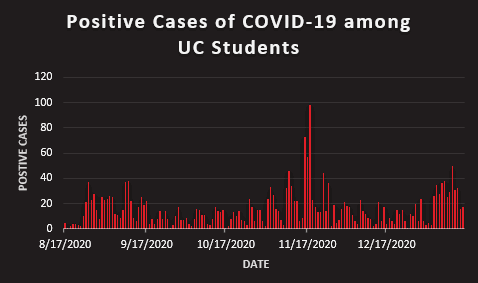 The university is offering return to campus testing until Jan. 24. Testing at the university's regional campuses took place on Jan. 19 for Blue Ash and on Jan. 20 for Clermont. 
For those living off-campus but taking courses in person, the university recommends scheduling a test at least three days before courses resume on Jan. 25. 
The test takes about five minutes and results are expected to return with 48 – 72 hours. Return to campus testing is free of charge for students. 
Students will begin the semester with a yellow pass on the UC COVID Check App, meaning they have limited access to facilities on campus. Those restrictions will be removed once students provide a negative test result. 
For those living on campus, failure to comply with the university's testing policy may lead to removal from university housing without a refund.
UC President Neville Pinto said at a Jan. 14 Faculty Senate meeting that the university plans to conduct as many as 30,000 to 40,000 tests during spring semester. 
The university is using polymerase chain reaction (PCR) testing, which is thought to be "the most accurate and reliable" form of testing available, according to the Cleveland Clinic. 
Students living or taking classes on main campus can get tested at the Campus Recreation Center basketball court from 11 a.m. to 7 p.m.
More information about the university's spring semester testing policy can be found here.
Updates are made weekly to the university's COVID-19 dashboard.