The University of Cincinnati (UC) has recorded more than 3,000 positive cases of COVID-19 among members of its student body. 
An additional 176 positive cases of COVID-19 have been recorded since the last time community health data was updated. 
That brings the current total to 3,029 positive cases since campus reopened in August, according to the university's COVID-19 dashboard.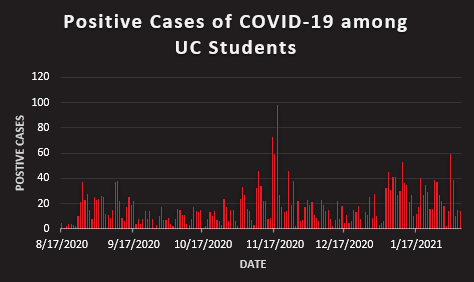 Of the 1,991 tests conducted from Jan. 30 to Feb. 5, only 2.76% came back with a positive result, data shows. 
As of Feb. 5. the seven-day average positivity rate for Hamilton County was 11.41% and 6.87% statewide, according to community health data. 
The World Health Organization recommends that governments not reopen until their positive test rate is below 5% for at least two weeks.
There are currently 48 students in isolation or quarantine on campus. The university has a total of 233 beds for quarantine and isolation. 
Students experiencing symptoms or who have been exposed to a COVID-19-positive individual can still make an appointment to get tested through University Health Services by calling 513-556-2564. 
The university is using polymerase chain reaction (PCR) testing, which is thought to be "the most accurate and reliable" form of testing available, according to the Cleveland Clinic. 
More information about the university's spring semester testing policy can be found here.
Updates are made weekly to the university's COVID-19 dashboard.