The University of Cincinnati (UC) has recorded nearly 700 positive cases of COVID-19 among members of the student body.
Since campus reopened in late August, 676 students have tested positive for the virus, according to the university's COVID-19 dashboard.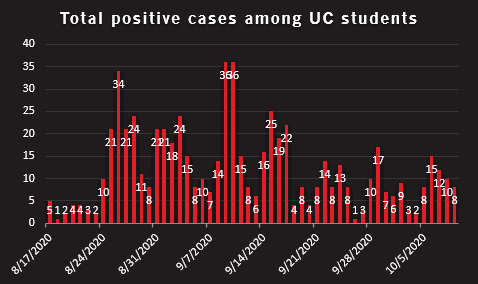 Off-campus students continue to comprise the majority with 470 positive cases. Among students living in university housing, 206 tested positive.
There are currently 11 on-campus students in isolation and another 21 in quarantine. The university has a total of 268 beds available for quarantine and isolation.
There have been 32 UC employees who have tested positive.
The university is currently tracking a seven-day moving average of nine cases per day.
Officials announced today that the university would soon begin mandatory random testing on members of the campus community.
Testing is available by appointment for students who are experiencing symptoms of the virus and for those who have come into close contact with an infected individual. There are two testing sites maintained by the university, both within a short walk from campus.
Students are required to wear face coverings and social distance while on campus. All members of the campus community are required to complete a daily symptom check before coming to campus.
Updates are made weekly to the university's COVID-19 dashboard.