As Ohio experiences a spike in hospitalizations not seen since the pandemic began in March, positive cases of COVID-19 continue to rise at the University of Cincinnati (UC).
The university has recorded 742 positive cases among members of the students body since campus reopened in August, according to the university's COVID-19 dashboard.
A total of 519 positive cases have been recorded among students living off campus and another 223 cases were recorded among students living in university housing.
There are currently 10 UC residential students living in isolation and 24 students living in quarantine. The university has a total of 247 beds available for quarantine and isolation.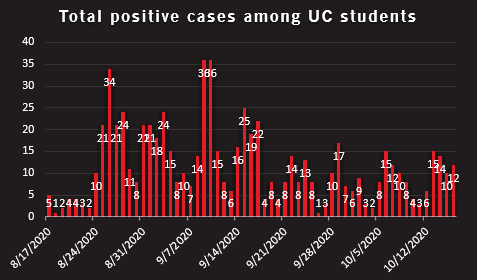 So far, 39 university employees have tested positive.
The university is recording a seven day moving average of approximately 10 cases per day.
Mandatory random testing began this week for students living or taking classes on campus. Around 600 students, out of the 2,000 who were invited, showed up for the first round of mandatory testing, according to Student Body President Logan Lindsay.
Students who fail to participate in mandatory testing may lose access to certain university buildings and services, officials said.
Testing is available by appointment for students who are experiencing symptoms of the virus and for those who have come into close contact with an infected individual. There are two testing sites maintained by the university, both within a short walk from campus.
Students are required to wear face coverings and social distance while on campus. All members of the campus community are required to complete a daily symptom check before coming to campus.
This recent rise in cases comes as hospitals statewide are treating 1,221 patients for COVID-19, the most patients hospitalized since the beginning of the pandemic. There has also been an increase in ICU admissions and ventilator use.
"So far, Ohio's hospitals still have adequate remaining capacity to care for everyone who is sick, but our hospitalizations are already breaking records, and we are not seeing any signs of Ohio's case numbers slowing down," Governor Mike DeWine said in a release. "If we don't buckle down, wear our masks, and take care of each other, I am very concerned that our hospitals will begin to fill up. We pushed this virus down before, and it's up to all of us to do it again."
Updates are made weekly to the university's COVID-19 dashboard.