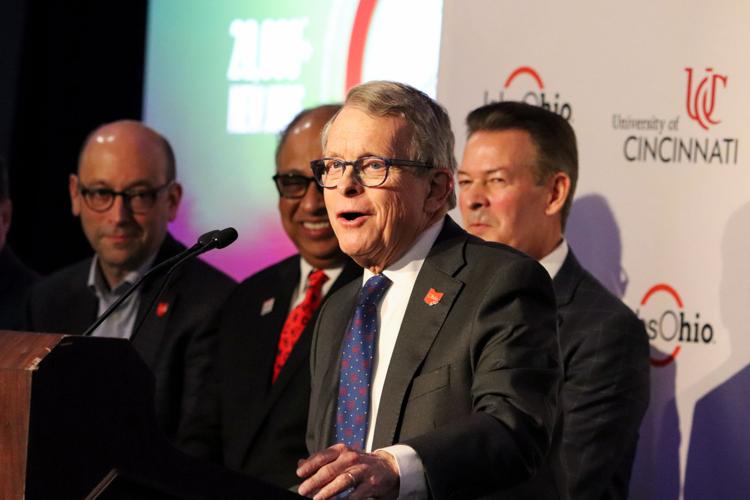 With panic over the new coronavirus spreading and cases continuing to be confirmed, the University of Cincinnati announced that in-person classes will be canceled effective March 14 through April 13.
Ohio governor Mike DeWine declared a state of emergency March 9 as travel restrictions and school closures across the country increased.
Here's what you need to know about the coronavirus and how it is affecting campus:
What is COVID-19?
COVID-19 is a new coronavirus that was first detected in China. On Jan. 30, the International Health Regulations Emergency Committee of the World Health Organization declared a public health emergency after the outbreak reached more than 100 locations internationally.
According to the Centers for Disease Control and Prevention (CDC), symptoms of the virus include fever, cough and shortness of breath. If you are experiencing symptoms, stay home and avoid public areas except to get medical care. Limit contact with other people, pets and animals and wear a mask in public.
Coronaviruses are a large family of viruses that can be found in human and animals. COVID-19 originated in Wuhan, China, and has been linked to a large seafood and live animal market which suggests animal-to-person spreading.
Why should I care?
Keep reading.
How dangerous is the coronavirus?
Reported illnesses have ranged from mild to severe symptoms, with over 4,000 cases resulting in death. Of more than 800 cases reported in the U.S., 28 people have died in Washington, California, Florida and New Jersey.
The risk of the virus depends on how fast the outbreak spreads, the severity of resulting illness and the availability of other medical measures such as vaccines, according the CDC. Older citizens and people with preexisting health conditions likes heart disease, diabetes and lung disease are at higher sick of getting very sick from COVID-19.
Where did it start? Where is it now?
There are currently over 118,000 confirmed cases across the world, including 808 cases in the United States, according to Johns Hopkins University. There are cases confirmed on every continent except Antarctica.
What is going on in Ohio?
There have been three confirmed cases of coronavirus in Ohio, all in Cuyahoga County. The Ohio Department of Health released updated numbers that show there are about 15 possible cases under investigation.
Ohio governor Mike DeWine declared a state of emergency March 9 and encouraged school cancellations until the outbreak is under control. Ohio State University, Miami University, Kent State University, University of Akron and Ohio University have all canceled in-person classes and will only have virtual instruction for all classes.
Cincinnati Public Schools has also canceled all domestic and international travel scheduled through the end of the 2019-2020 school year.
What is the university doing about the outbreak?
All university sponsored travel to countries that are CDC Warning Level 3 is prohibited. Students traveling from China, South Korea, Italy or Iran are required to report to University Health Services and self-quarantine for 14 days before returning to campus.
All spring break student abroad experiences have also been canceled for an "abundance of caution."
University president Neville Pinto has created a Public Health Response Team comprised of senior university leadership.
What can I do to protect myself?
In order to protect yourself from COVID-19:
Avoid close contact with people who are sick
Avoid touching your eyes, nose and mouth
Stay home when you are sick
Cover your cough or sneeze with a tissue, then throw the tissue in the trash
Clean and disinfect frequently touched objects and surfaces
Follow CDC's recommendations for using a facemask; the organization does not recommend healthy people wear a facemask.
Wash your hands often with soap and water for at least 20 seconds, especially after going to the bathroom, before eating and after blowing your nose, coughing or sneezing. Alcohol-based hand sanitizer with at least 60% alcohol may be used.
Will academics be affected?
On March 10, UC announced that in-person classes will be canceled effective March 14. Instruction will continue remotely until April 13, while residence and dining halls will remain open. College deans are working with faculty to develop online teaching approaches for each academic program.
How serious is it?
While the virus is not particularly deadly to most people, risk comes from how a global epidemic affects the societies it hits, according to The New York Times. Local health care systems are at risk of being overwhelmed by patients depending how fast the outbreak spreads, so global efforts are currently focused on stopping the spread and lessening the impact of the virus.