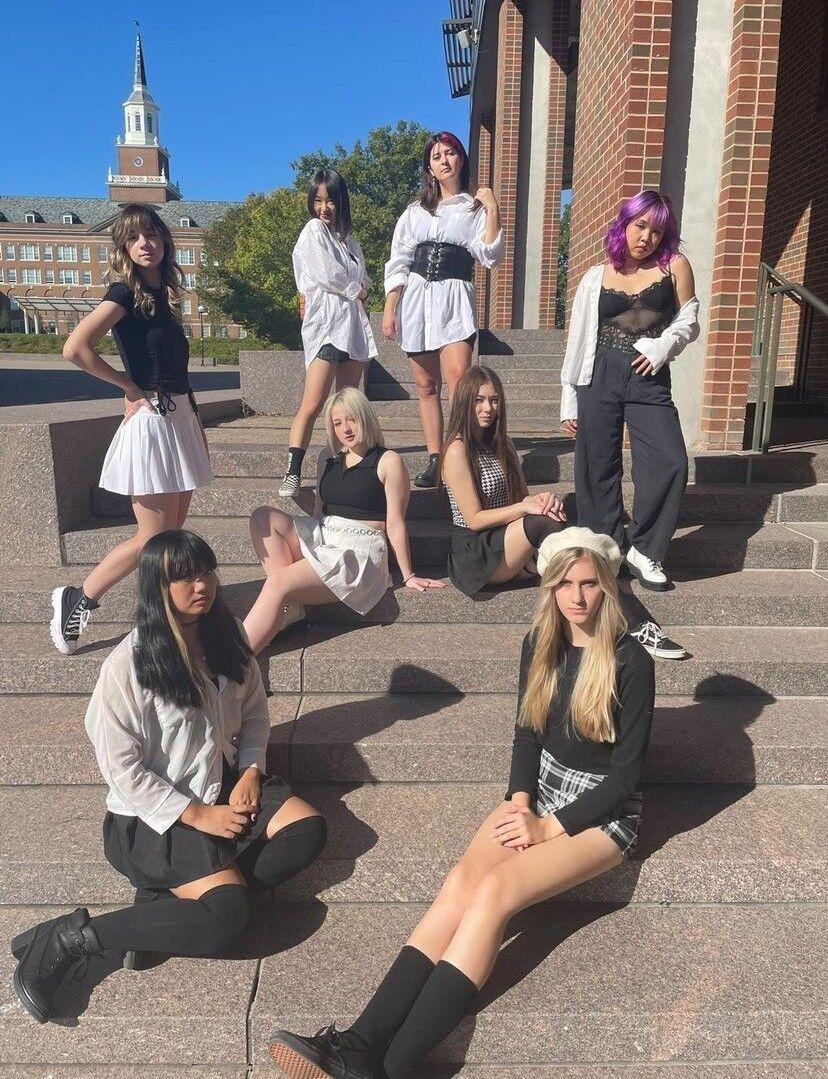 It is 7 p.m. on a Friday in West Charlton Hall, room 277, and the Korean Culture and Dance Club (KCDC) are rehearsing the song "Obliviate" by a K-pop group called Lovelyz. As the music begins to play, the seven members huddle together and dance, following the routine for the "Obliviate" music video in synchronization.
Most know that K-pop – shorthand for Korean pop music – is a worldwide phenomenon with a devoted following. Still, not everyone knows that the University of Cincinnati (UC) has its very own group of devoted K-pop followers in KCDC. The members of KCDC meet every Wednesday and Friday night to rehearse popular K-pop dances. During rehearsals, the members mimic the choreography from iconic K-pop videos. 
"Our goal is to bring awareness and celebrate Korean culture as it gets bigger each year," said graduate student Mailani Strong, KCDC eBoard member and student adviser. "We also want to [bring together] people who like K-pop." 
KCDC is the formal name of the student organization, but the dance group they formed is called Classick. There are currently six members of Classick, and each member brings a unique attribute to the group. 
Vy Hyung, a first-year biological science student, brings vibrancy and colorful ideas to the group. Second-year chemistry student Kalin Baritell, on the other hand, can easily adapt to different dance styles and concepts. First-year environmental studies student Lydia Lupton has the ability to incorporate various technical dance styles in her performance. 
"Classick promotes KCDC and is the face of the organization," Strong said. "Most people discover KCDC through Classick's YouTube videos and social media." 
For co-founder and former president Tisa Lahagu, a UC graduate, K-pop is a way to escape reality. Many fans, such as Lahagu, will take to social media to find other fans worldwide and connect through their mutual interest in music.
"K-pop is a distraction, sometimes good and sometimes bad, but it makes me happy, and it creates a community and I like that," Lahagu said. "I've made so many friends through K-pop, you meet so many people – not only in real life but also online." 
Social media has been a key factor in the popularity surge in K-pop. "It has been very inspiring to see through Twitter and Instagram the diversity of K-pop fans," said fifth-year fine arts student Mar Burch, president of KCDC. 
As president, Burch is in charge of making sure everything in the group is running smoothly, promoting the group to UC students, nurturing relationships and networking partners with other student organizations such as Delta Phi Lambda, a non-exclusive Asian sorority, and other Asian cultural groups on campus.  
KCDC has fostered close relationships with several UC organizations. Classick KCDC's dance group has performed for some of them. 
K-pop is everywhere in the United States. Major K-pop groups such as BTS and Blackpink have dominated the music charts and sold out major stadiums in minutes. According to Billboard Hot 100 music charts, the K-Pop group BTS currently holds the No. 1 spot with their collaborative new single, "My Universe." According to the Guinness World Records, BTS is currently the most-streamed group of all time on Spotify with 16.3 billion plays. 
K-pop has also taken over major social media platforms such as TikTok, Twitter, Instagram, and Spotify. The popularity of K-pop seems to be rising at an unstoppable rate. 
"It is touching and amazing to see the changes in K-pop from 20 years ago," said Jungsil Jin, professor of Asian studies at UC. "I am impressed to see how much BTS has accomplished and the recognition South Korea is receiving because of K-pop." 
Strong and several other members of KCDC believe that K-pop isn't just music, it's a lifestyle, and fourth-year communication student Mckenna Reiss shares the same opinion. 
"K-pop to me is a means of artistic expression that is a reflection of a culture that I think is beautiful," Reiss said. "It brings together people all over and from different backgrounds." 
To its members, KCDC is not just a campus organization, it's home. Members say they are free to express themselves through modern Korean culture, music and dance.  
"Because of the COVID, some of the members haven't had the chance to perform," Burch said. "I want to see KCDC members grow both individually and as a team, while also experiencing performing."
A love for Korean culture is what attracted first-year international affairs student and Classick member Alexa Jamet to the group. She is a fan of K-pop and K-dramas and joined KCDC to expand her knowledge of Korean culture. 
"I wanted to branch out and find opportunities that I wouldn't find anywhere else through this organization," Jamet said. "K-pop is all about connection. Ten years ago, nobody would have thought K-pop [would become] what it is today. Slowly over time, we are building such a strong community of people [who are] interested in dance."