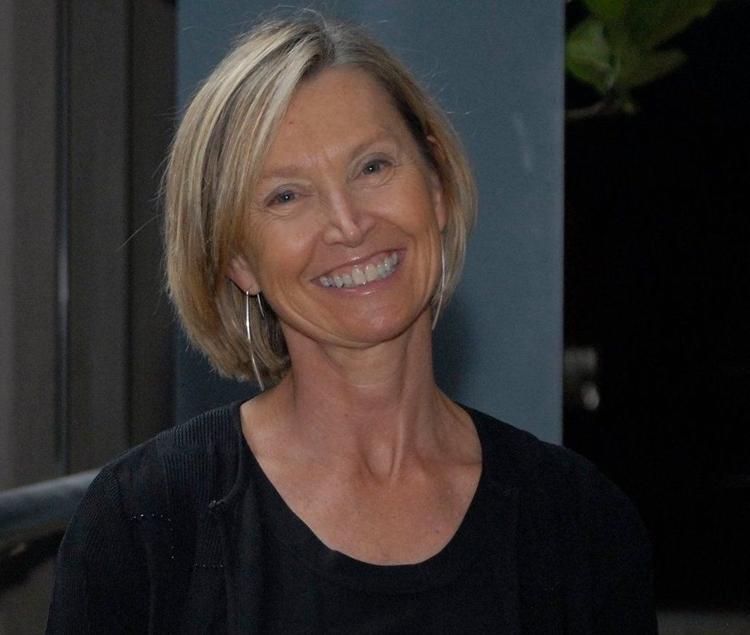 They say confidence is key, but to one University of Cincinnati professor, it's more like a sledgehammer — aimed right at the glass ceiling.
It's dark in the large chapel of Crossroads Uptown. The church, which moonlights as an event center, is just a block from UC's main campus. The sanctuary, dating back to 1873, is still in its original condition. But now the year is 2018, and the chapel that has supported preachers for over 100 years will hold a different kind of teacher, and the words she speaks are a sermon in their own right.
Suddenly, the lights on the stage rise, and its backdrop twinkles. Large block letters reading "TED x UCincinnati" sit in the middle of the platform. UC professor Dr. Jane Sojka takes the stage quietly as the crowd of students, faculty and professionals applaud her entrance.
Her face, soft but determined, dawns a slight smile as she begins to speak. "So, I have a question for you," she says. "How many of you negotiated your first job?" A few hands float up around the room and promptly come back down.
Well, did you? If you're a man with a college degree, there is a good chance that you did — a 57% chance to be exact. But if you are a woman, that percentage is only seven, according to a study on MBA graduates from Carnegie Mellon.
When Sojka presented this statistic during her TEDx talk two years ago, she called it disturbing.
"As a college professor, I teach my men the same way I teach my women," Sojka said to the audience. "I'm sending out the same message but, boy, different things are coming back."
Sojka says both percentages of negotiation should be 100. But the fact that only 7% of women negotiated their salary contributes to the reality that women only make 79 cents for every dollar made by a man, according to 2019 figures.
"What starts out as a little difference, over the course of a 40-year-career becomes a big difference," Sojka explained to the crowd.
But why is the gap so large? Why didn't these women negotiate? How do we fix this?
These questions lead Sojka to the conclusion that despite their prestigious education, the women lacked something that is rarely taught in a classroom: confidence.
For the past six years, Sojka has worked to close what she calls the "gender confidence gap" through various projects on campus and off, including the development of her class Women in Sales.
"I'm helping women to overcome the fear of failure so they will take a risk," Sojka says over the phone.
The slight rustle of sandwich paper crackles in the background, as she interrupts a busy day to grab a bite. After taking the fall semester off to work on her upcoming book, she understandably has little time for an interview. Her office, located in the new Lindner building, is a revolving door of students and colleagues looking to swap ideas and dropping by to thank or congratulate the professor.
"That first class had, I believe, 25 women and two brave men," Sojka says, chuckling into the phone. "I always call the men who take my class 'brave.'"
Women in Sales was meant to be a one-time-class offered in the spring 2015 but grew into a giant success that has continued for the past 11 semesters — even earning Sojka the American Marketing Association's Innovation in Teaching Award in 2016.
"We need women who think like women because when you bring different perspectives to the table, that's what brings the power," she says.
Getting those perspectives to the metaphorical business table is a large objective of her class. Sojka's curriculum is a mix of traditional sales strategy and a crash course for women who want to overcome fear of failure, build resiliency and gain confidence.
"I've learned to stop saying 'sorry' so much!" said Madi Rinaldi, a marketing and econ student currently taking the class. She has passed this advice to others in her role as a PACE group leader, recalling when one of her female group members apologized to her for asking a lot of questions.
"I told her she does not need to apologize to me for being curious," Rinaldi explained. "Watching how appreciative she was toward me for that answer encouraged me to practice being unapologetic in my life more."
Although the class is designed for women, it is open to anyone. "There's no male-bashing here," Sojka says. "The class gives [men] insight into a different culture."
According to her, most men in business rarely know what it feels like to be out of place, but in Women in Sales, that's exactly what they are. As someone who is no stranger to being the odd-woman-out Sojka says, "Welcome to my world."
For Nushong Goba, a recent graduate and one of those "brave" men Sojka referred to, it was one of his favorite undergrad classes.
"It allowed me to have a new lens on females in the workplace and the different standards they are held to," Goba said.
Additionally, Goba credits the class with being helpful to anyone who has ever struggled to find a seat at the table, besides just women.
"I feel like a lot of the class resonated well with me because I [am] a minority, and have dealt with similar struggles and issues," he added. "I loved this class and what it prepares you for, if it's in sales or just being a confident businesswoman or man."
Remember that statistic about negotiation? It isn't a new one. It was first introduced by Linda Babcock in her 2007 book "Women Don't Ask," which taught thousands of women how to ask for what they want at home and in the workplace.
Sojka is working on her own book that she hopes will allow her to communicate her teachings to a broader audience in a more accessible way. The book, which doesn't have a set publication date, is just one of many projects Sojka is currently working on to empower women. Recently, Sojka confirmed plans for a Women in Finance course, as well as a program that focuses on building confidence for female athletes at UC.
The concept of empowering women in business is not novel, but Sojka's approach to closing the gender gap in confidence contributes to a powerful momentum in a pioneering way.
"When a woman goes into a male-dominated area of business, there is some concern about how confident she should be or how dominant she should be," said Ella Frye, executive director of the Cincinnati Women's Business Center. "All the ways we can come together in terms of collaboration or through classes or workshops or mentoring is another tool we can use."
Sojka's own hand did not go up during her TEDx talk two years ago. After completing her undergraduate degree from Indiana University in 1976, she began a career in business. By her mid-20s, she was the only female manager in the HVAC division of the Coleman Co. in Wichita, Kansas, and she thought absolutely nothing of it.
Back then, "equal" meant "the same" to her. It was the 1980s, and women needed to prove they could do any job just like a man could — that meant acting like "one of the guys." The shoulder pads were huge, women were a token in the workplace and there was no room to play nice. However, all this acting and competition proved to be difficult for Sojka as she realized, women and men are, in fact, not the same.
One MBA, a Ph.D. in marketing and sociology and an accidental dissertation in sales later, she felt a pull to educate women on being confident business professionals.
"Sales was the only dissertation topic left," Sojka says with a laugh. "There's a huge emphasis in sales on the ability to make and retain relationships. So, I thought, 'You want salespeople who can make relationships? Women are great at making relationships,' and I wrote about that."
After 15 years as an associate professor at Ohio University, Sojka came to UC in 2010. She immediately got to work breathing new life into the marketing department — creating the Center for Professional Selling, developing a minor for professional selling and starting the Varsity Sales Team; a student organization that competes nationally.
It was also around this time when she noticed sales classes were majorly made up of men, despite her efforts to recruit women into the field.
"I had a ton of recruiters coming to me saying, 'We want women,' but I had a hard time getting women to consider a career in sales," she recalls. After a few years of this trend, Sojka decided she needed to change the conversation. So, with the help of a grant from P&G, the Women in Sales class was born.
A study conducted after the classes first semester, showed that Sojka's students had a decreased fear of failure, increased resiliency and a skyrocketing increase in confidence. But the benefits didn't stop there.
"Word got around to corporate recruiters — we have a group of really sharp, really articulate and really confident women, and they come from all over the country to talk to our women," Sojka explained at the end of her TEDx Cincinnati talk. "I say, 'And by the way, I've got also some really sharp, confident, articulate young men. Would you like to talk to them too?' So, they come for the women, they stay for the men — everybody wins."
For Sojka, this was a better outcome than she could have ever imagined. For as she says, "Empowering women benefits everyone."