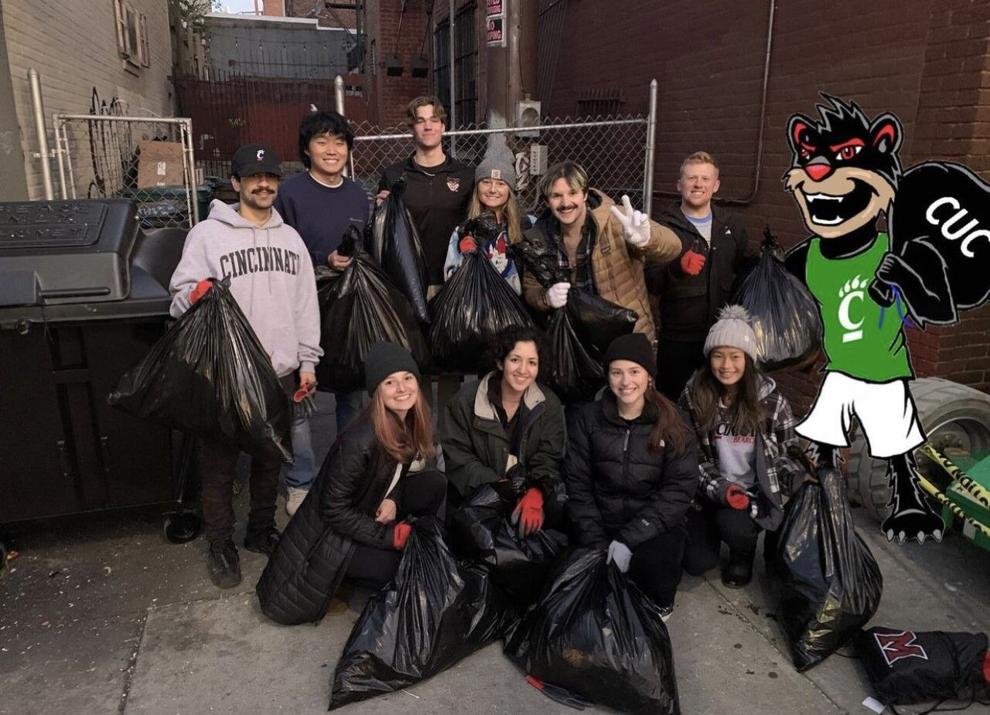 Most students at the University of Cincinnati (UC) are all too familiar with the aftermath of a weekend at UC. Littered around Clifton are various empty bottles, beer cans, food containers, tipped garbage cans and various other waste. This litter poses several problems both aesthetically and for the environment around it. At UC, Clean Up Cincy is working to alleviate campus litter all while offering students a tight knit social group focused on helping the environment.
Clean Up Cincy, an organization that strives to keep the UC campus clean and protect the environment through sustainability efforts, does more than just pick up trash. Relationships have been a vital part of keeping the group close, as the shared passion for helping the environment proves to be a bonding activity for many UC students. 
Founded by a small group of students in January 2015, Clean Up Cincy has gained significant attention and has seen an increase in volunteer work from students and residents of the Clifton community. The number of volunteers per semester has nearly tripled from 350 to 1000 since 2015. 
For some members of the executive board, the work put into the organization is a daily priority. Third year environmental studies student and Clean Up Cincy vice president, Emma Daniel,  works behind the scenes every day to help organize weekly meetings and plan events that the organization schedules. Every semester, the organization plans a couple major events that garner significant involvement from members of the Clifton community. The largest event the group organizes is the Clifton Walking Event. 
Members and volunteers break into large groups and are given maps of areas in Clifton where trash needs to be collected. Together they go out and work as a team to clean the area to the best of their ability. Another event, held every year during Sustainability Week at UC, is an initiative the organization calls the "one bag of trash challenge" that encourages students to pick up at least one bag of trash around their respective communities. 
For club president Ally Widzinski, a fourth-year industrial design student, events like these helped her get a feel for the community not just around campus, but also the city of Cincinnati. Widzinki founded Clean Up Cincy her first year at UC and has been a member since. 
"I'm [from] out of state, so I didn't know anything about the city, but now I know all the different neighborhoods. I know community leaders and [have discovered] other volunteer opportunities," Widzinski said. 
She also stressed the importance that these events have for students to expand their vision past the community they live in. 
"It's kind of opening them up to the bigger world that they're a part of and realizing that yes, we're here in this one block of the university, but we're also part of a city that we need to help support as well," Widzinski said. 
The group's impact reaches beyond the campus, according to fifth year urban planning student Grant Webster, who serves as the executive board sustainability director. 
"I think it's a two-for-one kind of deal where we want to get Cincinnati as a city objectively clean, but I think another aspect of it is fostering people to have their own sense of pride in their neighborhood," said Webster. 
Members of the community are always encouraging and appreciative of the efforts the student organization has made whenever the group does outreach beyond campus.  
Archit Deshpande, a second-year neuroscience student, was looking to get involved in the community and potentially join a student group on campus when he arrived at UC and noticed the outreach from the organization immediately. 
"Clean Up Cincy was one of the ones that kept reaching out no matter what during COVID," Deshpande recalls. "And it's not just that, it was the biggest cleanup organization on campus, and they had huge events." 
Now a two-year member of the group, he understands the common goals shared by Clean Up Cincy members despite their wide variety of different majors and disciplines. 
Daniel says she has a passion for keeping the community clean and plans on working for an organization in the future that focuses on not just the environment, but also the well-being of people. 
"We're very passionate about the environment, and that's not always something you see in an urban setting," she said. "I come from a place that's very rural, very nature focused, and it's cool to bring that here and get people excited about protecting the place they call home." 
These mutual feelings toward the environment have sparked camaraderie and relationships that have been essential in keeping the group together and successful for so long. 
"I saw a member of our group for the first time out in Clifton this weekend and we got to hang out together," said Webster, a five-year member of the group. "It's definitely a great way to meet people that you wouldn't otherwise really see or hang out with outside of the club." 
Recently the group went to Woodward Theatre in Clifton to see an awards ceremony that pertains to environmental protection in the Cincinnati area. Webster says that every semester, members of the executive board go to a river or neighborhood to do cleanups with one another to strengthen their team bond. Even when the time comes for student members to leave the university and discontinue their routine efforts for Clean Up Cincy, the friendships and relationships with one another can last a lifetime. 
"I still keep in contact with old executive members. They will always text me and check in," Widzinski said. 
But it's more than just a social media follow or occasional text. 
"It's a friendship that you're always going to have and you're always going to have their support," she said. "Yeah, you're graduated, but you're never really gone from Clean Up Cincy. You're always a part of it and you're still going to be on our website as an alumni. That's what I hope the rest of our executives will do as we move on through life." 
Deshpande echoes this idea, even when his time at UC and in the organization is over his passion and commitment to protecting and sustaining the environment will still be important to him.
"Once you leave you wouldn't lose that passion of being in the environment," he said. "I always want to be involved. Even if it's not a major career goal, I'm never going to stop wanting to clean up or be sustainable or help the environment."