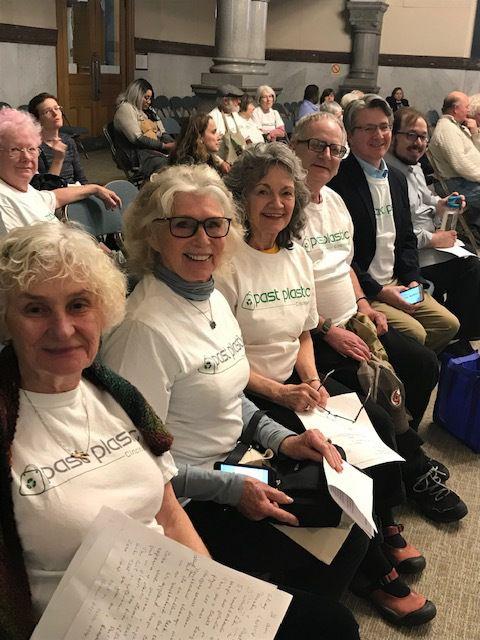 An environmental coalition founded by University of Cincinnati students is driving the campaign behind a possible plastic bag ban by Cincinnati City Council.
Cincinnati Past Plastic delivered a presentation to city council's Education, Innovation and Growth Committee Jan. 28 in support of an upcoming ordinance proposal by councilmember Chris Seelbach to ban plastic bags. 
Founded in 2012, the campaign was created to protest the use of single-use plastic bags, said Marie Kocoshis, chair of Cincinnati Past Plastic.
Since then, the campaign has grown into a group of organizations including the Sierra Club, League of Women Voters of the Cincinnati Area, Women's City Club and the Environmental Community Organization (ECO).
During its first appearance at city council, the coalition had approximately 50 to 60 people from both member and nonmember organizations show up to voice their support for the ban, said Kocoshis.
With detrimental environmental effects stemming from single-use plastics being so overarching, Cincinnatians are invariably impacted, said Kocoshis, citing pollution in the Ohio River as a primary example.
The Ohio River has been consistently ranked as one of the most polluted rivers in the United States.
Approximately 4 billion metric tons of plastics – including bags, straws and containers – have been produced just within the past 15 years, according to the National Resource Defense Council (NRDC).
The vast majority of these plastics aren't recycled and usually become pollutants that eventually break down into microplastics, which pose dangers to both humans and wildlife, according to the council.
"You don't have to go anywhere but Cincinnati to get a pretty good idea of what our problem is," said councilmember Wendell Young, on the prevalence of plastic pollutants in the city.
Despite a groundswell of support from local organizations, the coalition may face challenges to convince city council to pass a plastic bag ban — namely Ohio Senate Bill 222, which aims to prevent local governments from imposing such a ban.
The Ohio House already passed its version of the bill late last year, although Ohio Gov. Mike Dewine opposes the bill as it encroaches on local government's ability to govern, according to a report by the Columbus Dispatch.
There is also concern that Cincinnati Mayor John Cranely's office might attempt to veto the ban if it passes a vote in city council, said Seelbach at the Jan. 28 city council meeting.
The initiative will need at least six votes from the nine-member council to overcome a veto, he said.
Three councilmembers — P.G. Sittenfeld, Young and Seelbach — already pledged their support for the ban.
Seelbach has long been a proponent of a ban on single use plastics and is sponsoring the upcoming ordinance proposal.
"When I first ran for council in 2011, it was a priority of mine to ban the use of single-use plastic bags in the city," he said.
There will be an announcement regarding the ordinance in coming weeks, said Seelbach.
While the coalition may have its origins at UC, it was always meant as an initiative to spread citywide awareness about single-use plastic bags, said Myra Morehart, who co-founded Cincinnati Past Plastic as an undergraduate.
At the time, there weren't any initiatives promoting plastic bag legislation, said Morehart, noting that the coalition initially supported a fine rather than an outright ban.
Reaching out to the Sierra Club, the coalition made its debut screening documentaries at the Esquire Theatre, said Morehart.
After graduation, time constraints forced Morehart to step away from the coalition, yet she is glad to see that it has continued to push for legislation.
"It makes me feel great to see that those efforts have continued," she said.