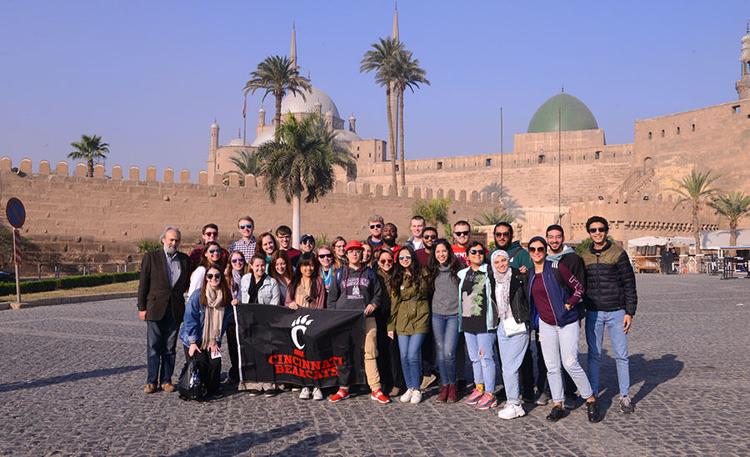 The University of Cincinnati's president, Neville Pinto, along with UC's Vice Provost for International affairs, Raj Mehta, envisioned an honors course that could culminate with a visit to one of UC's strategic partners: The Future University of Egypt in Cairo. In addition, they wanted a course that would allow students to understand the importance of the Department of Classics' archaeological work at Pylos in Greece.
Mehta previously visited excavations at Pylos in 2018 with UC's Executive Vice President for Academic Affairs and Provost, Kristi Nelson. Approaching 100 years of dedication to archeological excavation, UC has had a long relationship within Greece. Pylos was originally excavated by UC professor Carl Blegen in 1932.
Mehta recruited Constantine Polychroniu, a professor in international business, to begin developing the course they had envisioned.
Along with Kathleen Lynch, a professor of Classics, Polychroniu divided the course into sections on economy, history and culture. Lynch would teach one day and Polychroniu would teach the other. Coming from all types of majors, Lynch taught the students about various monuments sites they would be visiting in Greece and Egypt. Polychroniu provided an overview of the economy of Egypt and Greece, with a sensitivity to the relationship of political change to economy.
After the semester-long course, the class traveled to Greece and Egypt this past December for 10 days.
In Greece, the students stayed in Athens while traveling to Pylos to visit the UC excavations where excavation directors and classics colleagues, Professor Hack David and Dr. Sharon Stocker, gave them a tour. The students tour came on the eve of a news conference to announce the new discovery of two Bronze Age tombs discovered by UC archeologists.
The class also got a tour of excavations of the Athenian Agora where Lynch does research. The students learned about the history of the excavations, how to conserve artifacts and got to handle ancient pottery. Researching Greek pottery for the past 20 years, Lynch loved taking the students to the excavation of the Athenian Agora.
In Egypt, the class visited the Future University of Egypt (FUE), making them the first UC students to ever visit Egypt. The students heard lectures from a former Egyptian ambassador — Professor Dr. Mohamed Tawfik — on the relationship of historical change and economy in Egypt, and Professor Dr. Noura Eissa, on the state of the Egyptian economy.
In addition, the students got to see historical sites in Egypt, like the pyramids, and went on a dinner cruise on the Nile River.
"We tried to see sites that spanned from ancient to modern, and that also demonstrated how modern life is rooted in the past. Greece and Egypt would not be who they are today — culturally or economically — without their unique histories," Lynch said. "This was important for students to hear, because I think that UC is sometimes too focused on now or next without understanding how we got to where we are."
After amazing experiences in both countries and at FUE, the departments are considering repeating this trip in 2021.