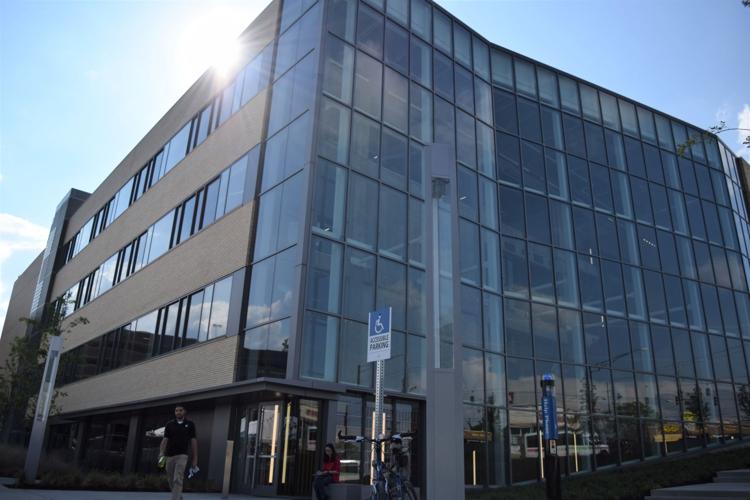 Cincinnati Insurance Companies, Inc. (CIC) has officially moved staff into its new space at the University of Cincinnati's 1819 Innovation Hub, solidifying yet another partnership in UC's growing business network.
This long anticipated move was made official last week in a tweet by the 1819 Hub. The partnership between UC and CIC – a subsidiary of the Cincinnati Financial Corporation – was announced late last year.
"Our vision is to be the best insurance company serving independent agents," said Teresa Cracas, senior vice president and chief risk officer for CIC in a news release at the time of the announcement. "The innovation hub is a way to test ideas that help us achieve this vision and to bring the best ideas to life in our business. UC provides thought-leadership in the innovation space and connects us to talent that will be helpful to us on our innovation journey."
Talks between UC and CIC began last fall as the company was searching for a way to better connect with talent, said David Adams, chief innovation officer for UC. He added the proximity to the university allows for greater access to students, researchers and even other corporate partners.
"We are now living in an environment where the pace of change just continues to accelerate," Adams said. "If you think about innovation relative to the pace of change in new technologies, new processes or new products, having an environment where you can connect to the talent to help you solve some of these problems on an ongoing basis becomes really, really important."
This kind of connection was a major influence behind the creation of 1819 said Adams, whose initial charge from UC President Neville Pinto was to connect the university with the surrounding community.
"If you think about it, we really haven't had a place where the university and the community can connect," Adams said.  
1819 is just one example of a larger, nationwide trend –public universities across the country are similarly adopting their own innovation hubs.
Opening October of last year, the 1819 Innovation Hub occupies a 100,000 square foot structure at the corner of Reading Road and Lincoln Avenue. According to its website, the space incorporates a 12,000-square-foot makerspace, shared office spaces, classrooms, huddle rooms and gathering spaces.
Besides creating opportunities for companies, Adams said the space allows students to engage with partner companies on a regular basis, and that 1819's Venture Lab also provides resources for students and faculty to commercialize their own ideas.
CIC has currently staffed the space with interns working on IT testing, but also plans to house "venture teams" – a team of associates from multiple departments within the company – that will use campus resources in an innovative approach to problem-solving, said Betsy Ertel, vice president of corporate communications at CIC.
"I think mainly we're looking for connection into the greater innovation ecosystem and connecting with all the great talent of UC students and faculty," she said, adding the company hopes its presence on campus will also help in recruitment efforts.
"We hope to introduce lots of people to what Cincinnati Insurance does, what the industry does and all of the ways we're helping our community," Ertel said.
CIC will be joined at 1819 by Kroger, Procter & Gamble, Fifth Third, Kingsgate Logistics and Cincinnati Bell.