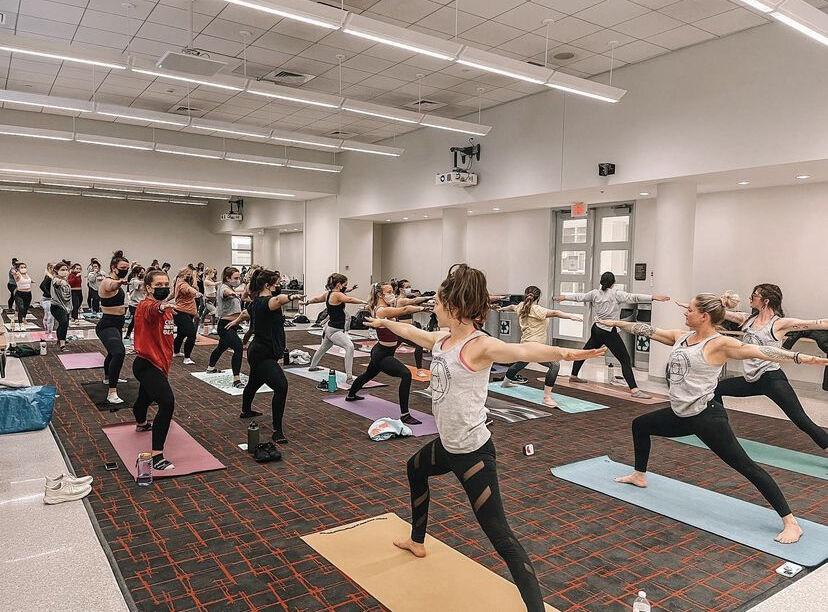 After playing sports for years, second-year communication design student Skylar Huster was used to the routine of practices and competitions. She missed the structure that organized sports gave her, and knew she needed to figure out a way to stay active while at the University of Cincinnati (UC). It can be challenging to figure out where to start with this though, especially on a college campus.
Stepping into the gym for the first time can be intimidating, especially for women. Knowing what exercises to do and how to come up with workouts on your own is a challenge that keeps many girls from getting involved in fitness. 
Student health and wellness organization CHAARG is here to change that. CHAARG stands for "Changing Health, Attitudes, and Actions to Recreate Girls," whose mission is "liberating girls from the elliptical." More than 100 universities across the U.S. have CHAARG chapters on their campus, and UC's chapter has been around for a decade.
UC CHAARG has currently grown to 150 members, and they aim to provide women on campus with a supportive environment to pursue their fitness goals and create lasting relationships. The group meets weekly on Mondays for a workout in Tangeman University Center (TUC), which runs from 6:30 to 7:30 p.m. and 7:30 to 8:30 p.m. There are also various workouts off-campus, small group meetings and other social events.  
"I started CHAARG as a freshman, I've been in it for eight semesters now," said Maria Staubach, a fourth-year double information systems and marketing student. "It really helps girls become confident in themselves and what they're doing, and it gives them the tools to find what workouts they like." 
Staubach is the ambassador of CHAARG for the 2021-22 school year. Her goal is to make the organization feel like a natural and organic space, and to make girls feel more comfortable on their fitness journeys. 
CHAARG offers on-campus workouts in TUC, and the group attends workouts in different locations around Cincinnati, with "away workouts" at places like boxing and dance studios. They also organize social events and host a formal or a retreat each semester.  
"We've done boxing, cycling classes, and we have a strength and conditioning workout coming up," said second-year psychology student and CHAARG event coordinator Mariah Mansfield.  "We're going to have a dietitian come in too. I'm excited for that one." 
Mansfield joined CHAARG her freshman year to meet people and stay active, and now helps plan group workouts and events. The group provides a variety of workout types with the goal of helping women find their fitness niche and give them the confidence to try new things.  
"It's a community full of girls that come together to do atypical workouts," Mansfield said. "You don't have to do cardio all the time. You don't have to be in the corner of the gym by yourself. There are so many different ways to be healthy."  
The social aspect is a huge force for why CHAARG continues to grow and be successful. 
"People would probably argue the social aspect is more of a benefit than the actual workouts. It depends on what kind of workouts you like to do, but every time there's always a good social atmosphere," said Huster.
Huster loves CHAARG not only for the fitness, but for the social side as well. "I've met a lot of my really good friends through CHAARG. It's a good way to meet people outside of your major." 
CHAARG hosts four socials each semester for members to meet outside of a workout. After being virtual due to COVID, they're back to doing in-person events. Along with the weekly group workouts, CHAARG also meets weekly in small group settings. Groups consist of a few women with one small group coordinator to lead meetings. 
"It's a way to be more intimate and hold yourself accountable. Sometimes we do workouts, sometimes we meet for coffee and do homework," said Mansfield, the small group coordinator. "We talk about anything. I told them they can come to me with whatever and I want it to be a safe space." 
Huster likes the small groups because they help connect members and enable them to get to know each other more. Her small group makes a point to talk about the ups and downs of their week to make it a supportive environment. 
Staubach sees a lot of value in giving women the opportunity to actively support each other on their fitness journeys. The fitness industry can be especially hard on women, which is why she thinks a group like CHAARG can be a helpful resource.  
"Girls can start comparing their weight and looks to other girls, and it can lead to them degrading themselves or others," Staubach said. "Being able to support each other means we aren't being judged by both men and fellow women." 
Despite being marketed toward women, CHAARG welcomes people of all gender identities.  
"As I see it, everyone should have a chance to explore what kind of movement makes them happy in their life," Staubach said. "If CHAARG is their avenue to do that, who am I to stop them?"