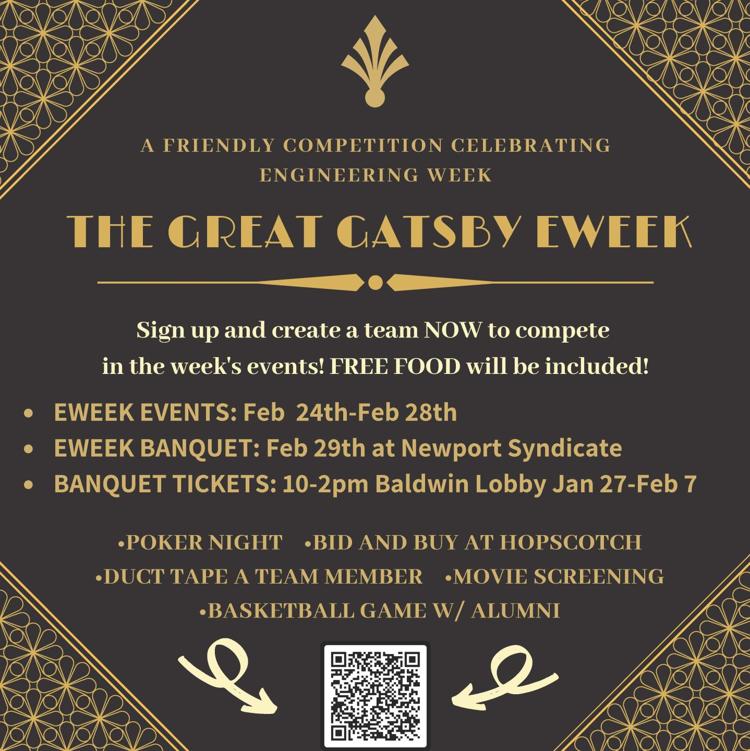 Students from the University of Cincinnati's College of Engineering and Applied Sciences (CEAS) Tribunal are gearing up for the college's annual Engineers' Week (EWeek), with this year's theme welcoming the new decade with a roar.
From Feb. 24 through Feb. 28, teams of CEAS students will compete head-to-head in a myriad of events and challenges, followed by an awards banquet at the Newport Syndicate Feb. 29.
Sharing the same name as its national counterpart, EWeek is meant to promote and celebrate the field of engineering, said Gabby Mazzoli, a third-year civil engineering student and EWeek coordinator for CEAS Tribunal.
"It also gets students involved in doing activities throughout the week," Mazzoli said.
"We have a full week of events planned that organizations can form teams, or friends can form teams and compete in events," she said.
Founded by the National Society of Professional Engineers in 1951, EWeek is celebrated by dozens of universities, businesses and government agencies across the country.
It is also a time to reach out to middle and high school age students and talk about the prospect of a career in engineering, said Jash Gada, a second-year computer science major and EWeek coordinator.
EWeek at UC traditionally has a theme. Last year, the theme was Game of Thrones. The theme this year – the Great Gatsby and the roaring twenties.
So far, this year's EWeek events include:
Monday, Feb. 24: Duct Tape a Team Member.
Tuesday, Feb. 25: Poker/Classic Game Night.
Wednesday, Feb. 26: Basketball with Alumni.
Thursday, Feb. 27: Movie Screening.
Friday, Feb. 28: Bid and Buy at Hopscotch.
The CEAS Tribunal is also trying to recruit other campus organizations, in hopes that they will host its own EWeek events, said Mazzoli.
The more students that join in, the more fun the competition becomes, Gada said.
With an abundance of bragging rights on the line for each team, EWeek can become extremely competitive, he said.
Last year saw a total of about 10 teams competing, with each team having about seven to eight members, said Gada.
Some events will also have a charitable component, like the "bid and buy" where all proceeds are being donated to a non-profit organization, he said.
In previous years, EWeek raised approximately $1,000 to assist the non-profit Engineers Without Borders with its work on projects like creating access to clean drinking water for people in Tanzania.
The winning team at the end of the week will receive a free dinner from the restaurant of their choice, said Mazzoli.
With free food being provided at each event, even the loosing team has something to look forward to, she said.
For CEAS students interested in participating in this year's EWeek events, team applications can still be submitted online through Feb. 16.