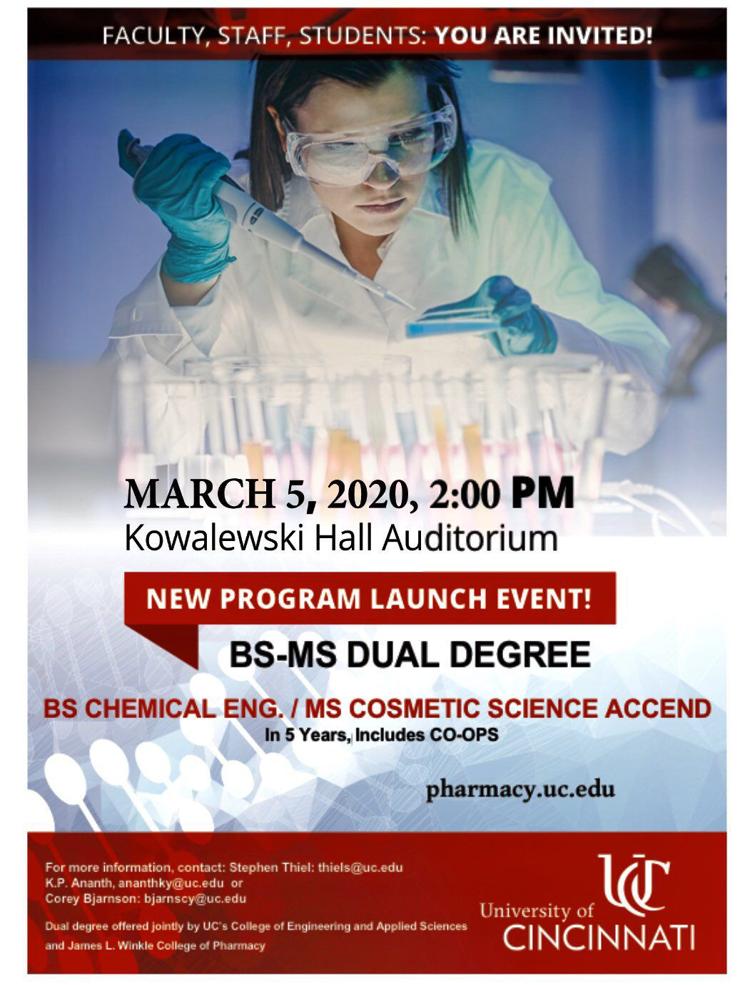 The University of Cincinnati College of Engineering and Applied Science (CEAS) is partnering with the James L. Winkle College of Pharmacy to launch a new dual degree program that is the first of its kind in the nation.
Now, students can earn a Bachelor of Science in Chemical Engineering and a Master of Science in Cosmetic Science in five years — a "4+1 program" — including co-op internships.
"To the best of my knowledge, this is the only program in the U.S. — and possibly in the world — that allows a student to complete both programs in the time it would normally take to get a B.S. degree," said Stephen Thiel, a professor in the department of Chemical and Environmental Engineering and the undergraduate program director for Chemical Engineering.
Thiel aided in ensuring that the Cosmetic Science and Chemical Engineering programs were well-aligned so that students have a clear and feasible path to their objectives.
UC Pharmacy first reached out to CEAS when the college began developing a master's program in cosmetic science. UC Pharmacy was interested in a "5+1-degree path," and so the two began discussing the possibility of a dual degree program a couple of years ago. However, they realized the cosmetic science track was better suited for CEAS's Accelerated Engineering Degree (ACCEND) program. This allowed for the program to be completed by the student in five years, instead of six.
"[Chemical engineering] students already take the chemistry needed to begin the Cosmetic Science coursework, and many of our students already co-op with employers in the cosmetics and personal care industries," Thiel said.  
Students will follow the chemical engineering track, with additional cosmetic science courses. These additional courses could be integrated as early as their third year. Students will also have the opportunity to take some of cosmetic science coursework online during co-op semesters.
"This combination of getting an early start on graduate work and being able to take the graduate courses during co-op semesters makes it much easier to earn the cosmetic science degree in parallel with [chemical engineering]," Thiel said.
Graduates of the program have a wide range of possibilities once they enter the workforce, said Thiel. Students will be qualified to work in the development, manufacturing and marketing of products related to cosmetic science. There's a lot more to cosmetic science than makeup, said Thiel.
"If you apply a product to you skin or hair, I think it's related to cosmetic science," he said.
On March 5, the colleges will host a program launch event at 2 p.m. in Kowalewski Hall Auditorium for any faculty, staff or students who are interested. Students will be able to learn more about cosmetic science, how the program works and how committed both colleges are to the success of the collaboration, said Thiel.
"For me, one of the big drivers was that we had [chemical engineering] students who were interested in the MS cosmetic science," Thiel said. "Making this an ACCEND program makes it easier for these students to pursue their dreams."