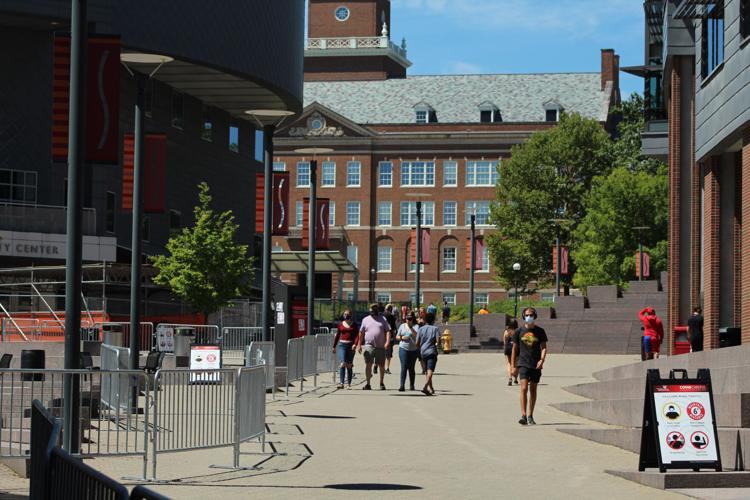 The University of Cincinnati's (UC) Office of Counseling and Psychological Services (CAPS) is operating short-staffed while the coronavirus pandemic is causing increased mental health issues among college students nationwide. 
CAPS Director Tara Scarborough told student leaders on Oct. 28 that the office is currently operating with a nearly 50% reduction in staff. 
As part of a larger effort to stem the tide of financial losses caused by the pandemic, university officials implemented a hiring freeze in April. That left several vacant positions unable to be filled, she said. 
CAPS currently has seven full-time clinicians, down from its usual 12, but the office did get approval from the university in July to fill two positions, she said.
While the loss of staff has limited the number of individual appointments CAPS can provide, Scarborough said accessibility has managed to keep pace with last year, largely because of the transition to remote counseling. 
"I used to say I would retire before I ever did a tele-mental health appointment," she said. "But it is working." 
CAPS has begun offering Rapid Access Consultations, which are single appointments that last up to 45 minutes and can usually be scheduled within a couple of days. 
A study conducted in Texas found that 71% of students reported a pandemic-related increase in stress and anxiety. COVID-19 also led to depressive thoughts in 44% of students and suicidal ideation in 8% of students. 
"It's certainly apparent that young people are really struggling with their mental health because of the pandemic," said Kelly Davis, director of peer advocacy, support and services for Mental Health America, a Virginia-based nonprofit. 
"Counseling centers are spaces for students to go and talk about whether they're dealing with some anxiety or stress, or maybe depression or issues with friends or family. But a lot of times what happens depending on your diagnosis, or your need, is you also get referred off campus," she said. "So, they kind of fill this interesting middle space."
Staffing issues are not unique to CAPS, Davis said adding that even before the pandemic, on-campus counseling services across the country have faced staffing shortages. 
The university recently received a federal mental health grant through the CARES Act. While much of that money will go toward creating a "wellness café" in the old Steger Student Life Center Starbucks, Scarborough said some of that funding will be put toward tele-mental health and staffing.
In an email to The News Record, Scarborough said that she did not have any specifics regarding the grant, but that she would likely know more in the coming weeks. 
Scarborough said she is confident that CAPS will be able to build its staff back up, but added that those numbers still pale in comparison to other similar-sized universities, some of which employ as many as 50 licensed clinicians. 
"So we'll at least get back to where we were, because as most of you know, where we were was not very good either," she said.