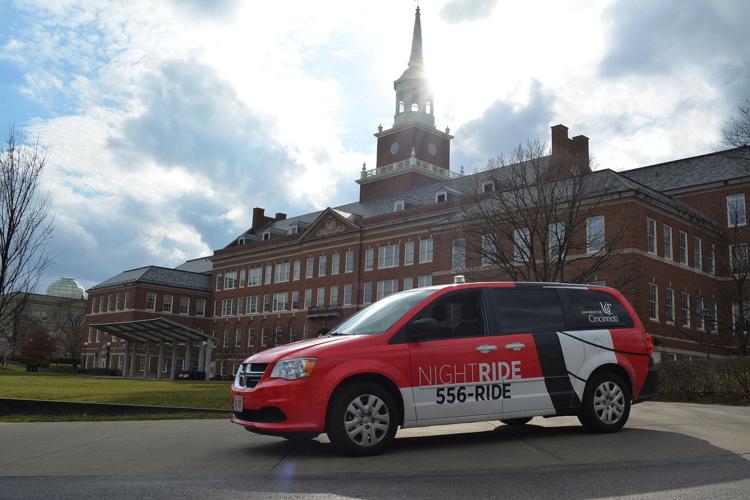 As student enrollment and the on-campus population continue to skyrocket to record highs at University of Cincinnati, the university's free ride-sharing service is struggling to keep up.
NightRide, operational Monday through Wednesday, 8 p.m. to 2 a.m. and Thursday through Sunday, 8 p.m. to 5 a.m., averages 270 rides per weeknight and close to 450 rides each night of the weekend.
"We have been averaging well over 10,000 riders per month," said Lauren Bycynski, community safety manager for UC Pubic Safety and NightRide program coordinator. "A van services about 130 miles each night. It's a lot of back and forth within the 1-mile radius around campus."
Due to the number of miles traveled, NightRide vans undergo almost constant oil changes.
"It usually takes about a week to get a van back, but usually by the time that van is back another one is due for an oil change," Bycynski said. "It's rare that we have all 12 in service every night, but when we do, it's a solid thing."
NightRide has 12 vans, with 10 currently in service. NightRide is preparing to replace two vans that have been in service since the program's creation in 2012. One van will be replaced at the end of September, one at the end of December.
"We have a couple vans that are up there in mileage, but they're still kickin'," Bycynski said.
NightRide also helps out other programs and allows them to borrow vans during daytime hours.
UCPD borrows NightRide vans to transport volunteers for its doorhanger events, Impact Innovation rents NightRide vans at a minimal cost to transport disabled students from their homes to classes on campus and back again. The food pantry uses NightRide vans to gather donations.
"When you see one running during the day, it's either getting fixed to be better for NightRide, or it's helping other programs out," Bycynski said.
A high turnover rate of student workers affects every student worker program, and NightRide is no exception. Retention is currently a problem within the service — 48 students work for NightRide, but 60 students would be ideal to run the full operation, Bycynski said.
"For all 12 vans to be operational with three dispatchers ready to go, 27 people would need to work in a single night," Bycynski said. "NightRide had 27 people working shifts during Welcome Weekend. Since then, we consistently run with six to eight vans a night, with 18 to 22 people a night to keep things moving."
Bycynski hopes to expand the NightRide fleet in the near future, she said.
There are many steps between a ride-request and drop-off, and the logistics involved may influence the fluctuating wait times students experience. How many vans are in service or out of service for maintenance, how many student employees can work a shift and how long it takes students to appear at their pickup location contributes to the service time inside the van, as well as the wait time for other students.
When a student submits a ride request, it is entered into the system by the students working in a dispatch office. The request is processed by dispatchers who add it to a queue for vans in service. Dispatchers can manually assign requests from a similar area to the same van to save driving time between pick-ups.
Each NightRide van in-service has two student workers: one driver and one navigator. 15 ride-requests appear on the navigator's tablet at any time. As one ride is completed, another is added. Navigators keep an eye on the requests coming in and communicate with the driver to decide the most efficient route for pickups as well as dropoffs.
Navigators call to inform riders their ride will arrive soon and to inform them their ride has arrived at the pickup location. A rider has five minutes to appear if they are not present at the pick-up location. If pick-ups are consistently using the full five minutes, the time of service for riders inside the van, as well as riders waiting for pickup, dramatically increases.
NightRide staff encourages all students to be ready and waiting after they receive the call informing them their ride is in-route.
As of August 2019, 29% of ride-requests are cancellations. When students forget to cancel their ride-requests, riders may wait in-van alongside the navigator and driver for what may be up to five minutes per stop, only for a rider to not show up.
"[The hours] can be tough on a student worker, but we have a lot of students willing to do it," Bycynski said. "I have been pushing the purpose of NightRide, of getting out into the community and protecting our students, scooping them up on four wheels and helping them out rather than having a job just to have a job."