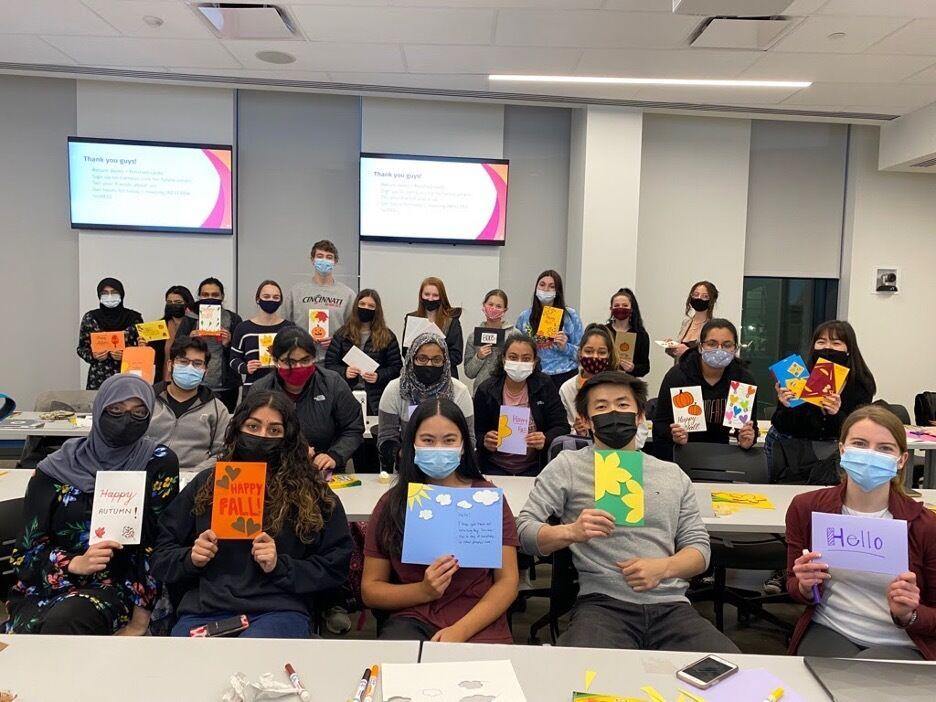 Everyone became acquainted with loneliness to some extent during the earliest days of lockdown. When days turned into months and now, almost years of the COVID-19 pandemic, this sense of isolation compounded. College Companions at the University of Cincinnati (UC) is a service-based organization looking to address these gaps in social connection for older adults and students through sustainable partnerships and community-led engagement. 
The organization's mission is "to provide safe social support to one another during these difficult times of social distancing while also ​fostering mentorship relationships among older adults and college students," according to its site. 
Earlier this month, the organization hosted a training from 6 to 7 p.m. in the Lindner College of Business. The orientation was held in partnership with Little Brothers-Friends of the Elderly (LBFE), a service organization working to relieve loneliness among the elderly. During the event, executive director of LBFE, Mary "Yogi" Wess, shared with attendees information on the various student volunteer opportunities and the general purpose of the organization. 
"College students bring new energy and exciting energy into the life of the older adults that we work with," Wess said. "I think that there's interest on the part of the elders to know more about what's going on with the young people."
Volunteering opportunities with LBFE include remote phone calls, in-person outreach, fundraising assistance and grant writing. There is no particular skill set or background required to apply for any of these positions. 
Sona Shahzad, a third-year medical sciences student and the vice president of membership for College Companions organized the training and said the group was especially interested in volunteering through the telephone reassurance program. 
"Volunteers are paired with a senior resident and make weekly phone calls in this program; We thought this would be easier than some of the in-person activities for our student volunteers' schedules," Shahzad said. "And hosting the orientation during one of our meetings also worked out a lot better than trying to find one time for everyone to attend one with LBFE." 
Gargi Rajput, a third-year medical sciences student and the president of College Companions, helped Shahzad get in contact with LBFE. Rajput has been with the organization since its inception and works to guide the group in prioritizing relationship-building with all partnerships. 
"This is not to just say that we are helping them. Rather, We want people to foster relationships and friendships," Rajput said. "I think what would be the most fulfilling for us to hear is people saying at the end of the year - wow, I really felt like I formed a connection. Or wow, I really feel like some change has been made either in my life or the person that I'm working with." 
In the last year, College Companions has sought out service-based organizations that work with marginalized populations, including organizations such as Grace Hospice, Bridgeway Pointe, Epic House and now Little Brothers-Friends of the Elderly.