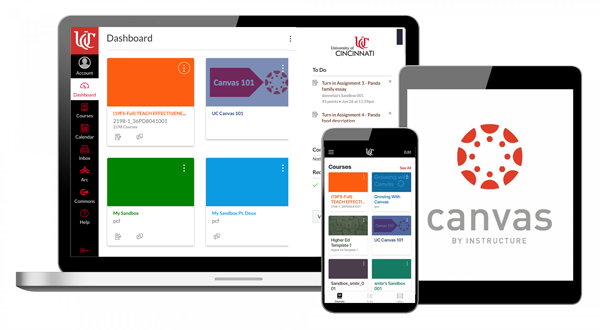 The University of Cincinnati is transitioning away from learning-management system Blackboard to Canvas.
Over the past two years, a "Learning Management System Task Force" involving faculty, staff and students began to review Blackboard and other learning management systems.
Canvas, which is widely utilized by other universities such as Indiana University, University of Michigan, Yale and Stanford, provides opportunities to reimagine courses and teaching practices.
Courses began appearing on the new system this summer. There are roughly 1,500 courses on Canvas at UC this semester, which means students may have courses on both Blackboard and the new platform.
"I like Canvas and don't mind the switch, but the fact that half of my classes are on Blackboard while the others are on Canvas is a bit frustrating," said Macy Shah, a second-year accounting, insurance and risk management student.
Melissa Newman, assistant professor of management in the Lindner College of Business, has been teaching at UC for eight years. She said while there has been a bit of a learning curve in teaching her courses on Canvas instead of Blackboard, the college's design team has made the transition as smooth as possible.
"Some of my online MBA students have struggled a bit with the layout of modules and discussion boards, but now that we're into the second week, most of those issues have been resolved," Newman said.
The migration of Blackboard communities and organizations will occur between spring 2020 and summer 2020. In the summer of 2020, all colleges will be using Canvas. UC will support Blackboard through June 30, 2020. After this date, content users will no longer be able to recover content directly from Blackboard.
Canvas claims to offer increased collaboration, communication and engagement through unique features not seen in Blackboard such as:
Online Discussion Forums
Designed to increase student participation and implement feedback, which allows further topic discussion.
Conferences
Students and instructors can set up video conferences, which can be used for meetings or teaching lessons with a guest speaker. Conferences can also be recorded and saved for up to two weeks.
Peer Review
This authorizes anonymous or non-anonymous peer reviews.
"I like the setup a lot better," said Abdulla Ahmed, a third-year neurology student. "It's more intuitive and a lot more efficient than the old website."