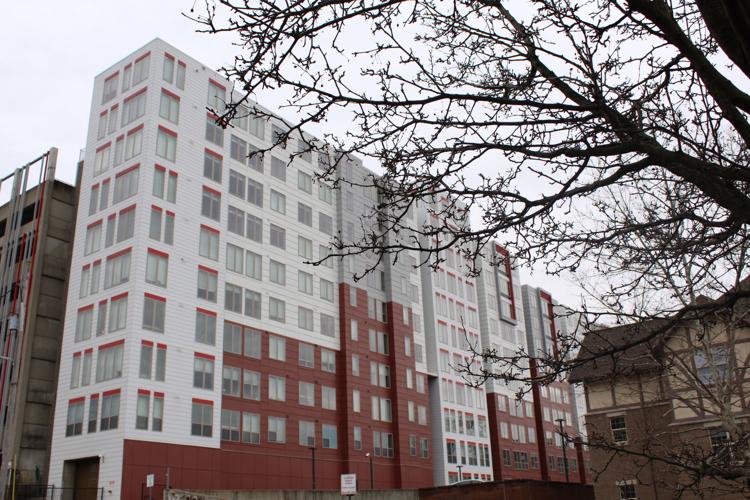 After just six months, the University of Cincinnati's newest and most luxurious student housing development is falling short of its promises to students, with disgruntled residents complaining of a myriad of problems since moving in.
The Deacon, a $108 million residential development by the Indiana-based Trinitas Ventures, opened last summer just in time for fall semester, leasing approximately half of its 800 beds to the university for students housing.
With a variety of high-end amenities including a swimming pool, theater, dog park and arcade, the property markets itself online as "the premiere student apartment community."
However, some students find it hard to see the benefit of these amenities as they prepare to pack up and relocate once their lease is through, citing incessant fire alarms, a lack of security, poor cellular service and other problems stemming from rushed construction.
---
Stolen Laptops
After living his first two years on campus in the "lower-end" housing of Daniels Hall, Matt Wetherill, a third-year accounting student, was drawn to the Deacon because of its high-end amenities.
While he found the unneeded fire alarms to be a "nuisance," Wetherill said he didn't have any real complaints up until recently when his apartment was burglarized.
He and his roommates often leave the door unlocked when someone is home. Late last month, while one of his roommates was at home alone doing homework, Wetherill says four people just walked into his apartment and stole game consoles, laptops, AirPods and other electronics.
The roommate was not aware anything unusual was taking place until they walked out of their room, catching the burglars in the act, he said.
While he admits to part of the blame for not locking his door, Wetherill never expected that a burglar could make it up to his apartment.
"We live on the 11th floor, they shouldn't have even been able to get up to where they were in the first place," he said.
Police told Wetherill that none of the residential floors at the Deacon have security cameras and that it would be unlikely that they could identify whoever entered his apartment, he said.
The developer, however, says that security systems at the building's entrance do more than enough to prevent theft.
"The Deacon is outfitted with secure electronic access control therefore limiting building access to only residents and staff," said Karen Caprarella, vice president of property operations for Trinitas Ventures, in an email statement to The News Record.
She also denied that any apartments at the Deacon have experienced any break-ins since its opening.
Wetherill says he was told by the apartment's management that people will often stand outside of the main entrance and follow residents in as they open the door. The message he took from management? If someone is determined enough, they can break-in to the Deacon, he said.
Since the incident, Wetherill and his roommates have become more conscientious about keeping their door locked.
"We need to just take care of ourselves, because obviously we can't rely on the Deacon to try and protect us," he said.
Neither Wetherill nor his roommates plan to renew their leases next year, he said.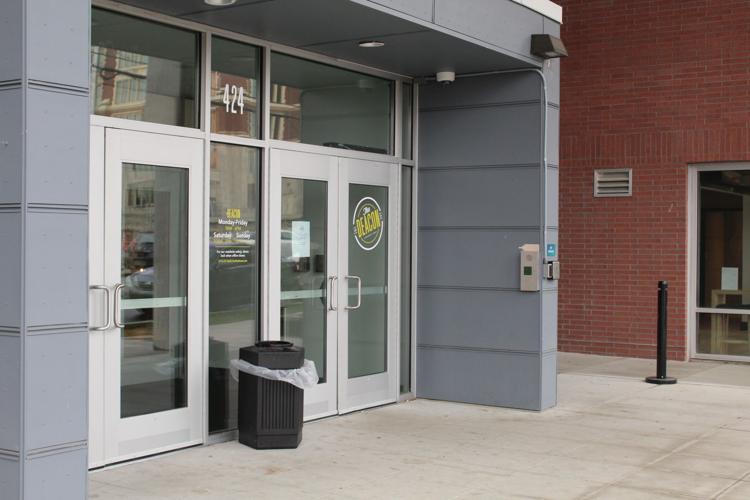 ---
False Alarms
Having moved into the Deacon shortly after it opened, Danielle Kaiser — a second-year fashion design student — said that for the amount students are paying in rent per semester, the building suffers from a number of issues, most notably the fire alarms.
"I think within the span of two days they went off about 10 times just in our apartment," Kaiser said. "And it would be at least once a day."
Fire alarms will sound anywhere from 20 minutes to over an hour, according to several Deacon residents.
With fire alarms going off at night, commotion from other apartments and the sound of continued construction, Kaiser said that life at the Deacon was disruptive.
"I just never slept at that place," she said.
When she initially tried to complain about the issue to apartment management, Kaiser said she was directed to a representative who worked outside of the property, adding that she would be on hold for up to 15 minutes at a time.
"And then it went from that to 'Oh, you call this number for maintenance and this number for after-hours noise complaints,'" she said. "It just changed so many times there was no consistency."
Last year, the Cincinnati Fire Department (CFD) responded to a total of 57 incidents on Straight Street — where the Deacon is located — more than double from 2018, according to city data.
Of the 111 incidents that CFD has responded to on Straight Street since 2017, nearly 55% occurred after August of last year, around the same time the Deacon finished construction.
As fire alarms go off so often, most residents choose to ignore the sound and stay in their apartments, said Sam Ritze, a second-year marketing major.
"They're just tired of it," he said.
The Deacon's owner attributes these alarms are to defective equipment and residents tampering with the alarm system.
"We continue to stress that residents should treat every fire alarm as a serious alarm until an all-clear is given," Caprarella said.
As Kaiser is on co-op with DAAP, she has already move out of the Deacon, and Ritze does not expect to renew his lease next year either.
"It was just not the ideal living situation," Kaiser said.
---
Dropped Calls
Besides fire alarms, Kaiser said she had a hard time finding good cell services during her time at the Deacon.
"I had calls drop all the time," she said, "Being from out of state too that was kind of an issue because there were things that I'd have to call home for."
She isn't the only resident who has had trouble finding good reception.
"In parts of the building it's really bad," said one first-year resident who spoke to The News Record on the condition of anonymity.
Given that the Deacon was constructed mostly of steel and concrete, there are areas of the building that suffer from poor cell service, said Caprarella.
"To offset this, The Deacon has a robust Wi-Fi system which allows residents and guests to utilize Wi-Fi calling — a practice that is standard in properties and structures built in this fashion," she said.
But outside of the room itself, internet routers are often unreliable, said the resident.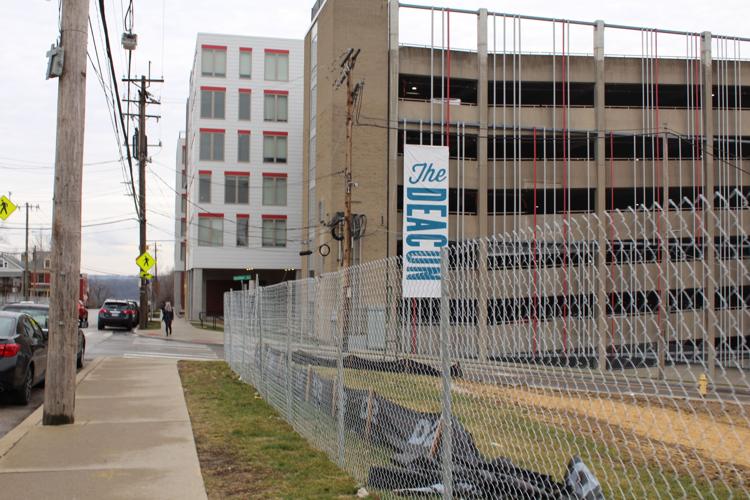 ---
Holes in the Walls
While she has mostly enjoyed her time living at the Deacon thus far, Lindsey Bischoss, a third-year student double majoring in biology and chemistry, said she experienced a number of issues upon moving in.
As a UC employee, Bischoss was allowed to move in a week before the school year began, but the room wasn't finished yet, she said, adding that she had to wait another week before moving in.
When she was finally able to move into the apartment, Bischoss noticed several issues from uninstalled appliances to paint on the windows and holes in the walls.
"It just wasn't perfectly finished when we moved in," she said.
Despite other residents experiencing similar problems, Caprarella said construction was not rushed in order to allow residents to move in before the start of the school year.
"It is always our goal to have the final touches complete for move-in and those that were not, have been addressed and completed as quickly as possible after the residents moved in," she said.
This is a relatively normal occurrence for public projects like the Deacon, said university representative M.B. Reilly in an email statement. While under construction, the Deacon had to pass several city inspections before becoming included in UC Housing.
"It's common that public construction projects have all life-safety and essential systems complete and in readiness but leave more cosmetic work in public spaces for completion in tandem with occupancy," Reilly said.
But as many of the promised amenities were incomplete, Bischoss said the building was not finished when she moved in — though she noted that maintenance acted quickly to resolve most issues.
"The first couple of weeks we were here there were maintenance people here all the time," she said. "There was a lot construction still going on."
Housing at the Deacon is already filling up for next year, with almost all of the 400 beds available through UC housing being filled, said Reilly.
Despite some of the issues she's experienced, Bischoss said the Deacon is a step up from her other experiences with UC housing, and that she plans to renew her lease next year.
"Definitely just having a room to yourself and a bathroom to yourself is just the best thing you could get," she said. "So, I really think that this is the best option I've been in so far."