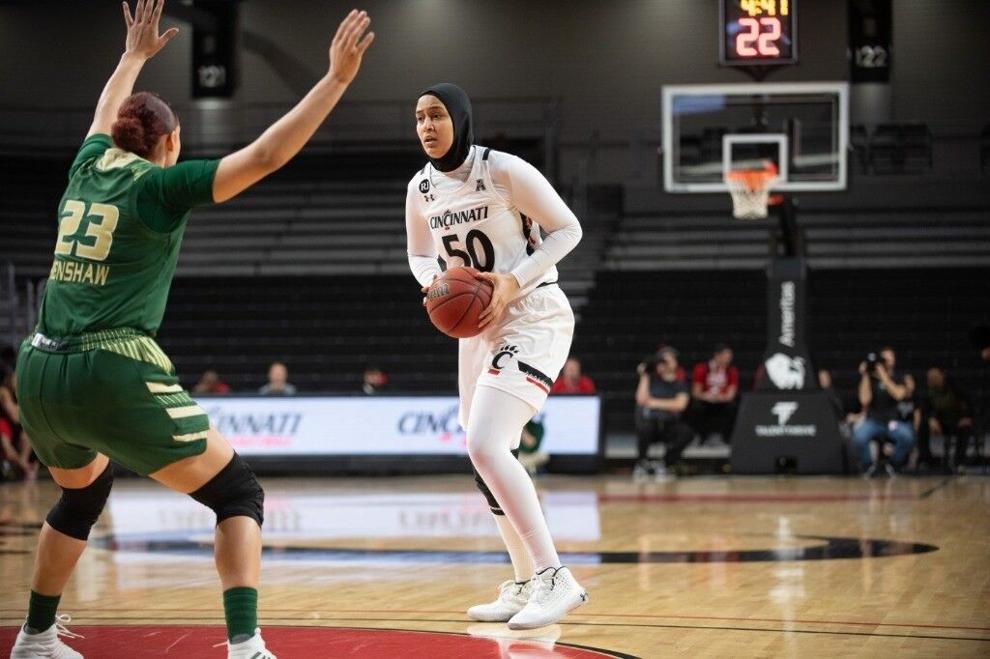 Nesma Khalifa – a junior in the University of Cincinnati's College of Design, Architecture, Art and Planning (DAAP) and an international student-athlete from Alexandria, Egypt – is the only D1 basketball player to wear a hijab in the American Athletic Conference. 
Khalifa has dreamed of playing basketball in America since she was eight years old. "Since then, I did not leave the court," she said. 
Before coming to America to play basketball, Khalifa played in many different countries. While overseas, she played on the Egyptian national team. But, a few years ago, FIBA (The International Basketball Federation) wouldn't let her play with her hijab. 
She had to decide between two options; take her hijab off, or sacrifice playing the game. "I don't have to choose between my religion, me playing and achieving my dream," said Khalifa. 
In 2017, she chose not to play for the national team, but the following year she was approved to wear her hijab around the same time frame Nike started producing them. 
As a result, she was asked to play for the Egyptian national team again. Her team played in the African championship and went to the World Cup in Italy, where they were the first Egyptian women's team to win a game. 
Her journey of playing basketball in the U.S started when Khalifa attended Tallahassee Community College in Florida, known for its national championship reputation. After a year of attending Tallahassee community college, she transferred to the University of Cincinnati. 
At UC, she received abundant support from her teammates and coaches on and off the court. However, her dream of playing basketball in America was almost put on hold due to the pandemic. In June of 2020, Khalifa went back home to Egypt.
"It was a risk because we didn't know if I was able to come back from the airport," she said. 
Although there was a huge possibility of not being able to carry on with pursuing her dream, at that moment, she knew that she needed to be with her family. 
Even though Khalifa and her family were scared because they were not sure what was coming next, she was thankful that she eventually was able to come back to the U.S. later on in the summer. 
Through all of the challenges that Khalifa has endured, her family has always been by her side. "My parents and my brothers are my 'why.' They are the reason I started basketball." Khalifa said. "They are the reason I had the confidence to come here by myself to do something I really love."
She is proud to have her family support her every step of the way, but she knows that her journey in the present and the future will never be easy. 
Khalifa's parents always told her and her brother that "you are strong enough to do anything," she said.
Her family motivates her to keep moving forward, and she encourages all women who face challenges when wearing a hijab to do the same. 
Her advice to Muslim women when faced with adversity is to "keep working hard and you will achieve your dreams. Just keep your faith and follow your heart," Khalifa said.