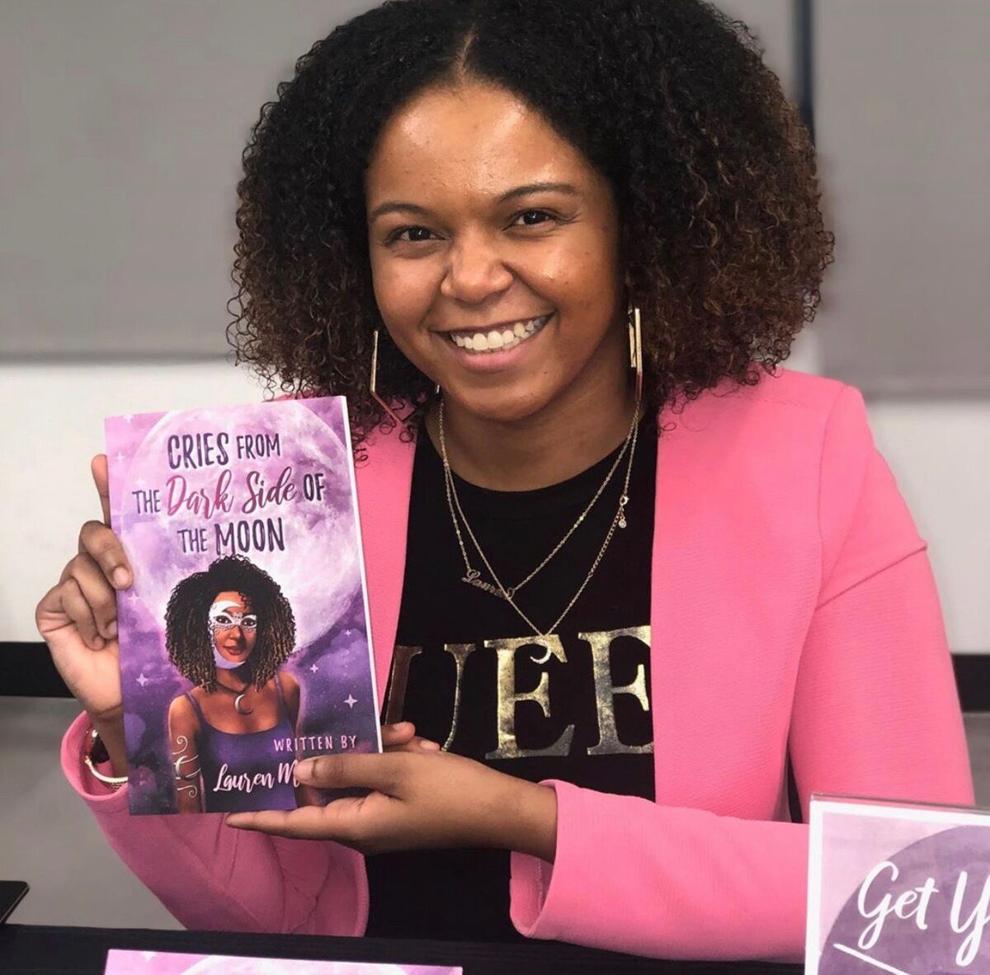 University of Cincinnati (UC) alumnus and program coordinator for the Center of Community Engagement, Lauren White, graduated from UC last year with a bachelor's degree in marketing. Not long after graduation, White gave the world a glimpse of her everyday experiences and trials as a woman of color through her book, "Cries from the Dark Side of the Moon."
"Cries from the Darkside of the Moon" consists of a variety of poems that are divided into six categories: yourself, our relationships, your surroundings, your body, your decision and your impact. Altogether the categories consist of poetry reflecting passion, pain and promise.
"To the world, it is so hard to define Black women," said White. "They are magical, yet misunderstood, intelligent, yet bossy and powerful, yet angry. They are meant to be seen, not heard, and are often misunderstood. Black women are the American dark side of the moon."
"For those who don't know the far side of the moon is often referred to as the dark side," White continued. "This side of the moon is not really the dark side, it is just the side of the moon we do not see from Earth. It, in fact, gets just as much sunlight on it as the side we do see. However, it is fear, unexplored and misunderstood."
As a child, White was always expressive through dancing and singing, but she wasn't involved in writing until high school, where she would persistently write in her sketchbook. It wasn't until later on that she decided to share her passion for poetry when she became a student at UC. Not long after, she began performing her own written pieces.
Through hard times, poetry can be a safe space for White. 
"On rough days or when I can't 100% explain how I'm feeling, poetry allows me to release all of my feelings regardless if it is good, bad, or in between. It allows me to share my story and all that comes with my experiences," White said. 
The most vivid memory she has of starting to write poetry was after the death of Trayvon Martin in 2012. White still remembers the rage and overwhelming feelings of hurt that she experienced that day. She was able to channel those emotions into words. 
At that very moment, White's ability to transform her feelings from pen to paper would soon lead her on a new journey that has brought her to where she is today. 
Her inspiration for "Cries from the Darkside of the Moon" stems from radiant Black women that carry a special role in her life and her heart. She wanted to cover these women's narratives through her work. 
For the original style of her book, she planned on writing letters to Black women. Still, she soon realized that she only had experiences, not solutions to the everyday adversities women of color encounter. 
As a result, she changed her title to mirror the content of the book. "This book was created to serve as an opportunity for connecting and learning through the power of real Black women's stories with a poetic twist," she said.
Throughout writing her book, she faced a few challenges. She wasn't sure how people would react to her poetic content about the adversities and pain Black women face.
Even though her book took a little over a year to complete, along with five drafts, White couldn't be happier with the outcome. "I would tell anyone interested in getting started, don't give up on the process," she said.
Since White is working at home due to the pandemic, she can find it challenging, at times, to stay motivated. However, White is taking one day at a time. 
Every day when she wakes up, she decides to choose joy. "Joy is a growth mindset. Even when things are grim, it's important to find joy in the dark moments," White said.
White's advice to children of color who have hopes of writing their own book is "If you're passionate about something do it. Your story is important so don't be afraid to share it."
"Cries from the Dark Side of the Moon" is available now on Laurenmwhite.com and Amazon in print and on e-book.