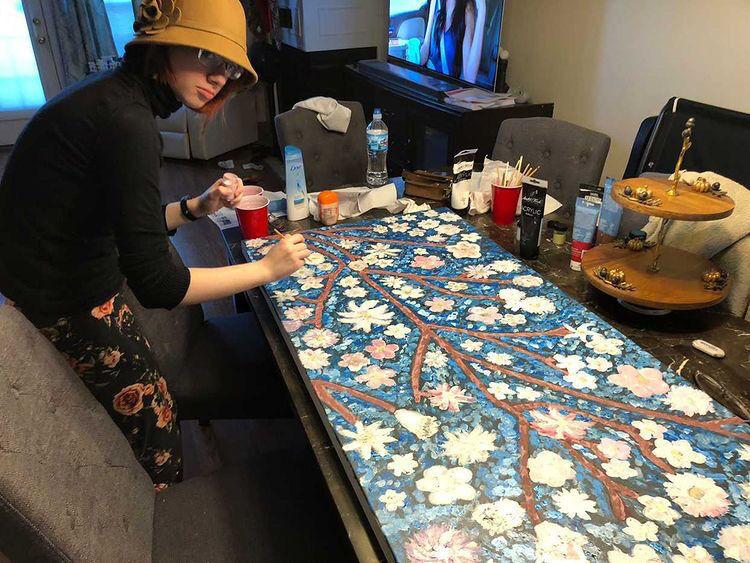 "I'm not just a disease. I'm a person too," said 21-year-old Kelsey Boudreaux, who is a former University of Cincinnati (UC) student with juvenile Parkinson's disease, a rare movement disorder. 
Instead of binge-watching Netflix like many Americans have during the pandemic, Boudreaux has decided to focus on making her dream of becoming an artist into reality. Every day for the past couple of months, Boudreaux has dedicated every hour possible to her artwork. 
Her daily routine consists of waking up between 4 a.m. and 6 a.m. with tremors and taking her medication. Then she makes her breakfast and plans her next piece by sketching out every minute in detail.
Depending on how intricate or large Boudreaux's piece is, it can take up to eight hours, multiple days or even weeks. 
Due to her dedication, Boudreaux had the opportunity earlier this year to have one of her paintings on display in the Parkinson's Fitness Community Center in Blue Ash.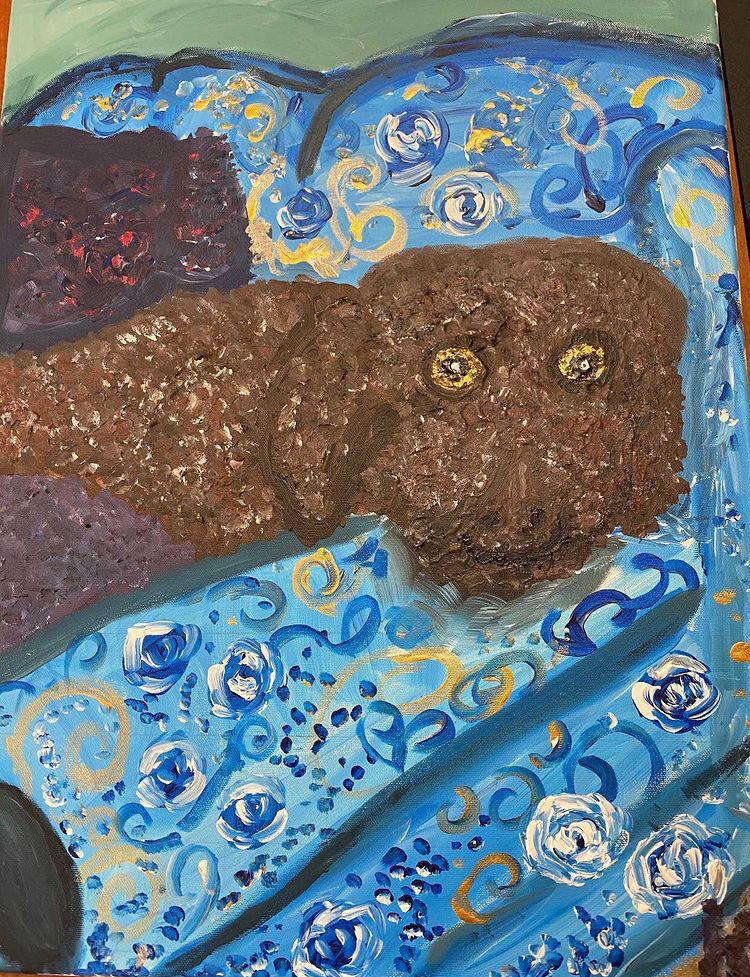 At the time, a speech therapist named Caitlin was admiring her painting in the Center. She needed a gift for her sister's baby shower and after falling in love with Boudreaux's unique painting, she knew that having an original piece of art would make the perfect gift. Boudreaux sold her first painting that contributed to her present-day Etsy shop called Rainbow Splattered where she sells her handmade jewelry and artwork. 
Although Boudreaux's Etsy shop was created recently, her passion for art evolved in high school. She vividly remembers working on a painting in her high school art class when her tremors from juvenile Parkinson's disease started to occur. However, her art teacher encouraged her to continue with the painting process. 
As she continued to paint for the next couple of years, she realized that her tremors weren't deterring her but empowering her artwork. 
The unusual textures that Boudreaux's artwork is known for stem from her Parkinson's tremors. When she's not having her tremors in the moment of creating her artwork, she can mimic the movements due to muscle memory. Thus, producing intricate textures that the average person can't. "That's what makes my artwork so unique and different," said Boudreaux. 
Before opening her Etsy shop this year, Boudreaux has encountered many hardships in her life, including a deep brain stimulation surgery she endured two years ago. 
"It was very traumatic because she had to go off of her medication to get the surgery done," said Boudreaux's mother, Kelly.  
While the brain surgery was supposed to help her with her Parkinson's disease, it caused her to have hemiballism, an involuntary movement disorder. As a result, she lost control of her arm for over a year. 
"She had to actually sit with her arm between her knees to try and keep her arms from moving," said Kelly. 
According to her mother, physicians are currently contemplating if they should remove whole electrodes in her brain since the involuntary movements from the hemiballism are so severe.          
Even though the brain surgery wasn't very effective in stopping her tremors, she has found success in other methods such as wearing a patch that decreases her tremors, allowing her to take less medication. 
Throughout the adversities Boudreaux's encountered, her artwork not only brings her joy but is used as an outlet. "It's emotional therapy. It's what's been getting me through all of my hard times," she said.           
Although Boudreaux has battled an unimaginable amount of pain in her life, she chooses to be herself. "She's very resilient. She's very capable. She comes up with her own art designs, and she executes it, said Kelly. 
Despite all of the challenges Boudreaux has faced, she continues to prove to the world that she is more than her disease. "Don't let your disease rule you. Live your life no matter what because you got one life to live," said Boudreaux.