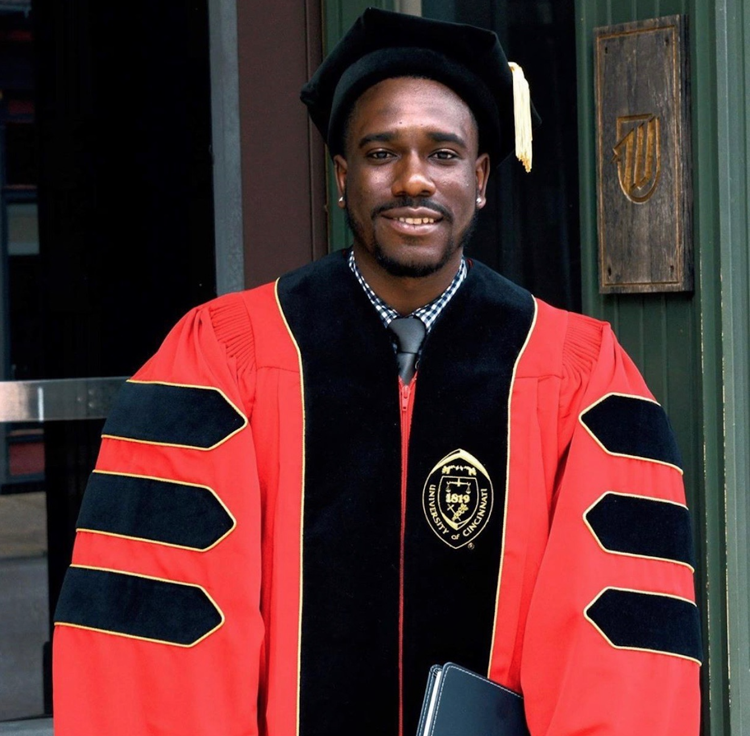 Earlier this year, the University of Cincinnati celebrated its first Black man to graduate from the College of Education, Criminal Justice and Human Services' school psychology doctoral program.
Kamontá Heidelberg was born and raised in Cincinnati, and is the first to earn a doctoral degree among his family. He went to Clark Montessori High School and is now a 3-time UC alumnus.
Currently, Heidelberg is an assistant professor at the University of Buffalo and hopes to eventually work with the department of education.
The outcome of Heidelberg's educational journey was successful, but the beginning wasn't easy. He was the first male in his family to attend college.
As a first-generation student, navigating the process of college was tough. He looked to his high school counselors and educators for guidance. He applied to North Carolina A&T, University of Cincinnati, among a few other colleges, to which he was accepted.
"I originally started my college career at North Carolina A&T, but I had to return to Cincinnati to finish my degree due to my father passing away," Heidelberg said.
He entered the university as a transfer student and earned his bachelor's in psychology and master's in education. However, Heidelberg wanted to go further.
"I knew that I wanted to do more with my psychology degree, so I was looking into various programs, and reaching out to different faculty members at UC in order to find guidance in what I wanted to do next," Heidelberg said. "Then, I came across the school psychology program. I met with Tai Collins, who is an associate professor now. I talked about my interests and what I wanted to do. He told me that I would be a great school psychologist."
Heidelberg knew that he wanted to help individuals as a full-time career. From working with the youth to having two younger sisters, he always wanted to push others to reach their full potential. 
"I knew I wanted to work with children to impact our future generation of students," Heidelberg said. "Particularly, African American males. This is where a lot of our research is towards because it's a population where a lot of negative statistics are derived."
Throughout obtaining his doctorate degree, there were still many adversities ahead that he had to face.
"Financial burdens are something that's not often discussed when trying to pursue a doctoral degree, such as applying for internships and going on conferences," Heidelberg said. "However, you do get support from the university and other organizations, but that is a big barrier. Being a first generation, there's also unspoken rules, like networking appropriately, and the rigor is definitely challenging but doable."
Heidelberg's adversities were not only external but internal as well.
"When you're pursuing this space and coming from the background that I'm coming from... In other words, you have a seat at the table now, so you're really able to influence big decisions that can really impact or hurt individuals," said Heidelberg. "Especially navigating this space as a Black man, you want to make sure that you're not adhering to the negative stereotype of the angry Black man."
Heidelberg is thankful for all the people who have helped him throughout his journey and is proud of being the first Black male to graduate from UC's school psychology doctoral program. Still, he hopes for a change.
"It lets us know that we still have a lot of work to do," said Heidelberg. "I know I am the first and definitely don't want to be the last. My goal is to give back and ensure others that they can obtain this degree if they're willing to."
Heidelberg encourages future college students of color to never back down.
"You got this. Believe in yourself. Know your worth. Know your abilities. Don't compare yourself to others. It's your race. It's your journey. Be confident. Be bold and be you. It's okay to dream and don't limit yourself. You don't have to fall into this stereotype of this negative image of who we are. Don't let barriers bring you down."