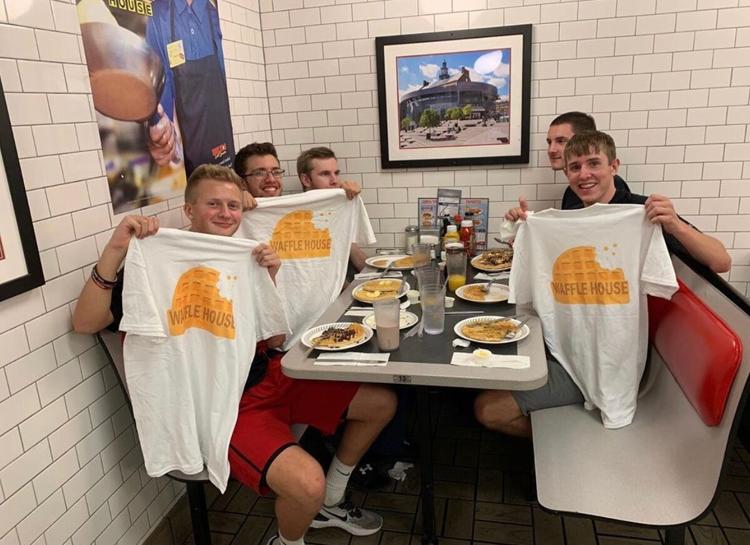 With the sound of bacon on the griddle, people chattering and the jingle of silverware, Waffle House hosts a place where students relax after late-night shenanigans and friendships strengthen over chocolate chip waffles.  
Josh Ampofo and his friends were at the Waffle House on McMillan Street when they thought of making a club. Ampofo and his crew wanted to create a social club for students to feel welcomed. Waffle House Anonymous was born. 
"We thought only ten people would show up," said Ampofo. "The next thing you know, there were 350 people in our GroupMe and we are scrambling for ideas."
Today, the GroupMe has about 400 students in it. 
"None of us really knew what we were doing [at the first meeting]," said Ampofo. "But after the first ten minutes, I could just see everyone sitting down, socializing, eating waffles. It was a good feeling."
Last year, the group would meet every Wednesday around midnight at the local Waffle House. Around 20 people would show up at the designated time, but many subgroups started forming. 
"Some people would be like, 'oh, I can't make it. I have an exam. Who wants to go at six? Who wants to go at eight?'" said Ampofo. 
The club's 2019 treasurer, Devon Herbert also attests and appreciates how the club has evolved. 
"They'd even text in the giant GroupMe to get people to go on different days during the week if they couldn't on our designated day," he said. 
"My favorite part was easily the fact that the club kind of turned into its own giant friend group," Herbert continued. "People were able to meet each other coming into their first year and make friends along the way." 
Since last year, the Waffle House on McMillan has closed and COVID-19 has made it difficult to hang out in large groups. The group hasn't met this year, but will possibly meet at Nippert Stadium and have catered food if the university allows, according to Ampofo. 
Herbert misses face-to-face interaction and playing a part in building friendships.
"It was just really nice seeing people come together and socialize," he said. "[It] Really kind of embraced what our initial goal was."
Although the group hasn't been active this year, Ampofo says he can still see the seeds that were sown at Waffle House Anonymous. 
"Even nowadays, I'll still see members of the GroupMe hanging out. The club has helped people make new friends," he said.