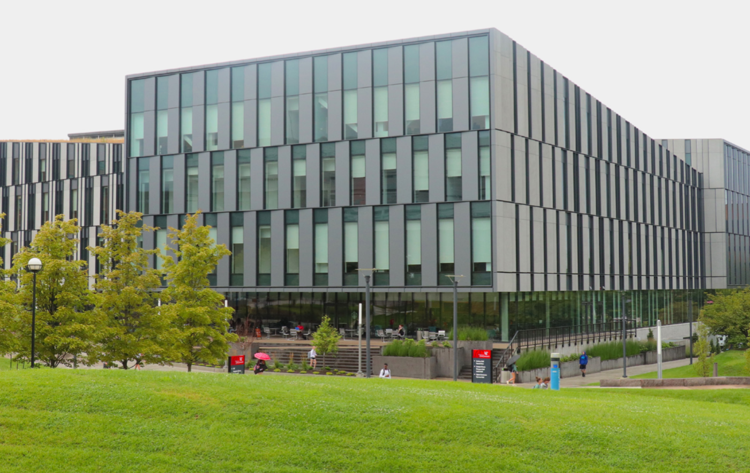 The new home of the University of Cincinnati's Carl H. Lindner College of Business has opened its doors.  
Due to a record in applications and enrollment at the college, UC chose to upgrade the home of the business college two years ago. The university held a groundbreaking ceremony May 15, 2017, to celebrate the beginning of construction on the building. Lindner faculty and staff moved into the 225,000-square-foot building in June and are eager to welcome students into their new home. 
"The faculty and staff are very happy about the move. It's been in the works for the last several years," said Debora Myree, business officer for the College of Business. "We are excited to have the students come in and engage us—we are full of expectations for a great future for this college." 
The new Carl H. Lindner Hall—one of the most ambitious construction projects ever undertaken by UC—cost $120 million. The Lindner Family and American Financial Group, Inc. donated $11 million to the building fund, the largest contribution in the history of the business school.
The four-story building has 70% more classroom space than the school's previous home. It features 23 large classrooms, a 150-seat lecture hall, a 250-seat auditorium, over 160 offices for faculty and staff members, research labs, breakout rooms, exam and tutoring areas and plenty of workspace for students.
Lindner Hall, designed with student experience in mind, encourages collaboration inside and outside the classroom.
"We'll be able to really conduct more innovative learning—there's a lot of great technology in this building," Myree said. "There are new ways of teaching, and there will be new ways of learning."
Classrooms feature flexible layouts, new furniture and top-of-the-line technology to support business professors' teaching methods. Multiple student learning spaces are spread throughout the building, including two research labs to support student research, study spaces for both individuals and groups, as well as a student tutoring space.
Other building features include a large atrium with seating and networking space, one 50-station computer lab for students, a multipurpose room, a production studio, three department suites with conference rooms and four changing stations for students to dress before interviews.
Lindner Hall also houses three specialty areas— the Kautz Attic, the Johnson Investment Counsel Investment Lab and the Designated Career Services area. 
The Kautz Attic was designed to be a student-centric space for creative thinking and innovative collaboration related to entrepreneurship and business education. The Johnson Investment Counsel Investment Lab is an interactive investment lab equipped with a simulated trading floor where students can hone their financial skills. The lab features 24 dual workstations, 12 Bloomberg computer terminals and roughly 104 feet of ticker tape. Lastly, the Designated Career Services area features 12 interview rooms and one corporate recruitment area. 
In addition, Lindner Hall is also home to a new Starbucks. The new Starbucks replaces the one previously located in the Steger Student Life Center, which is now permanently closed. There are three additional Starbucks locations on campus—CCM, Langsam Library and the Medical Sciences Building on medical campus. 
Lindner Hall will also host the Lindner College of Business Executive Speaker Series, said Dr. Susan Powell Mantel, professor of marketing and associate dean of undergraduate programs. The series, open to any student at UC, starts in early October. 
"We no longer have to use every single classroom from 8 a.m. until 10 p.m. to be able to get our classes in, so we're going to have a free hour from 3:30 to 4:30 p.m.," Mantel said. "That hour will allow us to bring in nationally-ranked speakers to talk about business."
Several speakers will visit UC in the fall, including CEO of CincyTech Mike Venerable, author Tom Peters, president & chief executive officer of Cincinnati Bell Inc. Leigh Fox and more.
Now led by the school's first female dean Marianne Williams, the College of Business has been committed to developing the next generation of business leaders for more than 110 years and is consistently ranked as one of the best business schools in the United States.