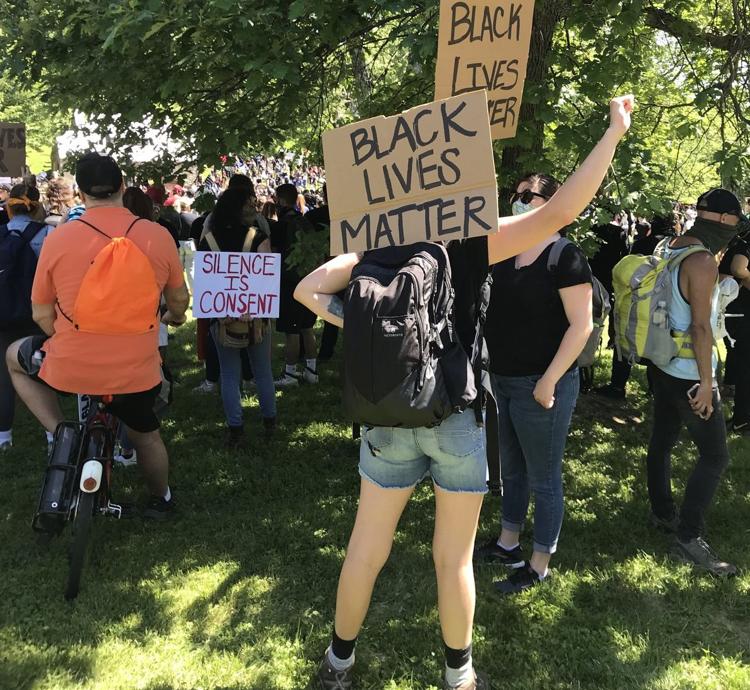 As protests against racially-motivated police brutality erupt throughout the nation, demonstrators took to the streets just blocks away from the University of Cincinnati.
Hundreds of protestors gathered at Inwood Park in Mt. Auburn on the afternoon of May 31, to march against the death of George Floyd, a Minneapolis man who was suffocated by a white officer while in police custody.
The protest began around 3 p.m. with speeches, hip-hop performances, a poetry recital and tips from organizers about how protestors can stay safe during the demonstration.
Protestors also honored the death of Sam DuBose, who was fatally shot during a routine traffic stop by former UC Police Officer Ray Tensing in 2015.
The demonstration, which began at Inwood Park and traced Vine Street toward downtown, marked the third day of protests in Cincinnati following Floyd's death.
The night before – as Cincinnati Police responded to a crowd of protestors gathered near the university – several businesses were vandalized and an officer was struck in the helmet by a bullet. The officer in question was unharmed.
In response to the growing tension between police and protestors, Cincinnati Mayor John Cranley has extended a citywide curfew from May 31 until June 2.
The curfew, which begins at 9 p.m. and extends until 6 a.m., prohibits most individuals from being out in public during those times.
The protests – and their proximity to UC – have likewise elicited a response from officials at the university. 
"Our hearts ache for the family and friends of George Floyd, as they continue to do so for the loved ones of Samuel DuBose," said UC President Neville Pinto in a statement released on social media. "We must agree destruction of our neighborhoods is not the answer."
At 3:19 p.m., just as the protest was about to kick-off, James Whalen, director of public safety at UC, issued a statement to students via email.
"The UC Police and Public Safety staff are actively working with the Cincinnati Police Department to monitor these demonstrations," he said. "Our goal is to maintain the safety of our community and allow for the expression of free speech."
Meanwhile, at Inwood Park, protestors were raising their fists and chanting "black lives matter" – commemorating the losses of George Floyd and Sam DuBose.
"Solidarity forever, black lives matter; let's organize for the world we want," said one speaker, who was only identified as Daniel, to the crowd of masked protestors.