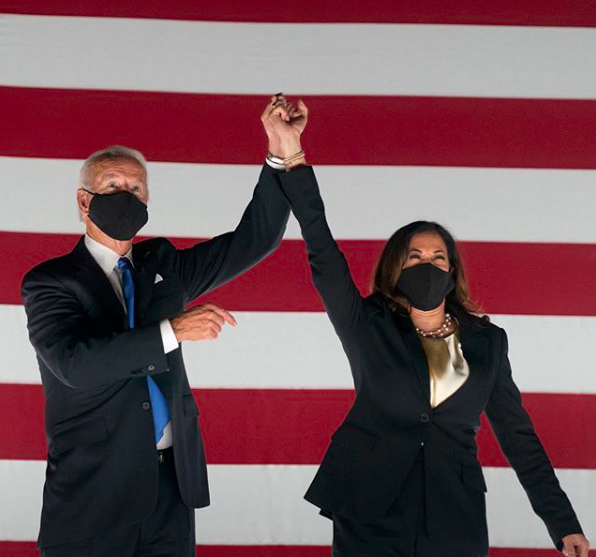 Democratic candidate Joseph Biden will become the 46th president of the United States, following his electoral college victory on Saturday. 
Biden defeated President Donald Trump in an election season gripped by the coronavirus pandemic, distrust in the electoral process and deep social, racial and political divisions. 
"America, I'm honored that you have chosen me to lead our great country," Biden said in a tweet. "The work ahead of us will be hard, but I promise you this: I will be a President for all Americans — whether you voted for me or not. I will keep the faith that you have placed in me."
Biden was able to flip Michigan, Wisconsin and Arizona – which Trump won in 2016 – and his home state of Pennsylvania to surpass the required 270 electoral college votes needed to win the country's highest political office, according to results from the Associated Press. 
Trump has yet to concede the race to Biden, holding on to false claims of voter fraud. "I had such a big lead in all of these states late into election night, only to see the leads miraculously disappear as the days went by," he said on social media. 
The president's lead did not "miraculously disappear," as he has claimed, but rather it shrunk after election officials began tallying the unprecedented number of absentee and provisional ballots cast. All results presented on election day are unofficial counts, according to the U.S. Cybersecurity and Infrastructure Security Agency.
"Although ballot processing in some states may take longer than in past years due to increases in mail-in ballot usage and process adaptations to make voting safer during the pandemic, this does not impact the accuracy of the counting process," reads the agency's website. 
Trump will now join the list of one-term presidents, the last of which was George H.W. Bush, whose reelection bid was stymied by Bill Clinton in 1992. 
Biden's running mate, Kamala Harris, will be the first woman and person of color to be elected to the Vice Presidency. 
Biden began his political career in Delaware, first as a councilmember in the city of New Castle, and later served six terms as a U.S. senator. 
Biden most recently – and most recognizably – served as vice president under former President Barack Obama.
This was Biden's third bid for the presidency, having lost in the Democratic primaries in 1988 and 2004. Biden will now be the nation's oldest commander-and-chief, being 77 years old at the time of his election. 
While voter turnout at the University of Cincinnati (UC) appeared less than enthusiastic, support for Biden was overwhelming. Approximately 81% of voters living on or near the university's main campus voted for Biden, according to unofficial election results. 
Students voting for Biden cited his stances on the pandemic, climate change, reproductive rights and marginalized communities as reasons for their support. 
"As a woman, I feel my rights threatened through the attack on birth control, abortion access, and reproductive rights in general," fashion design student Alexis Piascik, told The News Record earlier this month. "The pandemic is worsening, climate change is ravaging the nation, we need change and we need someone who cares about people over profit."