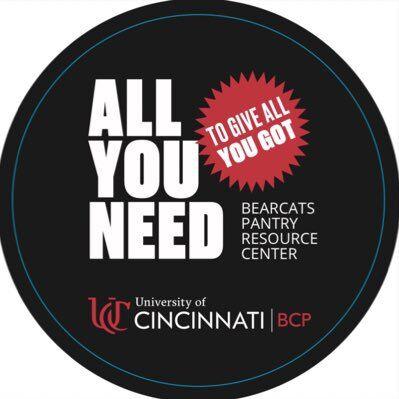 Since 2016, the Bearcats Pantry (BCP) and Resource Center has kept University of Cincinnati (UC) students nourished and ready for the classroom. Though it started in a closet in French Hall, it has grown through the years and has officially relocated to Stratford Heights and expanded service to include a career closet, to-go bags and meal vouchers.  
Every year, beginning with the Homecoming Donation Drive, BCP has a fall food drive to support students, staff and faculty, while the campus is closed and family gatherings are generated by food. 
Daniel S. Cummins, assistant dean of students in the Division of Student Affairs, began the BCP and Resource Center in 2016 after seeing an abundance of student food insecurity. At the time, Cummins was the university's primary case manager and chair of the UC CARE team.
"It was clear," Cummins said. "I asked certain colleagues to join the conversation and the Bearcats Pantry, now known as BCP and Resource Center, was founded and implemented." 
Soon, the BCP was bustling and filled with student volunteers. After the bulk of the COVID-19 shutdown, the College Food Bank Association/Swipe Out Hunger stated that 30% of college students suffered from some form of food insecurity. Cummins believes that for UC students to "give their everything" in the classroom, their "mind and body should be well nourished." 
"The BCP is critical to assuring our Bearcats to give their best and be successful at UC," Cummins said. 
The fall food drive during the holiday season is focused on this goal but on a larger scale. Since the fall and holidays bring food-driven family gatherings and a closed campus, the fall food drive focuses on all UC students, staff and faculty. Through donations kicked off during the UC Homecoming weekend, the BCP makes and distributes specifically geared baskets that are larger than normal. 
Accepted donation items include canned protein, canned beans, grains, oatmeal, full-size bottles of shampoo and conditioner, face wash, toothpaste, tampons, diapers, laundry detergent, paper towels, toilet paper and much more. Currently, the BCP is not in need of canned corn, canned green beans, and canned peeled and sliced white potatoes. 
Homecoming Donation Bins will be located in the Homecoming Tailgate area and at the exit of UC parking garages, financial donations can be made at the Bearcats Pantry Support Fund, and campus building donation bins will be located in Tangeman University Center (TUC), the Campus Recreation Center (CRC), CARE, University Hall and the College of Design, Architecture, Art and Planning (DAAP). You can also order from the BCP's Amazon Wishlist and items will be delivered directly to the pantry. 
UC students, staff or faculty members interested in receiving food support over the Thanksgiving and Winter campus breaks can email bearcatspantry@ucmail.uc.edu. The BCP will work with students to schedule a donation box pickup time before the UC campus officially closes for the holidays.
Currently, there are three workers at the BCP: Cummins, program coordinator Joy Kostansek and student assistant Ava Schuehler. Cummins said they plan to expand and grow the professional and graduate staff, but it has been slow-going, considering the BCP operates entirely from donations. 
On a day-to-day basis, the BCP and Resource Center depends on student volunteers who help sort and organize resources. These student volunteers work Monday through Friday from 8:30 a.m. to 5 p.m. 
While the BCP has expanded and evolved in the past five years, Cummins said they are "far from done."  
"The most rewarding experience is ongoing, serving Bearcats to be their best Bearcat," Cummins said.