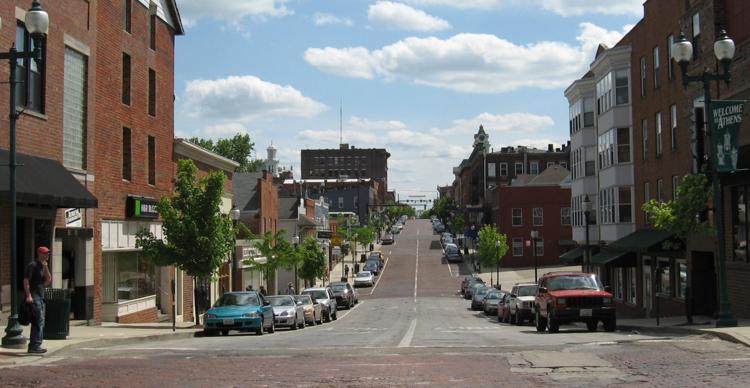 Numerous Twitter users as well as UC student leaders are criticizing Athens, Ohio, police for holding an African American UC student down to the ground in a video that went viral Sunday evening.
Ty Patrick Bealer, a 21-year-old chemical engineering student, was arrested Sept. 29 by the City of Athens Police Department (APD) outside a bar in Athens, Ohio, according to a police report.
At Ohio University, three police officers ran up on a group of boys beside a car on court street, and took down an African American boy. Slammed him, punched him, and holding all parts of his body down when he wasn't fighting back and was unarmed! pic.twitter.com/MUbgjRPVxl

— Kájä 💕 (@amourkaja) September 29, 2019
According to Athens Municipal Court records, Bealer pleaded not guilty to resisting arrest and obstructing official business, both misdemeanors. He has since been released on an $800 bond.
At 12:53 a.m., APD received a 911 call of an unruly and belligerent patron at The J Bar fighting with staff and trying to force his way into the bar, according to a news release provided by the department's chief of police, Tom Pyle.
Bealer and The J Bar's staff could not be reached at the time of writing.
Responding officers received a height, weight, age, race and clothing description of the person and were advised this person may have assaulted other patrons in the bar, according to Pyle. 
Shit was funny tho fr 😂😂😂 pic.twitter.com/oWLG185Ppm

— Evan Cruz (@Evancruz13) September 30, 2019
According to The Post's report, the video only lasted about 30 seconds, but Brooks said the entire altercation lasted about five to seven minutes while a crowd amassed on the sidewalk.
After Bealer was taken into custody, he was treated by EMS personnel for a small abrasion to his right and a TASER barb puncture before he was transported to Regional Jail pending arraignment, according to Pyle. 
In a news conference held Sept. 30, Pyle identified the three officers involved as Ethan Doerr, Andrew Jacob Spear and Dustin Wesselhoeft. 
Doerr and Spear have a pending case regarding excessive force violations, resulting from an April 2018 arrest of another OU student, Jacob Francis, according to court documents. Several other APD officers were also named in the lawsuit.
Pyle denied any relation between Francis' lawsuit and Bealer's arrest during the news conference, despite Spear and Doerr's involvement in both altercations.
After public outcry regarding the incident on Twitter, Pyle refuted the use of excessive force during Bealer's arrest.
I need all of their badge numbers , this man was not resisting, fighting back or anything, and it took 3 officers to get him down. Excessive force at its finest.

— noname (@_eciruam) September 29, 2019
I understand the need to call the cops, but I don't think the use of force was necessary. at the same time I wasn't there so

— strawberry jam (@bassdscho74) September 30, 2019
Imagine just chillin and BOOM. Felony charge for not letting the cops slam you on the cement

— Stu-Stu-Stutterin🥴 (@PharoahSuave) September 30, 2019
"I have reviewed this incident including the available AVI footage to-date and I find our officers' actions reasonable, restrained and within policy guidelines," Pyle said. "The notion that the use of three officers to arrest this person was excessive lacks proper context. The notion that this arrest was based solely on race is without merit as evidenced by the complaint and positive identification by bar staff."
During the news conference, Pyle said the office is conducting an internal investigation into the use of force. Investigations are a routine protocol in the department after officers use force during an arrest, according to Pyle. 
Tweets surrounding the incident also claim APD arrested the wrong person — a claim that Pyle also denies.
I saw the fight at J bar with my own eyes and this is not even the right guy!!!! They do not even resemble each other!

— Chloe (@740clo) September 29, 2019
This shit makes me so sad I grew up with Ty and he never would do anything to deserve this they obviously have the wrong person and it makes me sick

— Jacob Fudale (Fudalowski) (@its_foo_daw_lee) September 30, 2019
"The video that I have seen posted on social media of the end of this incident does not depict the prior actions of the officers or the subject," Pyle said. "Social media rumors that the wrong person was arrested are wholly inaccurate." 
Chandler Rankin and Abbie Smith, president and vice president of UC's Undergraduate Student Government (SG), have spoken out regarding Bealer's arrest through a news release posted to SG's official Twitter account Sept. 30.
"On behalf of University of Cincinnati's Student Government, we would like to stand in solidarity with Ohio University's Student Senate in condemnation of this discriminatory and brutal behavior," read the news release. "We support the University of Cincinnati student involved, and his family in this difficult time. We will be working diligently with our Student Affair administrators and other Ohio University student leaders to see that this issue is addressed with the attention it deserves."