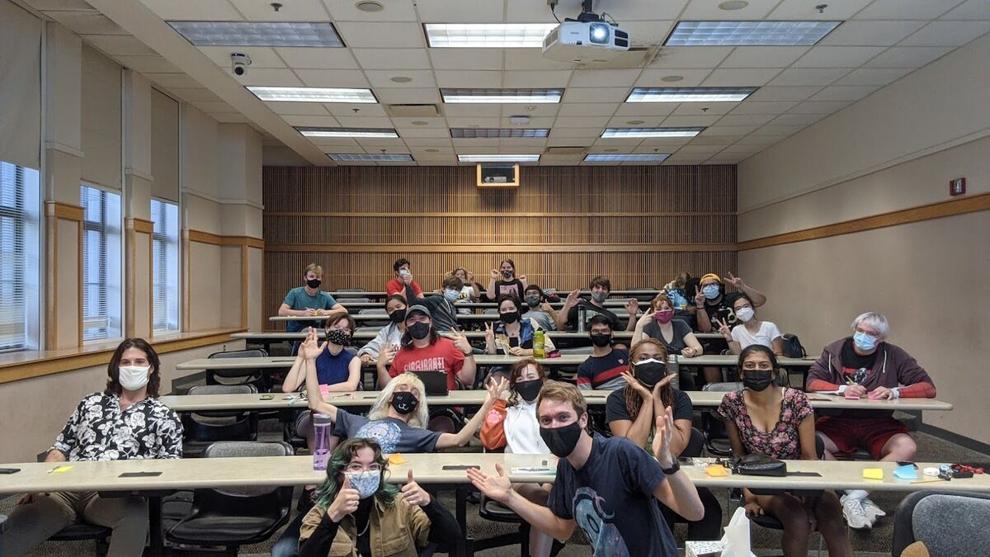 Animation is something most students grow up on. The first movies they see are Disney or Dreamworks fantasy films, and as they grow older, cartoons like "Phineas and Ferb" or "Adventure Time" become a standard in media consumption. For some, the appreciation for animated media has only grown stronger from childhood. Exposure to animated pieces from across the world help to foster a unique fascination with this art form. At the University of Cincinnati (UC), the Animation Club is taking their appreciation for this medium and creating a public forum for creators and enthusiasts alike to enjoy.
Third-year fine arts student Colleen Hallas, whose favorite animated media includes "Demon Slayer" and "The Midnight Gospel," is the club's vice president. For her, the passion within this club provides a refreshing environment for her to practice her art. 
"The creators and artists among us get the opportunity to practice the craft and meet others to collaborate, but every member has the opportunity to pick up a little knowledge on how animation is made as well," said Hallas. 
With the introduction of an animation certificate that students can obtain either through UC's College of Design, Architecture, Art and Planning (DAAP) or as part of the digital media collaboration major, the club has found a dedicated group of members interested in investigating their passions. Currently, Hallas estimates about 15 regular members show up to their in-person meetings. Their discord server, where the club was born, has 28 members.
"UC's animation community is growing," said Hallas. "The last year of AC took place entirely over Discord, so having in-person meetings this year has been a super touch-and-go process."
Hallas has high hopes that their club will "draw" more people in this year. Starting a club during the height of lockdown was a challenge, but the club believes they could rise above their setbacks. Last February, the club had a joint event with voice actor Jeff Garcia, who is best known for voicing the role of Sheen from "Jimmy Neutron: Boy Genius." The club is open to anyone who thinks they may have any interest in animation.
"If I had to give a pitch, I would say, 'Do you like all things animated? Interested in learning how it's done? If so, we've got what you're looking for. If not, we've still got something for you. Enthusiasts and artists alike are welcome to join us in sharing a love for the art of animation,'" said Hallas. 
Having an environment to nurture creative and artistic conversation is one of Hallas' favorite parts of the club; seeing so many fresh faces with her same passion is exciting. 
The club isn't just about conversation and enthusiasm either. Each week, the club attempts to create an activity related to animation. The club is structured to spend the first hour introducing rudimentary animating methods, then offering peer critiques of the work they just produced. 
"This past week, we tried post-it flipbooks that we turned into gifs or small video clips," said Hallas. "With the time left, we've been having showings of shows [and] media content that our members suggest."
The community aspect of the club is another high point for Hallas. Seeing how a common passion can bring together a crowd of people she would never have had the opportunity to meet otherwise is a great source of joy for her.
"Enthusiasts typically seek a community of friends to talk about animation of all sorts and maybe find new content that interests them," said Hallas. 
In addition to ongoing club activities, the Animation Club is also currently working on a short web series they've titled "All Saints St." According to Hallas, the project is a "slice of life" series about a group of creatures living in an apartment together.
For more information about the Animation Club, check out their Instagram (@ucanimationclub), or visit one of their meetings. Their next meeting will be on Sept. 25, at 7 p.m. in Braunstein 309.