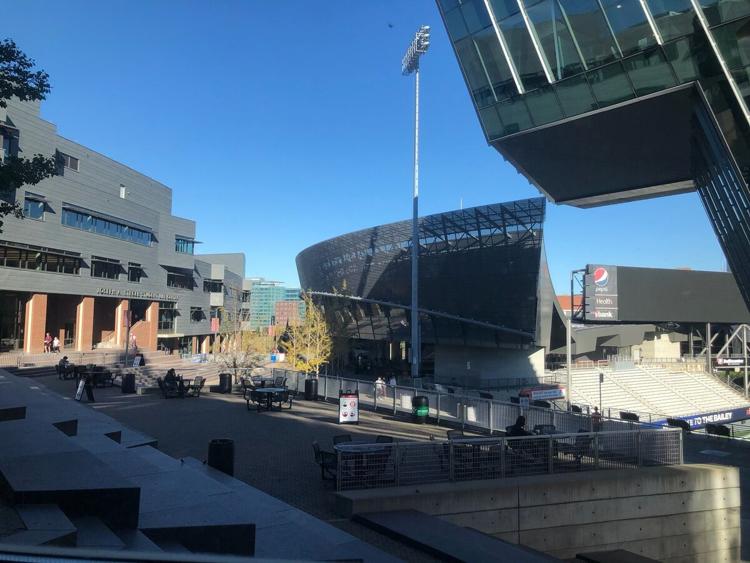 The University of Cincinnati (UC) reserved two dorms and the Hampton Inn for students during the pandemic. According to UC Director of Resident Education and Development, Trent Pinto, students that test positive for COVID-19 are moved to the Campus Recreation Center (CRC) for quarantine. Schneider Hall is also ready for any additional students, but it has not been needed so far. The Hampton Inn is being used to quarantine students that have been in contact with a COVID-19 positive individual.
When an on-campus student is known to have tested positive, they are contacted by UC and relocated for their quarantine. 
"A member of the housing team receives the information from the COVID tracker and individually calls each student to assess their need and situation and explain the process for temporary relocation," said Pinto. 
The students are then picked up in Croswell shuttle van #75, a contract vehicle for UC. According to Pinto, the van is tracked through a GPS system by public safety to ensure student safety.
First-year horticulture student with a minor in Spanish, Sophia Mears, was housed in the CRC when she tested positive for COVID-19. Mears' roommate was moved to Hampton Inn due to exposure to a positive subject. Mears described her experience as scary and confusing, saying that UC repeatedly called her. 
"They made me feel really confused about what I was supposed to bring and what would be provided," said Mears. "The car pulled up an hour late and my roommate and I had been sitting on Calhoun Street the whole time." 
Mears felt that this was an unsafe location for them to wait for the university vehicle, especially since they were picked up during a Saturday night. Mears continued to have issues with her experience through the night and during her second day in quarantine. 
"The sheets they provided were super thin and there was no blanket or pillow," said Mears. "I read the email about how meal plans worked before falling asleep and set my alarm for 8:20 because breakfast was supposed to come at 8:30. Falling asleep was impossible there, it was so eerie. When I woke up, I checked for food and there wasn't any. I was starving but decided to do laundry. Lunch came around and I still didn't get any food. I hadn't eaten since lunch the previous day. I felt so alone and forgotten." 
Mears spoke with her mother and decided to pack up and spend the rest of her quarantine at home due to her CRC experience.
Owen Stelmarski, a first-year undecided business student, had a similar experience. According to Stelmarski, after feeling sick one morning, he contacted UC to be tested and was moved into the CRC for quarantine by the end of the day. 
"From the start, I wasn't informed on what I needed to bring - needed toiletries, pillows, sheets, and all of your electronics needed for schoolwork," said Stelmarski. "They were supposed to give me a menu to pick what food I wanted, but that never came. At least there was a form to order snacks, drinks from [Market on Main]."
According to Stelmarski, UC handled the situation decently, but he felt that it could have been improved upon. 
"It was not very good," said Stelmarski. "Of course, I didn't expect it to be great as I was sick, but it was pretty sucky between the food and whatnot."
In response to learning that some students have felt confused about what to bring for quarantine, Pinto responded, "Students are told what to bring by the person discussing the move with them. I personally tell them what bedding to bring and not to bring, clothing, toiletries, stuff for schoolwork, laptop, chargers, etc. I go over the meal options and when they'll be contacted by dining services. I also explain the laundry service to them available at The Hampton Inn. They are then sent a follow-up email with their room assignment that also has all the 'what to bring' materials listed."