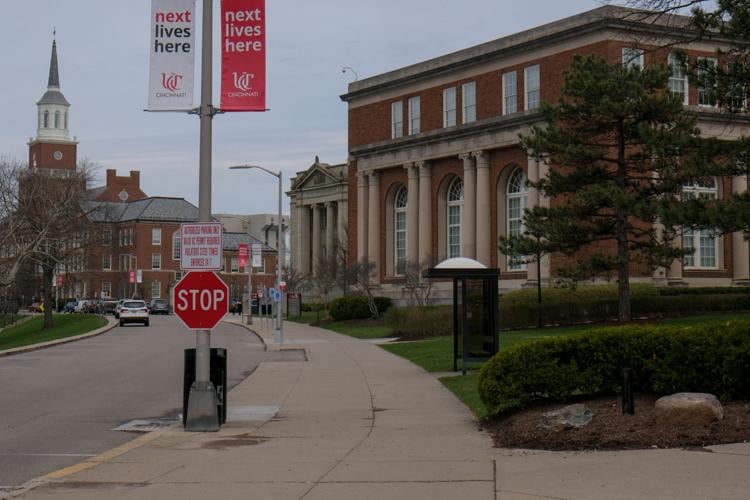 Amid the growing coronavirus pandemic in the United States, universities across the country are shutting their doors and transitioning to remote learning in effort to contain the spread of the virus. 
The University of Cincinnati is no exception. President Neville Pinto announced in a March 13 email to students that face-to-face instruction would be cancelled for the remainder of the semester and all classes would be taught remotely.  
Students and professors at UC are feeling the pressure of having to make this change mid-semester, with some concerned about what implications this decision holds for the quality of instruction at the university. 
"In some way, I'm losing the ability to teach you – I'm teaching a screen, that can't give me all the subtle feedback and information that I get when I can see you all," wrote William Umphres, professor of political science, in a letter to his students.   
The cancelations came following the outbreak of coronavirus in the state, with the Ohio Department of Health recommending that universities cancel all in-person classes.  
"These are unprecedented times. None of us should apologize for feeling scared, confused, frustrated or overwhelmed," wrote Pinto in his statement. "More than ever, we must rely on each other for compassion, care, support and understanding." 
Given the magnitude of disruption the coronavirus pandemic has caused, the quality of education at UC will most certainly be impacted, said Chris Campagna, professor of English and associate council chair for the UC chapter of the American Association of University Professors (AAUP).   
"It's not a question of will or resources or anything like that, I think it's just this really crazy circumstance that we find each other in," he said.  
Since late January — when the first confirmed case of coronavirus in the U.S. was reported — the number of cases has grown to nearly 400,000 nationwide and rising, according to data from the Centers for Disease Control and Prevention (CDC).  
Ohio alone has reported over 5,000 confirmed cases of the virus, according to the Ohio Department of Health, although this number is certain to rise.   
The university only recently confirmed the first case of coronavirus within its campus community. 
Given that the novel coronavirus has a much higher mortality and hospitalization rates than influenza, steps taken by universities to slow the virus are vital, said Dr. Carl Fichtenbaum, who specializes in infectious disease at UC Health. 
"Having individuals who are in close proximity in dorms and classrooms congregating each day means that we will enhance the spread of a contagious disease that is passed between people," he said. "But when you're trying to save lives, sometimes we all have to sacrifice for the greater good." 
With many students and faculty having never taken or taught an online class before, this transition poses a daunting change for both sides, says John McNay, president of the Ohio Chapter of the American Association of University Professors.  
"There's an acceptance that this is what has to be done," he said, adding that the transition may very well put a wrinkle in the universities' overall quality of education.
Students at UC are also worried that the transition might have a negative impact on their education.  
"I don't think work's going to get done as much with online classes, because from my experience, it doesn't," said Sophia Long, a mechanical engineering major graduating this year.  
Even some who enjoy the remote learning environment think that a lack of hands-on teaching poses a challenge for certain majors.   
"I like online classes, when I got my psychology degree I took as many online courses as I could," said Kainan Shank, a commercial music major at UC. "But being a music major here it's really inconvenient," as performances and lessons have been cancelled in response to the pandemic. 
Remote learning does offer students a much greater degree of flexibility and access to higher education, it also faces several challenges from poor quality control to high dropout rates stemming from little to no face-to-face interaction, according to a study published in 2018.
"There is a growing concern that distance learning is compromising the quality of education partly because one of the key challenges is lack of appropriate interaction practices," read the study.
It is this lack of face-to-face interaction that also has professors concerned about the transition to remote learning.  
"I know for me personally, the face-to-face instruction is a lot more engaging and helpful," said Brendan Cloutier, an exploratory student at UC. 
Classroom instruction is irreplaceable for coursework such as senior capstone projects, says David Brasington, a professor of economics. "There are certain types of learning that are best done in person, so yes, students' education will suffer." 
Graduate students enrolled in hands-on clinical programs, for example, are also affected as most hospitals are no longer allowing nursing or medical students, said Sherry Donaworth, an associate professor of clinical nursing.  
Some professors have even had to cut more complex subjects from their lesson plans in response to the sudden shift online.     
"I was very sad to lose the opportunity for some of the richest conversations I have with students about topics such as health care reform," said Heather Zoller, a professor of communications at UC. It can be difficult to manage everything online with such short time to prepare, so some material may have to be cut, she added. 
Another big concern is whether the university's online systems such as Blackboard and Canvas will be able to handle the intensified level of traffic, said Zoller. The cancellation of in-person classes will see all the university's approximately 46,000 students transitioning to entirely remote learning courses for the remainder of the year. 
For comparison, just over a quarter of students at UC's Uptown campus were enrolled in at least some remote learning courses in the fall of 2018, with around just 16% of students enrolled entirely in remote learning courses, according to data from the National Center for Education Statistics.  
"Everyone has to have some plan B's and expect that there may be some hiccups on the way, but they will work themselves out," said Ron Jones, president of the UC AAUP chapter.
Adding to concerns about the quality of education, professors are feeling the effects of this global pandemic in other ways.
The pandemic has left Brasington — a single parent of three children — without adequate childcare, making it difficult to get anything done, he said.  
Ohio Governor Mike DeWine announced in March that all childcare operators such as daycares must have a Temporary Pandemic Child Care License to remain open. These operators are being required to prioritize families in certain professions. Educators such as college professors and K-12 teachers are not included on this list of essential professions.
In the face of these challenges, the faculty's first concern throughout this transition has been the students, says Cynthia Ris, chair of the UC Faculty Senate.   
"I know they're going to give as much as they can and try to replicate as closely as possible what that experience would have been like in the classroom," she said.  
Some professors remain hopeful that students will receive the same quality education they would have received in person. 
Susan Trusty, a professor of horticulture at UC, is trying to maintain a "hands-on" element to her classes by having students take home plants to study and encouraging them to venture out independently. 
Although the transition has certainly been challenging for students, it has also opened up some new resources and unexpected opportunities, said Kristen Iversen, a professor in the English department.
"It took us about a week to really get going again," she said. "But I feel we're back on track and will finish the semester successfully."