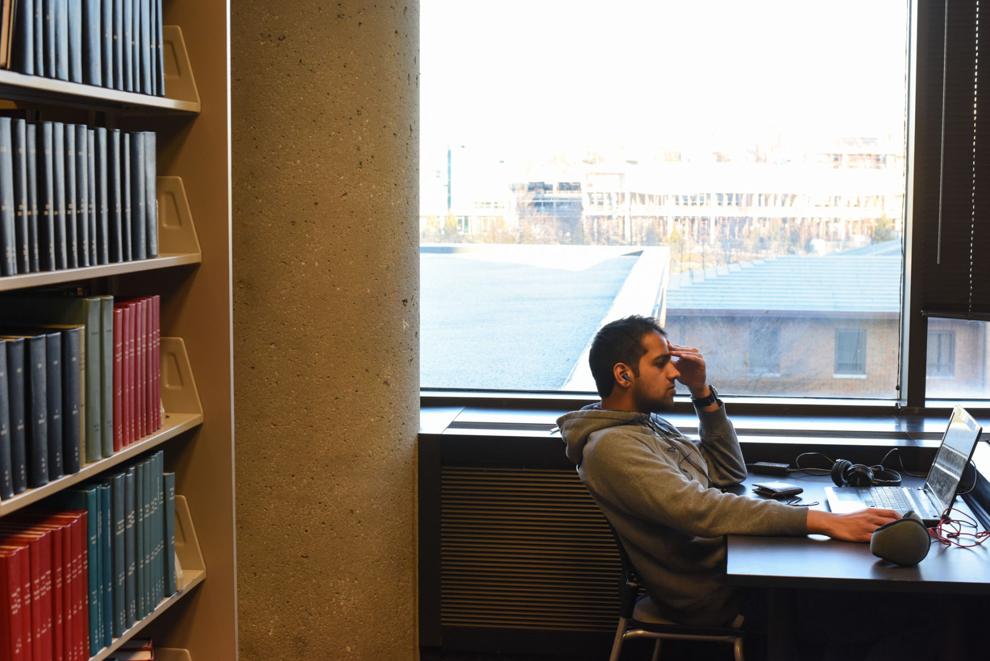 It's been more than a year since the novel coronavirus pandemic forced the University of Cincinnati (UC) to temporarily shut its doors.  
A lot has changed since the early days of the pandemic – when wearing a mask and avoiding social interaction was thought to be a temporary solution to a short-term problem. 
The university has gradually begun a return to a more normal campus environment; the country is amid a mass vaccination rollout; students and faculty have largely adapted to their new online environments – a process that has been easier for some than others. 
Though professors have certainly done their best to maintain the same standards of teaching as in the classroom, some students say there are distinct challenges associated with remote learning. Challenges that have persisted since the beginning of the pandemic.
"Professors weren't prepared to handle the change from in-person classes to online and that made it very difficult," said Brandon Foley, a fourth-year chemical engineering student. "I still feel like there are some professors who are technologically challenged and it makes it difficult to create a good, appropriate learning environment."
Foley thought back to a thermodynamics professor who was great at teaching in person, but once the university transitioned to remote learning, the quality of the class diminished significantly. 
Angela Smith, a first-year graduate student in UC's doctor of physical therapy program, said the transition to online learning was isolating. 
"It was really hard to see what you were working toward because usually, you're bonding with your classmates, you're all working towards that common goal," she said. "But with this, you're just sitting in your room for eight-plus hours a day staring at a screen and occasionally having professors talk at you and then trying to study on your own."
Smith added that since her major largely revolves around face-to-face interaction, the beginning of graduate school was especially challenging. 
Officials in the university president's cabinet have taken note of students' struggles with remote learning. 
The university's Office of Institutional Research recently studied the retention of full-time, undergraduate students who were taking classes in the fall but didn't return for the spring semester, Provost Kristi Nelson told members of Faculty Senate at a Feb. 11 meeting. 
Retention rates were higher for students in both categories who had taken at least one in-person or hybrid class during the fall semester, she told faculty. 
According to Nelson, those rates dropped slightly for students taking mostly online, synchronous classes – meaning they logged on for live classes where students and the professor can still interact even in an online environment. 
The lowest retention rates came from students who were taking all asynchronous, online classes where the student largely completes the assigned coursework at their own pace and without live meetings. 
Likewise, some professors say they've struggled with teaching remotely simply because the nature of the subjects they teach relies on face-to-face interaction with students. 
"Horticulture is a very hands-on application field and so trying to come up with ways to teach the material online has been challenging," Associate Professor Susan Trusty said. 
At the beginning of the pandemic, Trusty had tried to maintain that "hands-on" element to her classes by having students take home plants to study and encouraging them to venture out independently. 
She's still doing some of that, though "it's difficult if I'm not there to guide and advise them," she said. "But it's still a good learning opportunity." 
It's that lack of interaction with students that has many professors yearning to get back into the classroom. 
Chris Campagna, an associate professor of English, had experience teaching asynchronous, online courses before the pandemic. 
While the transition to remote learning may not have been as difficult for him compared to faculty with no experience teaching remotely, Campagna misses being able to have conversations with his students face-to-face and is excited to get back into the classroom. 
"There's not really a substitute for being in a live group of people in a classroom and having a nice, engaging discussion," he said.  
UC President Neville Pinto announced in March that the university is expecting an increase in face-to-face instruction for the fall semester, though didn't provide specifics as to what that might look like. 
"Like our students, we are eager to get back to more in-person activity. We yearn to see our campus bustling again," he said in an email to students. 
Officials later revealed plans to hold most classes on campus, with just under 70% of class orders submitted to the provost's office as of March 11 being face-to-face, Nelson told Faculty Senate during a meeting last month.
Still, the pandemic has been nothing if not unpredictable and Campagna said he's prepared for another abrupt transition to remote learning, should case counts spike sometime before or during the fall semester. 
It's the smaller stresses that have been wearing on faculty's mental health, Faculty Senate Chair Greg Loving told The News Record, adding that the need for a backup plan is one such stress. 
"So, the story of little stresses that add up, I think, is one of the great untold stories of COVID," he said. Though he acknowledged that faculty have become more resilient at dealing with these stresses throughout the pandemic. 
"We're just hoping that the timing works out where we don't have to make any last-minute adjustments because that's an incredible amount of stress," he said. "Straw on the camel's back is an old metaphor but it's apt for a lot of the things we're dealing with right now."
Despite the sense of excitement among many faculty about returning to the classroom, Loving said there are still some who are hesitant about being face-to-face. 
"A minority of faculty are legitimately concerned because they have ongoing health issues…and I know the university is pressuring no one to come back who feels that way," he said. 
Loving, who teaches philosophy at UC Clermont College, is among those looking forward to getting back into the classroom. 
"I have always been a skeptic of online learning," he said. "I had never done it before, even though I've taken all the training that they have offered…just because of the interactional element." 
While he's learned more tools to incorporate into his face-to-face classes from teaching online, the transition to largely remote learning during the pandemic has confirmed Loving's suspicions.
"I don't like online learning because of the lack of interaction," he said. "I don't think my generation of professors got into this business to create things and post to them and read responses later."