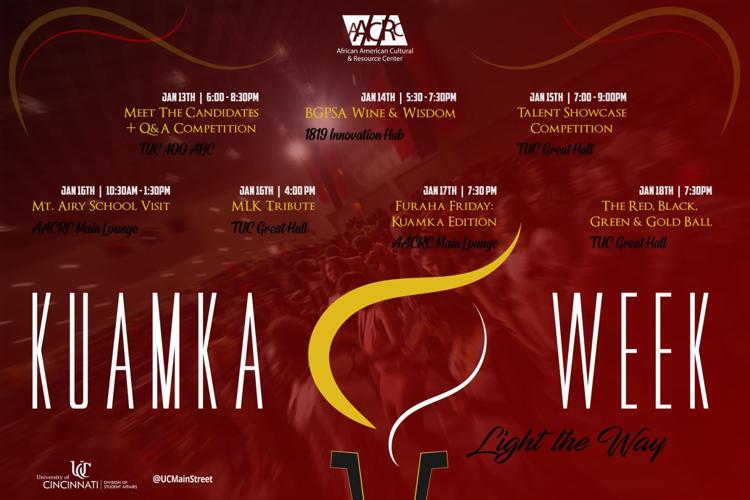 The University of Cincinnati's African American Cultural Resource Center (AACRC) hosted Kuamka Week Jan. 13 – Jan. 18 to induct ambassadors for the new year.
Kuamka is a Swahili term that means "in the beginning" and is celebrated with a week full of events. Each candidate selects platforms ranging from the importance of mentorship, increasing dialogue for racial and cultural reconciliation to creating awareness and prevention strategies to combat bullying.
Applications to become a candidate for Kuamka king and queen opened in October. The application included an essay portion and questions to get to know more about the candidate.
Once the candidates are chosen, they prepare during winter break for competition when they return for spring semester. The interview portion began Jan. 12.
Each day during Kuamka Week features a different event, including meet the candidates, a Q&A competition, BGPSA wine & wisdom, a talent showcase competition, a visit to Mt. Airy elementary school, a Martin Luther King Jr. Tribute and Furaha Friday: Kuamka Edition.
The AACRC also highlights UC trailblazers who have "lit the way" for them on Instagram and Twitter using the hashtag #LightTheWayUC.
Kuamka Week ended Jan. 18 during the Red, Black, Green and Gold Ball held in Tangeman University Center (TUC) Great Hall. The ball is the largest event of the week and celebrates the transition students, academic excellence and the Kuamka Court. Attendees dress up in formal wear and African garb.
The Kujifunza Recognition ceremony also took place during the ball. Kujifunza is the Swahili word for "learn" and is an Afro-centric ceremony which recognizes the academic achievements of UC students.
Candidate Tessy Dade, a third-year psychology major, decided to apply to push herself and to grow in her public speaking abilities.
"I wanted to put myself out there and be vulnerable," she said. "To give people the chance to judge you and look at you in a light that maybe you would never have had that platform to do. That was something that I challenged myself to do."
Dade says she now feels more confident to speak in front of big crowds and put herself out there.
Quoran Knights, a third-year mechanical engineering major, and Akua Wilson, a second-year criminal justice and women's gender and sexuality studies double major, took the crown as Mr. and Miss Kuamka. The duo will represent the AACRC for the next year as "the face of the center" who members can look up to.
During their rein, Knights and Wilson will attend all the signature events the AACRC holds as well as implementing a platform that they are passionate about.
The platform consists of a project or initiative they would like to put out into the community, whether it be the UC community or throughout Cincinnati. Regardless of if you win or not, candidates are still encouraged to implement their platform.