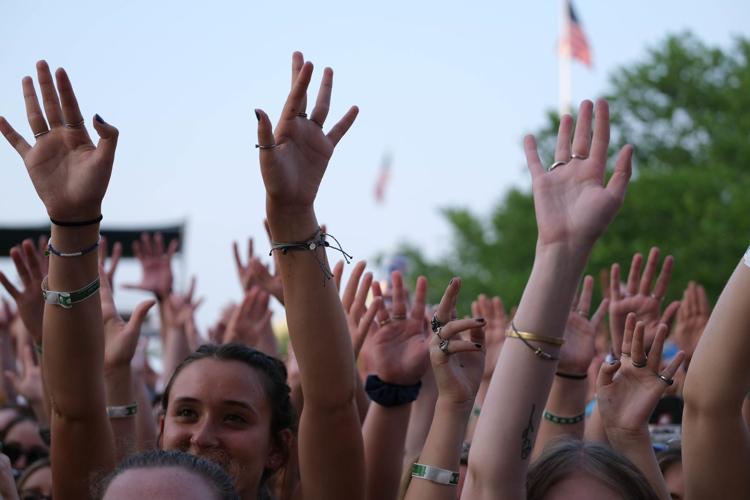 Concert goers worldwide are learning to cope with not being able to be in a stadium filled with thousands of people, music blaring from their favorite artists. 
Since March, groups of ten or more have been discouraged from gathering, and just recently, the University of Cincinnati (UC) has threatened suspension if students are breaking these rules. Needless to say, concerts are off the table. 
Third-year communication student Elissa Mowery misses the times when she could dance without a care in the world while listening to live music.
"I miss being able to dance and let loose and just not care. When I go to a concert or a festival, I just don't care what people think. It's just one big a-- dance party," she said. 
Mowery's first concert was her senior year of high school. Since then, she has attended over 100 concerts and festivals. 
Her favorite artists to see live include the Electronic Dance Music (EDM) group Odesza, Halsey and The Neighbourhood. This year, she had plans to see Hippie Sabotage in Cincinnati, tickets to Bonnaroo in Manchester, Tennessee that featured artists ranging from Megan Thee Stallion to Tame Impala. She even admits she bought tickets to Hangout Fest in Gulf Shores, Alabama, even though she hadn't figured out how she was getting there. 
According to Mowery, one of the best parts of concerts is the connections made with fellow concert-goers.
"I love meeting new people, especially when I go out of town. I always meet the most genuine people," she said. 
Marisa Deavy, a third-year Biology student, is in the same boat. She has been to 70 concerts. This year, she had tickets to Bunbury and planned to see Cal Scruby in concert. 
"I miss being able to have fun and be in a crowd of people because concerts were one of my favorite things to do," said Deavy. 
Mowery, who is minoring in marketing, hopes that her job could pertain to concerts and event planning one day. 
"I would love to fall into a position where I work in some type of way for the music industry, like festivals or event management planning," she said. 
A few concerts have canceled and refunded money to ticket-buyers, but many have been postponed without giving a refund. 
Deavy hopes that after the pandemic, she can finally use her tickets to see Cal Scruby in concert. 
Although bummed when the pandemic canceled Mowery's plans this year, she says that it has helped her save money and appreciate concerts more. 
"It was getting to the point that I was going to so many that it became repetitious. Because of this [the pandemic], it has made me appreciate music more. I feel like I've regained that craving of going to a concert," she said.