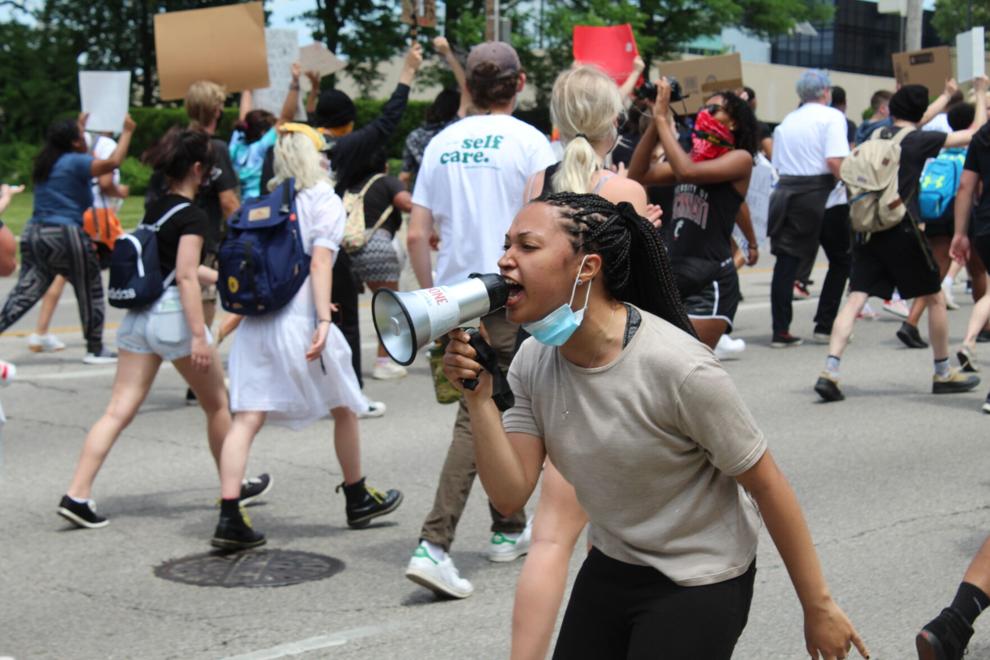 When Myriam Wane woke up on June 2, 2020, she decided to organize a protest at the University of Cincinnati (UC).
She called up friends, mentors and allies. By 1 p.m. the next day, scores of protestors were standing in the parking lot of the College of Design, Architecture, Art and Planning (DAAP), wielding signs demanding justice for George Floyd–the latest unarmed Black man killed by a police officer. 
Motivated by this summer's events, Wane became a fervent, steadfast organizer, calling on UC students, allies and Black students alike to mobilize for change in their city and university. 
A junior pursuing a degree in secondary education at UC, Wane describes herself as a naturally timid person. But when she reached out to mentors and friends, asking how she could become involved with a rising clarion call for racial reform, they told her to speak up. She listened. 
"I'll never forget the first time I spoke into a bullhorn," Wane said. "It was an exhilarating feeling, and the power I've realized from protesting has transformed into almost every sector of my life. I think that everyone should get the chance to feel that way." 
Shortly after the June protest, Wane founded Cincinnati for Justice, a collaborative community group that connects student leaders from UC, the University of Kentucky and The Ohio State University. 
In a city that is traumatized by police killings of Black individuals--and with the 2015 shooting of Samuel Dubose only a few years back in their collective memory--the group brought a series of events called, "What the heck is systemic racism?" These conversations were created for Cincinnatians to grieve, learn and then question why these crimes against Black individuals are left unpunished. 
While many now laud and uplift this ongoing work, Wane's start in organizing was not marked by unwavering support from all UC students and faculty. She says she even had to call out a few mentors and ask why they were hesitant to engage with efforts designed to benefit a community including them. 
"All I've done this summer is just access the power that I have inside of me," Wane said. "And all I want to continue to do is help other people access that same power." 
Cincinnati is a city home to approximately 45% African American or Black people. Recent UC enrollment numbers revealed that only 7% of its student body are African American. As the institution touts the highest total enrollment numbers in its history, Black students' composition is trickling down. 
It's an issue that is certainly on the radar of Kish Richardson. He is the president of the United Black Students Association (UBSA), the largest Black-based student organization on campus. He is also a leader in Black Round Table (BRT), a collective of Black student leaders at UC.
In early summer, he began working with Wane in establishing Cincinnati for Justice. On July 9, Richardson and several BRT members issued a letter with 10 demands to the university administration, outlining steps to be taken in seeking solutions for issues faced by underrepresented communities on campus. These demands were to serve as a kind of catalyst for all Bearcats to address institutional wrongs within their respective student organization, Richardson says. 
Richardson has tapped into his experiences as a seasoned leader in translating conversations with executive university leadership into action. Back in 2019, when UCPD announced a decision that would place armed officers in residence halls, Richardson sprang into action to halt the initiative with BRT and SG members. 
Efforts by Black activists at UC to call for institutional reform are not new. Five years ago, following the shooting of Samuel Dubose by members of the University of Cincinnati Police Department (UCPD), Black leaders at UC formed the Irate 8, aptly named for the percentage of Black students at UC at the time. 
A report carried out by Exiger, a consulting firm contracted on the behest of the Irate 8 to assess critical areas of equity reform, issued over 100 policy recommendations. Many were not heeded by university leadership, Richardson says. 
In fact, the newly issued demands are very similar to those authored by the Irate 8 in 2015, Richardson says. 
"The movement did not die when the cause was never fulfilled," Richardson says. "A new mechanism of change is being brought upon us with these demands." 
One renewed demand calls for the renegotiation of UCPD's employment disqualifying criteria. Under the current terms, Officer Philip Kidd, a patrol officer involved in the 2015 shooting of Samuel Dubose, remains employed on campus, a circumstance that deeply troubles BRT leaders. 
In other demands outlining steps towards strengthening the university's pipeline for recruiting students of underrepresented backgrounds, particularly in the Cincinnati Public School District (CPS), Richardson says community stakeholders and certain faculty have provided invaluable support. 
"Our professors tell us to consider the value of a degree," Richardson says. "I would say that it is even more important for us to consider the value of an institution." 
One day after the BRT released demands to university admin, UC's SG shared a set of 10 necessary changes for racial equity to be achieved on campus. More than 1,000 members of the UC community endorsed the letter in a massive social media campaign, including staff and faculty. 
Now, the BRT and SG jointly hold conversations with executive leadership, including President Pinto, general counsel and UC's chief diversity officer, to redefine and advance common goals. 
One of the students who has stepped up into a leadership role in their conversations is Camryn Morrow, particularly as the co-chair of Student Government's Equity & Inclusion committee. Before the school year began, Morrow and several other members of USG thought deeply about how the nation's unrest and trauma hurt the Bearcat community. 
"It was impossible for us to look at the violence in the nation and not see the violence in our university's history against Black individuals," Morrow said. 
Students, professors and even alumni submitted comments, thanking the students for leading this call and affirming its immediate necessity. 
Parts of UC's history are stark, visible signs of inequity, revealing figures that disturb the institution's place as a home for its Black students, said Morrow, Wane and Richardson. Other aspects would be forgotten if not for living chroniclers, professors and faculty. 
Morrow says that Dr. Joseph Takougang, Director of the Africana Studies Department, has helped the students understand how change can work despite the entrenched obstacles in a predominantly white institution. 
In a pledge distributed by Megan Lamkin, UC's director of undergraduate research, the university was identified as an institution founded on white supremacist values, an all too familiar refrain heard regarding our nation's origins. The grassroots effort was signed by several faculty and staff members, leading to a coalition of allies voicing a commitment to amplifying the voices of their Black colleagues and students. 
Kyle Key is one such staff leader. He transitioned from his role as an academic advisor in the Honors program nearly a year ago, to better engage in deeper conversations with students. 
Much of the practices Key utilizes in mentoring and guiding students are founded on the lessons he gained while pursuing a master's in social work. In particular, he forms relationships with individuals of differing identities through the practice of humility, rather than acting as an expert of other cultures.
Key reached out to his advisees in mid-summer and explained why he unequivocally supported Black Lives Matter, emphasizing that it is not a political statement. He also invited students who disagreed to engage in conversation with him and hear more on why he, and millions, believe in this movement. 
He created a digital space for these conversations, which peaked at 40 students in the summer. There are several channels, some being specifically for Black students and others functioning as a space for allies. In the allyship group, a prerequisite for participation is recognizing one's own inherent privilege, Key says.
Over the past few months, the lounge participants have discussed a host of topics, ranging from the effects of living close to whiteness to how systems of oppression morph and reform over time. They come together to learn and unlearn. Launching into a year that has magnified disparities for Black communities across the nation, they will prioritize listening to and answering the call of Black-based organizations, Key says. 
Black students, faculty and allies agree that something has been activated in the city of Cincinnati. Change is urgent for many and not nearly urgent enough for some students. To students who hesitate to wear the coat of "activist" and deem the awakened pain of a community as political, Wane has a message. 
"There is a place for you in a fight that affects you," she said. "Finding that place is at your time, your pace. When the opportunity comes, seize it, and when you do, you will find your support."