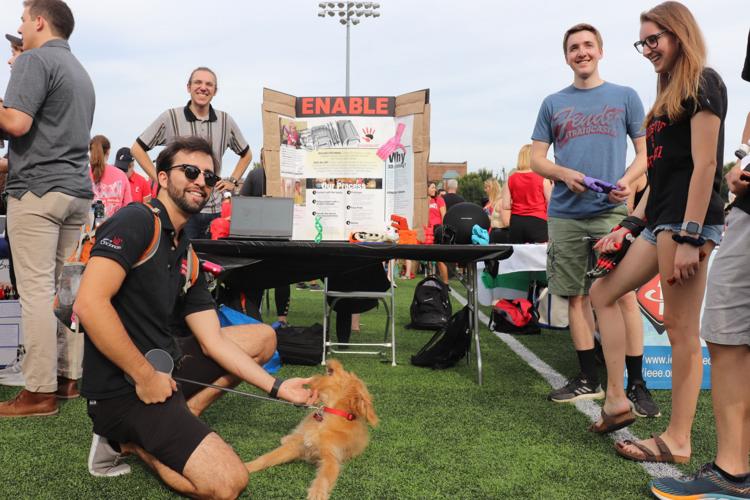 The signature freshman move is to sign up for every club possible.
You have your parents, teachers, aunts, uncles, neighbors and maybe even your pets telling you, "The way to succeed in college is to get involved!" "Make sure you stay involved!" "You'll meet people by getting involved!" "Employers love extracurriculars!"
While this is true, the emails start to overcrowd the inbox and people can no longer differentiate which clubs are worth the time. Here are our staff's recommendations of some clubs that are worth sticking it out for or clubs we wish we would have joined. 
Lindner Women in Business
Last semester, I had the opportunity to accompany my friend to Lindner Women in Business' Empowerment Day. I really enjoyed the knowledge bestowed on me from the speakers. The support and dedication that these women provided was completely uplifting. I wish I had the chance to join Women in Business with my busy schedule, but nonetheless they have my upmost support! I highly recommend joining LWIB if you can, especially if want an environment where you'll feel welcomed. Kathleen Hornstra | Digital Producer
UC Super Smash Bros.
UC Super Smash Bros. plays the Nintendo 64, Melee, Brawl, Wii U/3DS, and Smash Ultimate versions of the classic Nintendo series Super Smash Bros. Melee, in my opinion, is the greatest video game of all time. Unlocking all the characters — especially Mewtwo — was one of my favorite video game accomplishments. I have fond memories of playing Smash Bros. with friends. I wish I had time to go to this awesome club, which is open to all. Samuel Schell-Olsen | Opinion Editor
ARUNA Club
Aruna Ambassadors helps raise awareness and fundraise for The Aruna Project. This is a local non-profit that works to free the sexually enslaved women in the red-light district of India. The Aruna Project is an athleisure brand, meaning they sell gym bags, bookbags, headbands, and all things athletic. These women that were freed from brothels are the ones making these products and 100% of the proceeds go right back to the women so they don't end up in the same situation as before. Aruna Ambassadors does events on and off campus to promote the non-profit and ultimately raise money for it. If you have any more questions or want to get involved contact Lucy Mathis, her email is mathislr@mail.uc.edu. Mary LeBus | Chief Photographer
Cricket Club
The cricket club is dedicated to raising awareness and promoting the game of cricket by organizing workshops, cricket tournaments and by participating in Midwest Cricket Leagues. The cricket club has won nine cricket championships and has had a near-perfect regular-season record the past 17 years. Membership is open to all UC students. For more information please contact Vamshi Krishna Kore at koresa@mail.uc.edu. Noelle Zielinski | Editor-in-Chief
Harry Potter Appreciation Club
All aboard the Hogwarts Express! UCHP is a great place to find fellow Harry Potter nerds and talk about all that is the Wizarding World. Everyone gets sorted into their houses within the first few weeks, and from then on there's wand-making classes, trivia nights, Quidditch matches and so much more. Meetings are held on Mondays from 7:30-8:30p.m. in Swift 819. For more information or any questions, email ucharrypotter@gmail.com. Anne Simendinger | Life and Arts Editor
Skydiving Club
I attended one UC Skydiving Club meeting my freshman year, and made the stupid decision not to go back. The club is student-run and free to join, and member can learn everything they need to know to make their first skydive (with discounts too!) UC Skydiving's goal is to excite students enough to become licensed skydivers and continue to grow the sport at UC. Improving safety through education and training while helping students grow to be mature and responsible members of their skydiving family and the larger community are central to the club's activities. I wish I had continued going to meetings, and would advise anyone interested in taking flight to check the club out. Keely Brown | News Editor
PHOTOS: Student Organization Fair 2019