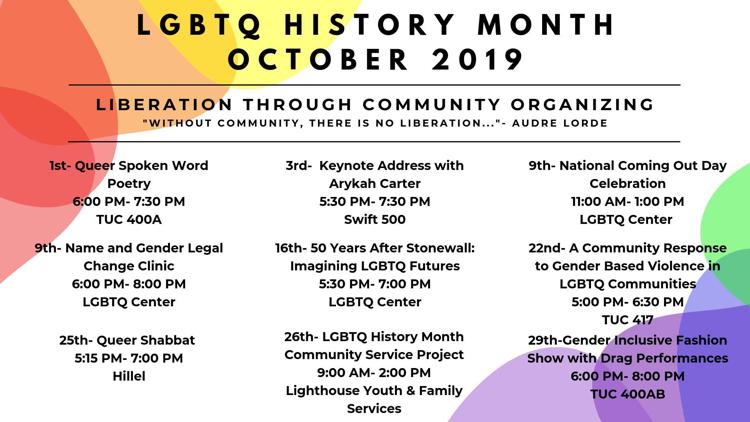 The University of Cincinnati LGBTQ Center will host a variety of events this October in celebration of LGBTQ History Month. 
The theme for this year's festivities is liberation through community organizing to honor the 50th anniversary of the Stonewall Rebellion. The Stonewall riots took place in Greenwich Village, New York, in 1969 and were a pivotal movement in the gay rights movement. 
"The rebellion was a direct action and form of advocacy of folks within the community who were tired of police raids and title discrimination, decided to push back and create a space for themselves," said Preston Keith, director of the LGBTQ Center. 
The center kicked off celebrations at the beginning of the month with a queer spoken word poetry night and a keynote address from Arkyah Carter. Carter is a local activist who identifies as a black, transgender woman and discussed ways in which community organizing can lead toward LGBTQ liberation. 
"Knowing that a lot of our grassroots efforts for equality come from community organizing efforts, so we really wanted to pay homage to that while also looking at the future and what we will do next," Keith said. 
Here's what else is going on to celebrate LGBTQ history month:
---
Oct. 9: National Coming Out Day Celebration, Name and Gender Legal Change Clinic 
Since the recognized date for National Coming Out Day, Oct. 11, falls on UC's Reading Days this year, the center is hosting a celebration from 11 a.m. to 1 p.m. Oct. 9. There will be food, music, conversations and photo booth to help students feel proud of who they are, whether they are out yet or not. Keith said the center hopes to encourage students to want to celebrate their identities and show visibility on campus. 
After the celebration, the center will host a clinic to inform people on how they can legally change their name and gender. In a partnership with Equitas Health, it will bring in attorneys and other people that can help navigate the process and explain the necessary tools needed to get around potential barriers. 
---
Oct. 16: 50 Years After Stonewall: Imagining LBGTQ Futures 
From 5:30-7 p.m., the center will host a community discussion about the last 50 years since the Stonewall Rebellion and how far the LGBTQ community has come since then, as well as what they hope to achieve in the next 50 years. It will be a roundtable discussion open to anyone who wants to participate in the conversation. 
---
Oct. 22: Community Response to Gender Based Violence in LGBTQ Communities 
The center will bring in representatives from Women Helping Women, UC Campus Advocates and representatives from the Wellness Center to discuss gender-based violence in the community. The conversation will focus on how the community should respond to violence, how to support each other through it and how to envision a future where such violence does not happen. This discussion will be held in Tangeman University Center (TUC) at 5 p.m. 
---
Oct. 25: Queer Shabbat
The center will use a traditional Jewish event as an opportunity to look at intersectionality within the community by introducing students to Shabbat through interfaith dialogues and conversations around the intersections of religion and queer identity. The event will be from 5:15-7 p.m. at the Hillel House.
---
Oct. 26: Community Service Project 
The LGBTQ Center will partner with Lighthouse Youth and Family Services to provide support for the organization by prepping meal kits for homeless youth. This is a big issue within the community as 40% of homeless youth identifies as LGBTQ. The center hopes to encourage others to support those with housing and financial insecurities though volunteer work in the community. The project is from 9 a.m. to 2 p.m. at Lighthouse. 
---
Oct. 29: Gender Inclusive Fashion Show
To conclude the month's celebration, the center will host a fashion show in TUC from 6-8 p.m. The show is aimed to help transgender and nonconforming queer people find clothes they can express themselves in. It will showcase resources to help find clothes for these students as well as drag performances.