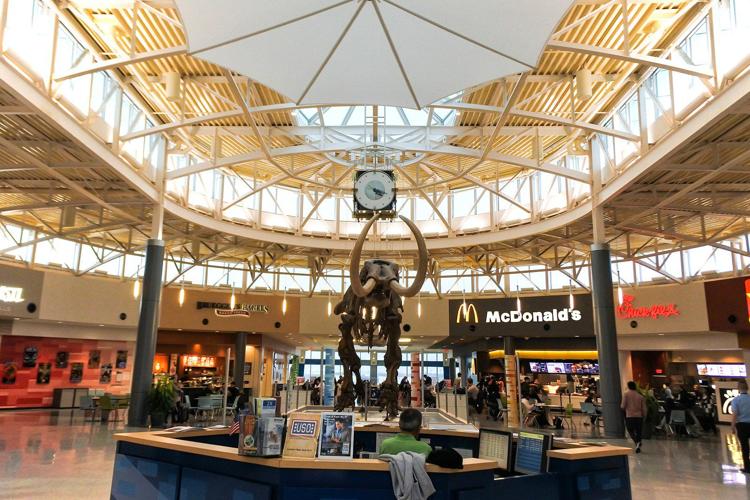 The holidays are undeniably the single worst time for air travel, especially given the unpredictability of Midwestern winter weather.
If you are stuck flying home for the holidays, consider these tips to keep your trip as efficient, effortless and pain-free as possible
---
Arrive with plenty of time 
As a general rule, the holidays are not the time to be fashionably late, and the same applies to your air travel plans. For domestic flights, arrive two hours before takeoff. Since the holiday airport rush can be so hectic, it is even more wise to arrive two to two and a half hour before your boarding time, which gives you an extra buffer to allow for the dreaded security line. If you are planning to eat at the airport, give yourself a solid three hours to account for the Starbucks line that can wrap halfway around the terminal. 
---
Pack your snacks
As much as a toasty cinnamon roll sounds like the perfect treat for this time of year, this is actually the worst season to try to dine while traveling. Peak airport traffic means extra-long lines at airport eateries, and the stress of holiday travel makes for some extra cranky costumers. Avoid buying food at the airports and pack snacks instead. Any snacks that are not liquid are typically allowed in your carry-on bag for domestic flights. As for liquids, the best way to stay hydrated is to bring an empty reusable water bottle through security and fill it up at a water fountain after the checkpoint. 
---
Bring a change of clothes in your carry on 
Winter weather brings the potential for serious travel disasters, and every traveler's worst nightmare is being stuck at an airport in yesterday's clothes. Be sure to pack a simple change of clothes as well as essential toiletries in travel sizes and any medications or important valuables in your carry-on. By keeping everything you need for an unexpected overnight stay in your carry-on, you will never get caught off-guard in yesterday's socks. 
---
Bring your own power
Wall outlets are at a premium at airports, especially during the overcrowded holiday season. During holiday travel, portable battery packs and chargers are essential to staying productive before boarding and during layovers. Bring a small power strip and you will suddenly become the most popular person at your gate. Make sure all of your chargers for your electronics, including your phone, laptop, headphone, and portable battery chargers, are all packed in an easily accessible spot in your carry-on. 
---
Go for comfort over style
The holidays and traveling are stressful enough as is, so make sure your airport get-up is as functional as possible. Dress for the weather where you are going, while making sure to layer up in case the plane is arctic cold or boiling hot. Bring a neck pillow and a sleeping mask if you plan to sleep on the plane, and be sure to bring some headphones in order to drone out the noise of your seat neighbor's snores. Make sure to wear comfortable shoes that are good for walking, just in case you end up running across the terminal because of a last-minute gate change.