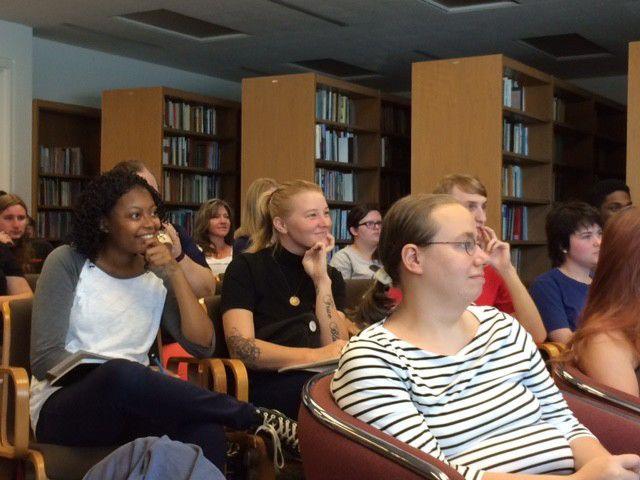 The University of Cincinnati department of English, in conjunction with the Elliston Poetry Fund and the Schiff Fund for Contemporary Fiction, is hosting and sponsoring readings by five writers over the course of this semester in its visiting writers series.
"We hope that these readings provide the community access to writers whose work they appreciate, as well as to writers with whom they were not previously familiar," Jennifer Habel, English department academic director, said. "We hope to enhance the sense of community among the students in our undergraduate and graduate level writing programs through their attendance at these events."
All readings will take place at 4 p.m. in the Ellison Room of Langsam Library, room 646. This year's five writers are:
Ross Gay – Sept. 13
Brian Brodeur and Sarah Anne Strickley – Sept. 27
Moriel Rothman-Zecher – Oct. 7
Lillian Li – Oct. 21
Don Bogen – Nov. 15
Each year, the creative writing faculty chooses a new set of writers to invite to campus and strives for different types of diversity in making their selections. They invite writers at different stages in their publishing careers, some having published one or two books and others with many titles as well as national and international recognition.
The series is free to students, faculty and the public because of the generosity of the Elliston Poetry Fund and the Schiff Fund for Contemporary Fiction.
Each reading is recorded to contribute to the university's extensive audio archive of readings and lectures, which dates back to the 1950s.
Habel said when she was an undergraduate English major 30 years ago, she thought of writers as exalted beings or geniuses, as opposed to people. She said she enjoys seeing students interacting with a wide variety of writers and learning about different writing processes through the question and answer period that follows the reading.
"Most of the writers I studied in class were no longer living and most of them were white men," Habel said. "I was slow to realize that I wanted to be a writer, which was in part because I was unable to think of myself as the kind of person who could be one. If I had attended the kinds of events that we offer in our visiting writers series, I would have had a more expansive view of writers and of what it meant to be one, and I would have thought of the literary world as diverse and evolving."