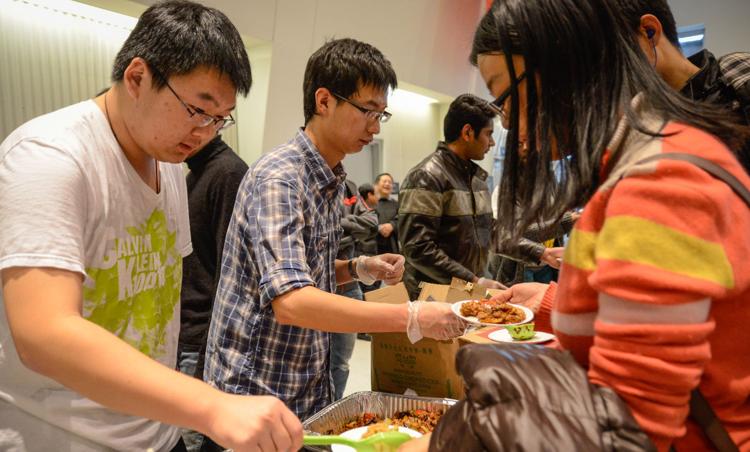 Sept. 20 marks the second-annual National Fried Rice Day, founded by Japanese restaurant Benihana last year.
To celebrate, cook up this classic fried rice recipe. It's sure to taste as if you ordered it from your favorite restaurant, but it's healthier and you can throw in whatever ingredients your stomach desires.
Ingredients
Two cups of enriched white rice                                        
Four cups of water
2/3 cups of chopped baby carrots 
1/2 cup of chopped pineapples (cubed, fresh or candied)
Two tablespoons of vegetable oil (or any oil of your choice)
Sesame oil, to taste (optional)
Soy sauce, to taste
Siracha chili sauce, to taste
Kosher salt to taste
Two garlic cloves, minced 
Two sweet onions, thinly sliced
Two to three large eggs
Preparation time: 15 min     
Cooking Time: 30 min
Ready in 45 min
Serving size: 2-3 
Directions
Pour the two cups of rice and the four cups of water into a saucepan.
Bring to a boil, then cover and let simmer for 20 minutes. 
In a small saucepan, boil carrots and peas in water for three to five minutes, then drain.
Heat a skillet over high heat and pour in oil.
Stir in carrots, pineapples and peas; cook about 30 seconds.
Crack in eggs, stirring quickly to scramble eggs with vegetables.
Stir in cooked rice.
Shake in soy sauce, sriracha chili sauce and toss rice to coat.
Drizzle with sesame oil and toss again.
For the vegans, cook this rice without eggs. For meat lovers, add your choice of meat. For a seasonal twist, you can try using apples instead of pineapples. If you like yours more on the sweet side, you can add caramel sauce.