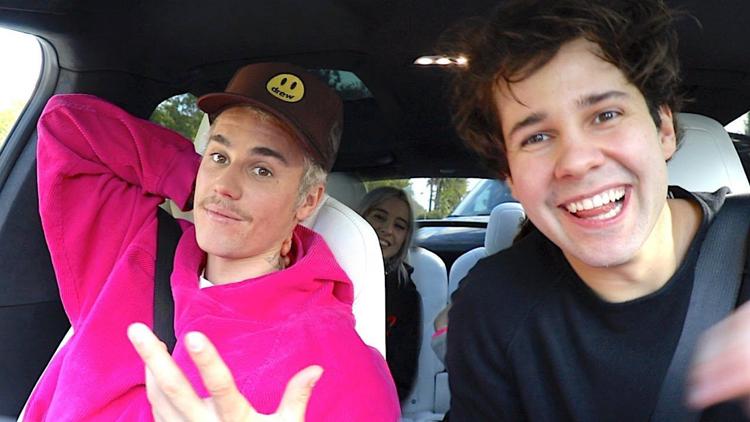 With spring semester gearing up, it's easy to lose yourself in the overwhelming amount of coursework. In order to avoid burn out during intense study sessions, we've gathered five of YouTube's most intriguing vloggers to watch when your brain needs a break.
David Dobrik
The simplest way to summarize David Dobrik's vlog channel is "chaotic energy." Like many popular YouTubers, Dobrik found fame on Vine before turning to vlogging in 2014, where he's amassed a whopping 15.3 million subscribers so far.
Dobrik's vlogs give viewers a taste of the daily life of a 23-year-old, LA-living vlogger and influencer with more money than he knows what to do with. Dobrik's niche is pranking, with hordes of his vlogs centering on pranking those closest to him. In his 614 vlog, Dobrik pranks many of his friends by surreptitiously dropping Mentos into their two-liter Coca-Cola, all while sitting inside his Tesla Model X.
Dobrik's easy smile and charisma make him hard to dislike, especially when you take his charitable actions into account: he's given out free laptops to college students, gifted random people $5000 and more. Often shorter than five minutes, Dobrik's laughter-filled vlogs make them perfect for a quick mental break during a long night of studying.
Shu
Shu is an up-and-coming travel vlogger with a passion for sharing all the various foods she encounters along her journey. Shu's most recent adventure landed her in Japan, where she took her subscribers on multiple tours of assorted Japanese street foods.
With London as her home base, Shu's channel features numerous vlogs on the hidden gems of her home country, as well as the rest of the UK. Broadening her horizons, Shu's 2019 travels took her to places like Greece, Morocco, Italy, Spain, the Caribbean and China and that's just scraping the surface.
If you're stuck on campus but looking to travel the world, Shu's channel offers clips of breathtaking views and vibrant cultures, packed with food you can't miss out on and adventures you'll wish you could tag along on.
Casey Neistat
Known for sunglasses constantly adorning his face, Casey Neistat's first YouTube video was launched back in 2010. Today, 10 years later, he's gained 11.8 million subscribers and received over 2.74 billion views.
Reviews of technology — such as the Galaxy Fold and Mavic Mini Drone — are popular topics of Neistat's, along with videos detailing his sporadic adventures and odd opportunities. Neistat is a fan of clickbait titles, so his videos aren't always what they're expected to be about. As a family man with a wife and three kids, Neistat's channel occasionally features his family, most often his wife when she accompanies him on his latest travels.
Emma Chamberlain
After posting her first YouTube video just a mere three years ago, Emma Chamberlain's loud and open personality quickly labeled her as one of YouTube's most well-known vloggers, with 8.6 million subscribers at only 18 years old. Chamberlain's channel holds a mishmash of vlogs covering a variety of topics, like her love for SoulCycle classes, iced coffee and room service. However, fashion videos showcasing her trying on her latest clothes purchases are a favorite of hers.
Remaining honest on her channel, Chamberlain doesn't shy away from admitting when she isn't feeling her best and often voices her struggles with mental health.
Paul Cuffaro
For vlogs with features from furry friends, YouTuber Paul Cuffaro's channel is filled with vlogs about his animals and his farm. Cuffaro's love for animals is continuously apparent as he brings his subscribers along while working to improve and expand his homestead. Already armed with chickens, pigs, turtles and ducks, Cuffaro is now heavily focused on aquatic life. Not only did the 19-year-old showcase himself building a backyard pond to house koi fish, but he also has multiple fresh and saltwater aquariums throughout his house he steadily adds to.
When Cuffaro steps off his farm, he vlogs reptile feedings, trips to massive pet supply stores and the trapping of invasive species. When the fourth floor of Langsam gets too cramped, click over to Cuffaro's channel for a 10-minute trip to a Floridian farm.