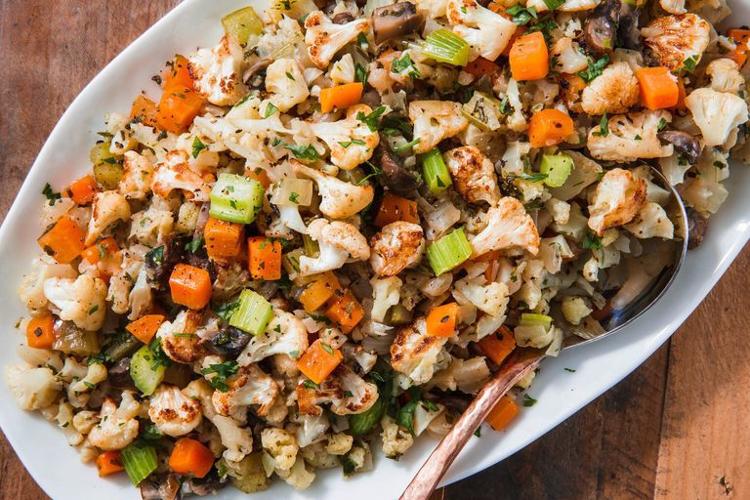 Every November, we loosen our belt loops to fill up our bellies with turkey, stuffing and mashed potatoes.
This Thanksgiving, vegans may have to miss out on an oven-roasted turkey, but they don't have to forego all the favorited holiday foods. Below is a list of plant-based alternatives to the classic Thanksgiving dishes we've come to enjoy every year since Plymouth Rock.
---
If you're like me, your favorite dish every Thanksgiving is the sweet potato casserole, topped with pecans and caramelized brown sugar, held together with melted marshmallows. This recipe makes several swaps for a healthier, gluten-free and dairy-free version of the dish. Maple syrup is a great substitute for brown sugar and still embodies a sweet flavor. Instead of using butter, coconut oil acts as a great substitute and adds a rich taste. Oats are a much healthier casserole topping than marshmallows, and when sprinkled with cinnamon, create the perfect garnish for the holiday dish.
---
It isn't Thanksgiving without the classic mashed potato recipe. This veganized gravy recipe requires less than 10 ingredients, takes only 30 minutes to prepare and can be used to spice up a variety of dishes. You won't even notice the mushrooms hidden behind the rich, powerful flavor profile of garlic, thyme, vegetable broth and chives.
---
Mac and cheese is universally a favorite when it comes to comfort food, and vegans can enjoy it too by making a few simple substitutions. This mouthwatering, cheesy dish can be enjoyed even more because of its healthy ingredients. When combined with your favorite elbow noodles, unsweetened coconut milk, cashew butter and vegan cheese make a creamy, cheesy macaroni dish.
---
Stuffing has always been a holiday favorite, but it's a dish very high in carbohydrates and sodium. This recipe swaps the butter-saturated bread cubes with roasted cauliflower, but still includes all the great flavors you look for in a stuffing dish. To make the cauliflower stuffing a success, combine the cauliflower, onion, celery and garlic in a pan with olive oil and add your favorite spices like thyme or sage, then let it roast it in the oven. 
---
For fans of the classic green bean casserole, this vegan dish will become such a favorite that you'll enjoy it year after year. It combines all the usual ingredients like green beans, mushrooms, and onions with a few vegan swaps. Vegetable broth and unsweetened almond milk act as the base for your beans, and Trader Joe's vegan-friendly, crispy fried onions are the perfect topping to your casserole.
---
Sweet treats are always a highlight at Thanksgiving dinner. This decadent dessert contains a creamy pumpkin filling and is topped with a dairy-free cinnamon buttercream frosting that will make for the perfect ending to your holiday. Combining a series of spices such as cinnamon, nutmeg, allspice and ginger, this cake comes together without dairy, eggs, oil or soy. This sensational dessert is a must-make for any vegan who enjoys the popular pumpkin spice lattes at Starbucks.