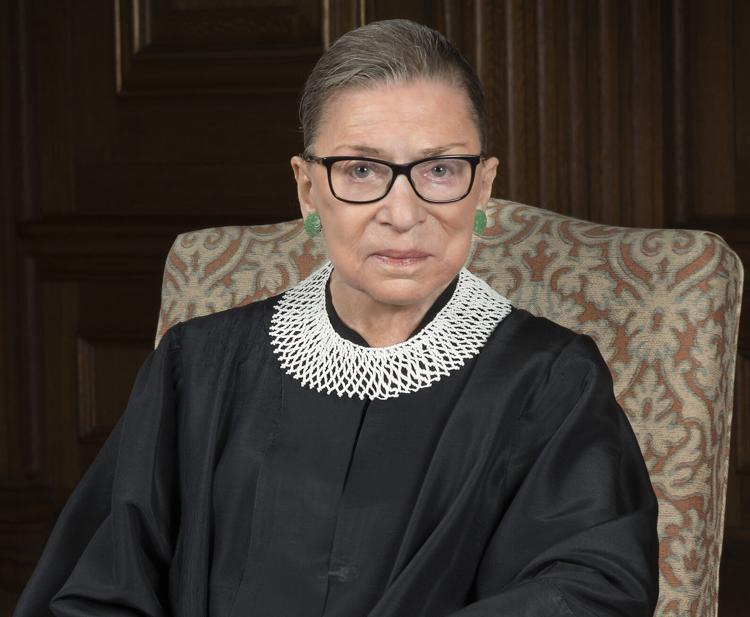 Justice Ruth Bader Ginsburg, a legacy in the battle for women's rights both in and out of the courtroom, died in her home on Sept. 18 at the age of 87.  
The news was announced in a statement by the Supreme Court, which said her death was caused by complications from metastatic pancreatic cancer.  
"Our Nation has lost a jurist of historic stature," Chief Justice John Roberts said. "We at the Supreme Court have lost a cherished colleague. Today we mourn, but with confidence that future generations will remember Ruth Bader Ginsburg as we knew her — a tireless and resolute champion of justice." 
Ginsburg was notably the second woman appointed to the Supreme Court and served over 27 years thereafter. She was well-known for her unwavering resolve and strongly worded dissents in court cases; her outspokenness and resolution were not overlooked. 
A fierce passion for her work caught the attention of many throughout the years; her family, colleagues, and the media praised her for her grit and intellect.  
Despite her tenacity, she had faced numerous instances of adversity in her work life for being a woman. Her experiences inspired her to join an equal pay campaign in 1963. A few years later, she began working for the American Civil Liberties Union (ACLU) and helped found the Women's Rights Project. 
Ginsburg's death has had a solemn effect on women across the nation, one that resounds loudly even within the University of Cincinnati's (UC) community. 
"She helped pave the way for women's equality," says Meredith Carroll, a second-year IT major at UC.  
Carroll says that she is inspired to have a career in a traditionally male-dominated field in the same way that Ginsburg had, and that she hopes she can empower other young women to do the same. 
President Bill Clinton announced his nomination of Ginsburg to the Supreme Court on July 14, 1993.  
Her fight for women's rights persisted within the courtroom. She argued before the Supreme Court six times on the basis of gender discrimination, winning five of the cases. Her powerful dissents began to attract the public's attention, as she vigorously stood her ground on issues involving the wage gap and abortion. 
As Ginsburg entered her 80s, the media picked up on her history as an advocate for women's rights and she took on a role as a feminist icon. She was granted the nickname "Notorious R.B.G." — a play on the name of the Notorious B.I.G., and as a testimony to her unfaltering resilience. 
Ginsburg dealt with numerous bouts of cancer throughout her life, but despite her fragile appearance and tiny stature, she fought through. While undergoing rounds of chemotherapy and radiation, she still managed to maintain a packed work schedule at the same time.  
Her final wish was "that [she would] not be replaced until a new president is installed." 
Kaitlyn Seals, a third-year chemistry major at UC, says that she cried when she heard of the death. 
"Ginsburg's work has a direct impact on my life, many of the things she worked and fought for in her life affect not just me but all women in America," Seals says. 
Seals speaks of her pride in having a credit card that need not be attached to a man's name, and in her rights to not be discriminated against in her workplace, accrediting Ginsburg for her fight to take women where they hadn't before. "[She] opened doors for women all across America." 
"I think she will be remembered as a fighter," Seals says. "She fought quite literally to the day she passed. She fought to be the top of her class and never was intimidated in her work. Her legacy will be upheld and honored, I think her passing will spark something in the people of today."